Fox announces new fall lineup
05/17/07 11:52 AM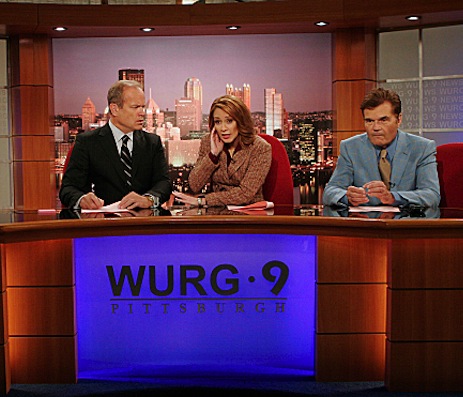 Kelsey Grammer, Patricia Heaton and Fred Willard triple-team Fox's Back to You, the network's only new fall comedy series.
By ED BARK
A star-powered sitcom and a wealth of new reality series highlight Fox's latest fall schedule.
The No. 1 network among advertiser-coveted 18-to-49-year-olds is adding six new series while as usual holding back
American Idol
and
24
until January. Fox already has committed to at least two more seasons of
24
despite an ongoing ratings falloff.
The network's biggest splash looks to be
Back to You
, co-starring veterans from two of the most successful comedies in TV history. Kelsey Grammer (
Frasier
) and Patricia Heaton (
Everybody Loves Raymond
) play bickering local news anchors at a Pittsburgh TV station, with the always welcome Fred Willard (
Anchorman
) chipping in as a goofy sports anchor.
Of more immediate import, however, is Fox's set-in-Texas summer reality series
Anchorwoman
, in which fitness model and former WWE "uber vixen" Lauren Jones is hired by Tyler's tiny KYTX-TV to help turn the station's ratings -- and heads -- around.
"Can this bombshell cut it as a serious reporter?" Fox press materials ask. "Will she save KYTX, or make it the laughingstock of the Lone Star state?"
Well, we've already established right here in Dallas-Fort Worth that it's awfully hard for a television newscast to make a further ass of itself. And are we really to believe that resident news director Dan Delgado is "fit to be tied as his beloved journalistic standards go out the window?" Hah!
Anchorwoman doesn't have an air date yet, but here's another news flash: "Lauren will struggle not only with the news team and an unfamiliar town, but also with the not-so-Hollywood news stories -- covering bake sales, cowpie-tossing contests and county fairs like they were Watergate. News anchor or dead weight? Only the ratings will tell."

OK, back to that little ol' fall lineup.

Fox will be going all reality from Thursday through Saturday, mixing three newcomers with a trio of returnees. Add holdover cartoons and the NFL post-game show on Sundays and there'll be no on-camera actors on the network for four nights running.

Cancellations, all expected, include The War at Home, Nanny 911 and Trading Spouses: Meet Your New Mommy. But Fox reprieved Raymond alum Brad Garrett's 'Til Death and will pair it on Wednesdays with Back to You.

Here are Fox's six new fall series:

***Back to You (comedy) -- Anchors Chuck Darling and Kelly Carr (Grammer and Heaton) reunite in Pittsburgh after he sinks himself in a larger market with an on-air tirade that becomes an Internet hit. He's a womanizer and she's a know-it-all, which in the TV news world makes them perfect for one another. Supporting characters include sports anchor Marsh McGinley (Willard) and tongue-twisting field reporter Gary Crezyzewski (Ty Burrell).

***K-Ville (drama) -- New Orleans cops try to cope two years after Hurricane Katrina, with Felony Action Squad veteran Marlin Boulet (Anthony Anderson) intent on catching pillagers by any means necessary. But his law enforcement partners all have "courage to burn and a passion to reclaim and rebuild their city."

***New Amsterdam (drama) -- Presenting another of the new season's sci-fi-ish crimefighters. New York homicide detective John Amsterdam (Nikolaj Coster Waldau) has been ageless and immortal ever since a grateful 17th century American Indian girl cast an ancient spell on him. He can become "whole and ready for mortality" only by finding his one true love. But really, who'd want to do that when you can be forever young and always within network TV's target demographic?

***The Search For the Next Great American Band (working title, reality) -- The producers of Idol are trolling for talented and, of course, untalented combos of any age and musical discipline. Ten semi-finalists then will face America's weekly verdicts.

***Nashville (working title, reality) -- This "docu-soap" documents the music industry's "dreamers and dream-makers" while also keeping tabs on real-lifers hoping to make their marks on Nashville's big business and high society scenes. Because, as you know, "talent, power, drive, love and hope are the fuel that makes Nashville burn bright."

***Kitchen Nightmares (reality) -- Ball-busting chef Gordon Ramsay of Hell's Kitchen fame intends to show his "sensitive and nurturing side" as well during weekly jaunts to various restaurants in crises. Still, Fox's description makes him sound like the same old gila monster: "If the wine waiter's service isn't up to par, he'll be out the door before he can say 'Merlot.' If the head chef doesn't match up to Ramsay's expectations, Ramsay will hammer him into shape. And if he can't stand the heat, he may quit the kitchen." And so on.

Fox also has announced a January schedule, although historically it's hasn't been worth the paper it's downloaded on. Highlight: Julianna Margulies (ER) returns to series TV as a law-bending defense attorney in Canterbury's Law, a drama co-produced by Denis Leary.

A new comedy (The Return of Jezebel James) and a Terminator movies spinoff (The Sarah Connor Chronicles) also are being announced as January premieres.

Here's Fox's complete fall 2007 lineup (all times central):

MONDAY
7 p.m. -- Prison Break
8 p.m. -- K-Ville

TUESDAY
7 p.m. -- New Amsterdam
8 p.m. House

WEDNESDAY
7 p.m. -- Back to You
7:30 p.m. -- 'Til Death
8 p.m. -- Bones

THURSDAY
7 p.m. -- Are You Smarter Than a 5th Grader?
8 p.m. Kitchen Nightmares

FRIDAY
7 p.m. -- The Search For the Next Great American Band
8 p.m. -- Nashville

SATURDAY
7 p.m. -- Cops
7:30 p.m. -- Cops
8 p.m. -- America's Most Wanted: America Fights Back

SUNDAY
6 p.m. -- The OT (NFL post-game)
7 p.m. -- The Simpsons
7:30 p.m. -- King of the Hill
8 p.m. -- Family Guy
8:30 p.m. -- American Dad