Vampires strike (yet) again in NBC's Dracula
10/23/13 10:34 AM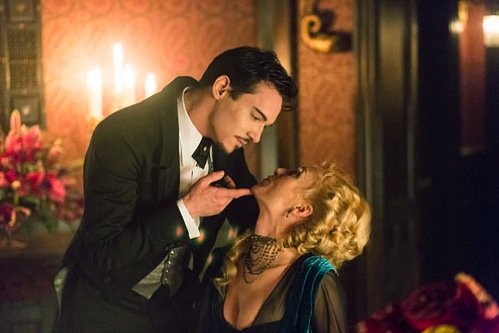 "Hi, honey, I'm down a few pints." Jonathan Rhys Meyers as Dracula.
NBC photo
Premiering:
Friday, Oct. 25th at 9 p.m. (central) on NBC
Starring:
Jonathan Rhys Meyers, Nonso Anozie, Jessica De Gouw, Oliver Jackson-Cohen, Thomas Kretschmann, Victoria Smurfit, Katie McGrath
Produced by:
Tony Krantz, Colin Callender, Gareth Neame, Anne Mensahn, Daniel Knauf
By ED BARK
@unclebarkycom on Twitter
We live in fertile times for vampires. And NBC's new
Dracula
keeps up the usual appearances with ample time for lethal crimes of life-sustaining blood-sucking and other assorted mayhem.
But as played by Jonathan Rhys Meyers, this version of the Bram Stoker evergreen is also a combination Thomas Edison/Frankenstein's Monster. He's both perfecting a new oil-less alternative energy source and willingly making himself a guinea pig in a blood transfusion experiment that could enable vampires to walk in the sunlight without burning to a crisp. That would be very helpful from a cinematic standpoint. Because the first five episodes sent for review are very darkly lit more often than not. Viewers could use a few rays.
It's all set in 1896 London, where Dracula (masquerading as American entrepreneur Alexander Grayson) is new in town 15 years after his skeletal remains are liberated from a coffin. His right-hand man and confidant is R.M. Renfield (Nonso Anozie), a beefy African-American who's been by Dracula's side for the past 12 years. A flashback in Episode 5 shows how they first hooked up.
Dracula/Grayson has been deeply wronged by the very sinister, century-spanning Order of the Dragon, whose kingpins now run the British Imperial Coolant Company. They're all invited to his luxurious manor for dinner, drinks, dancing and a demonstration of "power drawn from the magnetosphere." This involves the seemingly magical illumination of hundreds of hand-held lightbulbs, with Grayson's factory workers briefly making it happen by cranking and grinding from an unseen location. Preposterous? Perhaps. But it's an intended means of bringing our anti-hero's oily, oil-dependent enemies to their knees.
Collegially paired with NBC's Season 3 premiere of
Grimm
, the new
Dracula
also includes medical student Mina Murray (Jessica DeGouw). Hmm, might she also somehow be Dracula's wife, who long ago was burned at the stake while he was made to watch? Dracula/Grayson is definitely getting a vibe from Mina, but her heart for now belongs to Jonathan Harker (Oliver Jackson-Cohen), an intrepid reporter for
The Inquisitor
whose job description will be taking a U-turn.
Mina's professor is Dr. Abraham Van Helsing (former
Dracula 3D
star Thomas Kretschmann). He's also the guy who's conspiring with Dracula/Grayson to both topple the Order of the Dragon and perfect that new walk-in-the-sun elixir. There's also Lady Jane Weatherby (Victoria Smurfit), an accomplished vampire huntress who's engaging in recurring rough sex with Dracula/Grayson. He's trying to throw her off her game, and obviously she hasn't caught on yet.
Through the course of its initial five episodes,
Dracula
sprinkles in a clandestine, ill-fated sexual affair between two men while also making it clear that Mina's party girl best pal, Lucy Westenra (Katie McGrath), has great longings to get physical with her. The church, almost needless to say, is a bottomless fount of villainy.
Rhys Meyers, whose recurring bouts with alcohol have been widely publicized, is best known for his starring role as Henry VIII in the Showtime series
The Tudors
. He brought presence to that part while also almost devouring it at times with emoting reminiscent of Jon Lovitz's "Master Thespian" character on
Saturday Night Live
.
In
Dracula
, Rhys Meyers likewise is prone to heavy-breathing excesses. "Give me one good reason why I should not peel you like a grape!" he rages at Van Helsing near the end of Episode 1.
By Episode 3 he's at it again after Van Helsing tells him the latest variation on his serum will allow a 3 minute, 12 second exposure to sunlight.
"How long must I spend skulking in the shadows?" Dracula/Grayson retorts. "I want to walk in the sun like any other man! You leave me just enough time to have a cup of tea -- before I burst into flames!" Easy now.
Rhys Meyers also is capable of dialing it down, though. And he certainly has no aversion to being tortured or bathed in blood. Episode 2 begins with a second and much grislier look at that aforementioned coffin liberation. Episode 3 starts in medieval times, with Dracula beaten to a pulp, chained at the neck to a post, etc. And Episode 5 is built around equally gruesome scenes of torture, with Dracula/Grayson this time in a position to be the avenger.
Successful, graphically violent basic cable series such as
The Walking Dead, Sons of Anarchy, American Horror Story
and
Breaking Bad
have had a clear effect on the composition of NBC's
Dracula
. It's not an out-and-out gore-fest, but doesn't shrink from the task when Dracula is either on the prowl or at the mercy of others in earlier times. But the series also occasionally tries a little tenderness -- and pulls it off in some of the scenes between Dracula/Grayson and the loyal Renfield.
The first five episodes of
Dracula
, although unwieldy and murky at times, flex just enough storytelling power to keep the juices flowing. What else has Dracula been up to all of these years? (A passing reference to Vlad the Impaler makes one wonder even more.) What will Mina mean to him? How long can Lady Jane be duped into having hot sex with the same man she's hunting? Will Dracula ever be able to enjoy a sunlit lunch on the patio?
There's a caveat, though.
Dracula
is directly up against the aptly named, in this case,
Blue Bloods
on CBS. That could prove to be its undoing, with Tom Selleck doubling up as an ad hoc vampire slayer with a better, fuller mustache to boot.
GRADE:
B-minus
Email comments or questions to:
unclebarky@verizon.net