Ten takeaways from Mad Men's Episode 2, Season 7
04/21/14 12:20 PM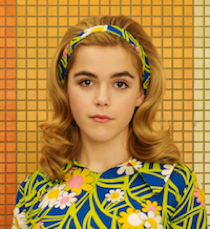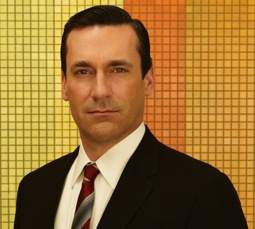 Daughter Sally Draper and her dad, Don: She's becoming his equal.
AMC photos
By ED BARK
@unclebarkycom on Twitter
Presenting our weekly 10 takeaways from
Mad Men
. Sunday's second hour of a 14-episode, two-tiered final season was subtitled "A Day's Work."
1.
Kiernan Shipka, in her first appearance this year as Don Draper's daughter, Sally, has come fully of age as a potential Emmy-calibre supporting actress. Her scenes with him were letter-perfect during their icy drive back to her boarding school, which included a stop at a restaurant where Don (Jon Hamm) again succumbed to telling Sally the truth about his latest subterfuge. You could have knocked dad over with less than a feather after she finally told him at episode's end, "Happy Valentine's Day. I love you."
Shipka, now 14, hit a maturation point earlier this year in the Lifetime movie
Flowers in the Attic
.
Mad Men
's writing soars above that level, and Shipka's excelling as well. Meanwhile, her mom, Betty (January Jones), is yet to be seen this season and in reality isn't missed at all. Sally has supplanted her -- and then some.
2.
The underling racial politics at Sterllng, Cooper & Partners emerged front and center in an episode that gave the agency's first black employee, secretary Dawn Chambers (Teyonah Parris), some rare showcase scenes. She's still providing regular intel to Don while also chafing under his replacement, old-line ad man Lou Avery (Allan Havey). He blamed Dawn for his being surprised by Sally's impromptu visit after sending her on a lunch hour errand to buy perfume for his wife.
Lou to Dawn's other boss, Joan Harris (Christina Hendricks): "I know you can't fire her. Just move her to another part of the building."
Joan: "Lou, I will take care of this."
Dawn to Lou: "What do you mean by that?"
Lou: "I want my own girl."
Dawn then let him have it, the first time she's fired back. But she later wasn't within hearing distance of old patriarch Bertram Cooper (Robert Morse), who turned a whiter shade of pal at the sight of Dawn in her new post as the agency's entranceway receptionist. Cooper immediately upbraided Joan: "I'm
all
for the national advancement of colored people, but I do not believe they should advance all the way to the front of this office. People can see her from the elevator."
Joan again took care of things, but this time to Dawn's further advantage in a well-staged game of musical offices in which both women were promoted. As for Bertram, it's impossible to see him anymore as a semi-benign grandfatherly presence. He's now just a weathered old bigot.
3.
Before either of these flash points, creator/executive producer Matthew Weiner deftly set the table in a scene between Dawn and Sterling Cooper's other black secretary, Shirley (Sola Bamis). Gossiping in the agency's kitchenette, they playfully interchanged each other's names. It was their way of twitting the stereotype that all black people look alike.
4.
Peggy Olson (Elisabeth Moss) became further estranged from her agency colleagues, who in turn have ganged up on her. She's frustrated, unfulfilled and getting bitchy in the bargain. But nothing coming from Peggy in Sunday's episode could quite match a broadside delivered in her presence from ad man Michael Ginsberg (Ben Feldman), who said during an elevator grouping, "She has plans. Look at her calendar. February 14th. Masturbate gloomily."
5.
Yes, that was David James Elliott of
JAG
fame in the nearly unrecognizable role of adman Dave Wooster, who's entertaining the idea of hiring Don. He also wants to know what really happened to him at Sterling Cooper.
"I didn't know I was going to be interrogated by the Hooterville telephone operator," Don jabbed. That's a reference to the CBS sitcom
Petticoat Junction
.
Wooster later proposed they meet again -- at a New York Knicks game where his agency has seats "right on the floor."
"Bradley's having one helluva season," said Don. That's Bill Bradley, whose Knicks would win the championship in 1970 (the year after the current season of
Mad Men
is set).
6.
Perhaps you're wondering whether a man of Don Draper's refinement would really be familiar with
Petticoat Junction
. Yeah, he very likely would be. The episode began with Don finally rising at 12:34 p.m. and then watching an episode of
The Little Rascals
while eating Ritz crackers from the box. Later that evening, he had the Marlo Thomas-starring
That Girl
on the tube before Dawn came calling with her latest agency update.
7.
Sunday night's closing music wasn't nearly as impactful as the previous episode's
You Keep Me Hangin' On
by the Vanilla Fudge. Instead it was the comparatively obscure "This Will Be Our Year" by The Zombies.
8.
I'm still seeing an eventual reuniting of Don and Peggy, with a carping Pete Campbell (Vincent Kartheiser) and an increasingly marginalized Roger Sterling (John Slattery) also possibilities -- along with Dawn as head secretary -- in any last hurrah new ad agency. In fact, Sunday's most chilling lines -- other than the racial exchanges -- came from Sterling Cooper newcomer Jim Cutler (very well-played by Harry Hamlin). In the closing minutes, he told Roger on the elevator, "I'd hate to think of you as an adversary. I'd really hate that." Not really he wouldn't. Not really.
9.
A commenter on my Sunday night Twitter feed had a fine observation: "It saddens me that Millennials will never know the satisfaction of slamming down the receiver of a desktop landline phone." It was in reaction to Pete's angry reaction to Roger hanging up on him.
10.
Parting gems:
Boarding school classmate to Sally: "Jesus, Draper, is this your first funeral?"
Dawn to Shirley: "Keep pretending. That's your job."
Sally to Don: "It's more embarrassing for me to catch you in a lie than it is for you to be lying."
West coast agency partner Ted Chaough (Kevin Rahm) to Pete after he complains that "no one feels my existence" at the home office in New York: "Just cash the checks. You're gonna die one day."
Lou's dismissive reference to Don as "our collective ex-wife who still receives alimony."
Email comments or questions to:
unclebarky@verizon.net