Criminy, it's Criminal Minds: Suspect Behavior on (where else?) CBS
02/14/11 03:37 PM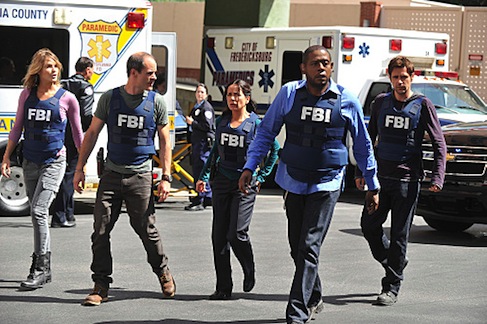 Forest Whitaker is point man for Criminal Minds spinoff. CBS photo
Premiering:
Wednesday, Feb. 16th at 9 p.m. (central) on CBS
Starring:
Forest Whitaker, Janeane Garofalo, Michael Kelly, Beau Garrett, Matt Ryan, Kirsten Vangsness
Produced by:
Mark Gordon, Edward Allen Bernero, Deborah Spera
By ED BARK
The head deadens at the thought of yet another crime-in-the-title spinoff on blood-spattered CBS.
But hold that thought for just a few secs. The network of three
CSIs
, two
NCISs
and now a pair of
Criminal Minds
also at least gets credit for having the most black actors in lead roles instead of as spare parts in ensembles. And they're not exactly hunky Denzel Washington types either.
CSI: Crime Scene Investigation
is headed by Laurence Fishburne while
NCIS: Los Angeles
finds LL Cool J as very much an equal partner alongside Chris O'Donnell. The network's
Criminal Minds: Suspect Behavior
, premiering Wednesday after just plain
Criminal Minds
, makes it a threesome by topping its cast with Oscar-winner Forest Whitaker. No other broadcast network can touch that kind of representation. So kudos to CBS for finding ways to make it happen.
OK, recess is over.
Suspect Behavior
is another wretched excess on a network that just can't help itself in light of its failure to launch a successful hospital drama (
Three Rivers, Miami Medical
); a musical (
Viva Laughlin
); a serial soap (
Cane
) or a bed-hopping period piece (
Swingtown
).
So, alas, it's back to the old grind. And
Suspect Behavior
is in every way a grind, with even the usually very capable Whitaker looking lost at sea with his halting, stumbling, keep-pausing-for-effect portrayal of crime team head Sam "Coop" Cooper.
His FBI associates are no less painful or ponderous to watch.
John "Prophet" Sims (Michael Kelly) is the resident loose cannon who's on probation after previously going trigger-happy and killing a child abductor. He still enjoys roughing up suspects but is trying to be a good boy in hopes of getting past his current "agent pending" status.
Beth Griffin (Janeane Garofalo) comes off as colorless but dedicated. Gina LaSalle (Beau Garrett) doesn't really register at all in the two episodes made available for review. And Mick Rawson (Matt Ryan) is the requisite jaunty Brit.
Bridging the two series is wisecracking computer master Penelope Garcia (Kirsten Vangsness), who pounds the keys and not the pavement in directing both
Criminal Minds
teams toward their weekly vermin.
Wednesday's premiere episode find them all in pursuit of a Cleveland child abductor played by Raphael Sbarge, who once upon a time was a budding CBS star in the short-lived 1986 sitcom
Better Days
. Now he plays creeps more often or not, with his receding hairline perfect for such roles. He kidnaps and terrifies two pre-teen girls in
Suspect Behavior
before Sims -- who else? -- gets the drop on him.
In an episode scheduled for March 2nd, viewers are introduced to a Tucson killer who carves one victim's eyes out and imbeds an ice pick in the ear of a second.
"What am I gonna tell my kids?" the widow of the first target weepily asks Whitaker's Coop.
"You should tell them that their father loved them," he answers in his slowly unwinding manner. "That's the only thing that's gonna make a difference. Tell them that."
The man's two eyeballs later are found in a newspaper vending box, horrifying a buyer. As if the industry didn't have enough problems.
Whitaker keeps trying to act up a storm, but the script invariably rains on his parade. As when he's asked what the killer's trying to communicate. And he answers in a trio of single-word sentences: "I'm. Not. Done." Or when Coop tells a comely Tucson homicide cop, "I get lost myself sometimes (in a killer's mind). You know what they say. The only way out" -- pause, one, two -- "is through."
No matter. Rest assured there's going to be an appetite for this in a Wednesday night slot in which the competition is pretty feeble -- ABC's failing
Off the Map
and NBC's fading
Law & Order: SVU
.
So whether us TV critic types like it or not, CBS will keep loading up while at the same time scraping bottom on new ways to kill, abduct, stalk, terrorize and apprehend. For its part,
Suspect Behavior
already seems to be running on empty. But since when is that a deterrent?
GRADE:
D