New fall season: Grammer a revelation as power-hitting Chicago mayor in Starz's Boss
10/19/11 03:55 PM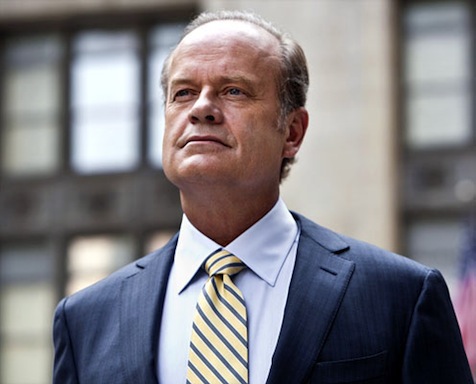 It's best not to mess with Kelsey Grammer's serious image reversal.
Starz photo
Premiering:
Friday, Oct. 21st at 9 p.m. (central) on Starz
Starring:
Kelsey Grammer, Connie Nielsen, Hannah Ware, Martin Donovan, Kathleen Robertson, Jeff Hephner, Troy Garity, Francis Guinan, Karen Aldridge, Rotimi Akinosho
Produced by:
Farhad Safinia, Gus Van Sant, Brian Sher, Stella Bulochnikov, Richard Levine, Lyn Greene
By ED BARK
Funnyman Kelsey Grammer, embedded in the public consciousness as persnickety Frasier Crane, is determined to take on an entirely new guise as a thoroughly ruthless Chicago mayor.
He must be kidding, right?
But seeing is believing. And you can see just what we mean at roughly the 25-minute mark of Starz's new
Boss
, which premieres Friday. That's when Grammer, as mayor Tom Kane, throws himself into a full bore rage while dressing down a city councilman whose ear he twists for good measure. It's a terrific scene from a heretofore comedic actor who has both the guts and the chops to re-invent himself. And with
Boss
already renewed for a second season, this is a Grammer we could get used to.
Boss
can be a little over-cooked or even half-baked at times in its depiction of time-honored Windy City corruption. But it's got a great big bite to it, with never a dull moment or badly shot scene.
Current Chicago mayor Rahm Emmanuel, formerly President Obama's chief of staff, is known to have a quick temper and a salty tongue. Still, he'll have to distance himself from
Boss
, whose principal politicians are all dirty to the touch.
George Clooney's new film,
The Ides of March
, ends up throwing idealism out with the trash.
Boss
almost makes
Ides
seem Cub Scout-y with all those phony power-to-the-people pronouncements from Kane, in whom all power resides behind the closed doors of his City Hall temple.
The series' weekly title music, "Satan, Your Kingdom Must Come Down" (performed by Robert Plant & The Band of Joy), is a dish served cold, unlike Grammer's cheery little "Green Eggs and Ham" ditty for
Frasier
.
Kane has a major problem, though. In the opening minutes of Episode 1, he's alone with his doctor in a onetime hog slaughterhouse. She informs him he has a rare and incurable degenerative brain disorder that will reduce him to a vegetable within three to five years time. Certain medications can stabilize him but they also could cause side effects. And even in the best of cases, he'll be prone to blank-outs , babbling and tremors, two of which occur in the first two episodes.
This provides Kane with even more impetus to ram things through in the interests of his greater glory while concealing his condition from icy wife, Meredith (very well-played by Connie Nielsen). Their marriage is strictly for show, not tell. And their drug-addicted daughter, Emma (Hannah Ware), has been a non-person in their lives for the past five years. She still lives in Chicago, though, and Tom Kane haltingly reaches out to her after learning his days are numbered.
Boss
also has a gubernatorial election in play, with crusty, amoral incumbent Matt Cullen (Francis Guinan) fully expecting to get shafted even after Kane floridly praises him at a campaign rally. The nominal idealist opposing Cullen, with Kane pulling the strings, is telegenic state treasurer Ben Zajac (Jeff Hephner). But he's not all that he seems either.
There's additional room in
Boss
for Kane's trusted senior advisor, Ezra "Stony" Stone (Martin Donovan); his blonde and ambitious chief of staff, Kitty O'Neil (Kathleen Robertson); and a crusading "Chicago Sentinel" reporter named Sam Miller (Troy Garity).
Starz someday hopes to become a feared rival to HBO and Showtime. All three networks operate without advertiser restraints, giving
Kane
the freedom to be as naked and profane as it chooses. There's some of each in the first two episodes, but Grammer gets equal dramatic mileage out of pronouncements such as, "The only thing you're missing is (political)
heft
. Here I am."
It's a bit much, perhaps, when
Boss's
's bang-bang sexual encounters both occur in public places where any exposure would be ruinous to both parties. And it seems rather preposterous for Kane to receive a pair of severed ears in a wooden box as proof that a problematic publicity seeker has been thoroughly cowed. Hizzoner then tries to jam them down his home garbage disposal.
But Grammer's performance is thoroughly engaging and convincing. And the events swirling around him never fail to snap, crackle and pop (sorry, Rice Krispies). It all makes for a terrific immorality play within the confines of a city that can't escape its made-for-TV corruption image any more than Dallas can unsaddle itself from the twin tags of conspicuous consumption and cowboy hats.
Boss
has lots more ambience, though. On with the show.
GRADE:
A-minus