HLN goes nuts for "social media generation"
04/10/14 03:23 PM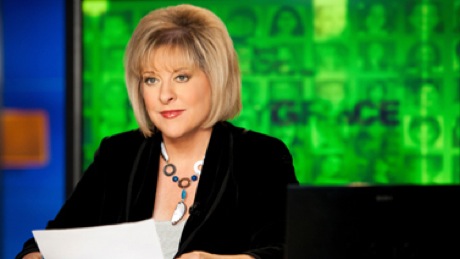 So how and where will Nancy Grace fit in on the new HLN?
By ED BARK
@unclebarkycom on Twitter
Ding dong, Nancy Grace could soon be gone, so at least there's that.
But if she's hard to swallow, what about the slate of programming announced Thursday on the new, re-branded HLN? Formerly Headline News Network, it's now billed as the "first TV home for the social media generation," even though the now defunct Current and the new Pivot network also have positioned themselves as havens for "millennials and the millennial-minded."
At Thursday's CNN Worldwide Upfront presentation in New York City, HLN's new executive vice president and general manager, Albie Hecht, raved about a "programming slate designed to heighten the all-screen experience -- TV, digital and social." HLN's publicity release also described this initiative as "diving further into a social media filter" after previously announced shows such as
One.Click.Away.
and
NewsToonz
(previously titled
I Can Haz NewsToons
).
The centerpiece of HLN's latest announcements is
The Daily Share
, a one-hour nightly program that will "provide a digest of what people are watching, searching, playing, sharing, shopping and creating in every aspect of their social lives."
But that's not all. How about the exciting new
America's Most Liked
, a game show that supposedly can "take someone from Internet nobody to web superstar. One just has to use their special or unusual talents to compete in viral challenges and try to get the most 'likes' from the 'all screens' audience."
There's also
News or Not
, another quiz that challenges viewers' "knowledge of real social media news headlines." Perhaps determining the veracity of "Boy Trapped in Refrigerator Eats Own Foot" -- or something like that.
In
The Social Life
, "twitter star, travel junkie, sports fan and foodie Ali Nejad enlists his nearly one million online followers to take on missions." And in
2 Spouses, 3 Houses
, "youtube star Jessica Edwards looks at a couples' social media 'likes, hearts and pins' to help her find three choices for their dream home."
There's much more where these came from, but let's briefly move to parent news network CNN, which also is in the midst of a makeover. On Thursday, the network announced it has ordered new prime-time series from Mike Rowe (of
Dirty Jobs
fame), Lisa Ling, and longtime
America's Most Wanted
host John Walsh.
Additionally,
The Jesus Code
aims to "take viewers on a forensic and archaeological journey through the Bible." Plus, the previously announced docu-series
The Sixties
, from executive producers Tom Hanks and Gary Goetzman, will premiere in May.
CNN also has renewed its Peabody-winning
Anthony Bourdain Parts Unknown
for four more "cycles" and picked up
Morgan Spurlock Inside Man
for at least one more go-around.
Two CNN holdovers,
Erin Burnett Outfront
and
Anderson Cooper 360
, will remain on the weeknight schedule from 6 to 8 p.m. (central) before an array of original series, films and in-house documentaries takes over at 8 p.m.
All bets are off, of course, whenever a jumbo jet goes missing or a big vacation cruise liner gets its toilets stopped up. CNN surely will remain your "all-in" 24/7 non-stop news source in those cases.
Email comments or questions to:
unclebarky@verizon.net