Winning hand: Sundance TV's Hap and Leonard deftly adapts to East Texas and the string of novels from Joe R. Lansdale
03/02/16 11:34 AM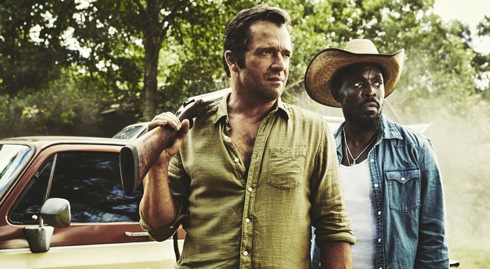 James Purefoy, Michael Kenneth Williams propel Hap and Leonard.
Sundance TV photo
Premiering:
Wednesday, March 2nd at 9 p.m. (central) on Sundance TV
Starring:
James Purefoy, Michael Kenneth Williams, Christina Hendricks, Bill Sage, Neil Sandilands, Jeff Pope, Polyanna McIntosh, Jimmi Simpson
Produced by:
Jim Mickle
By ED BARK
@unclebarkycom on Twitter
Outwardly mismatched characters who therefore are perfect for each other is a commonplace concept both on TV and in the movies.
Even so, Sundance TV's six-episode
Hap and Leonard
, drawn the from East Texas-set novels by Joe R. Lansdale, is a refresher course in how to make it all seem pretty much brand new.
Hap Collins (
Rome's
James Purefoy) and Leonard Pines (
The Wire's
Michael Kenneth Williams) are first seen toiling in a rose field before being informed they're losing their jobs to cheaper Mexican labor. It's the late 1980s, but "Morning In America" still hasn't dawned on these two. They're downtrodden semi-misfits from the Vietnam War era whose friendship was forged against all odds.
Leonard, who's gay, fought as a U.S. Marine in Vietnam. The divorced Hap, who's straight, spent time in jail as a conscientious objector. In the three episodes made available for review, we don't learn much about what drew them together. But brief flashbacks uncover other eventful moments in their lives, so there's still time.
Filmed in Louisiana, this initial made-for-TV adventure is drawn from "Savage Season," the first of nine
Hap and Leonard
novels written to date by Lansdale. Early in Wednesday's opener, Hap receives a surprise but welcome visit from his ex-wife Trudy (Christina Hendricks in her first major post-
Mad Men
role). She always seems to want something but he's never gotten over her. "A stiff dick ain't got no conscience," Leonard warns him to no avail.
This time Trudy has another proposition besides seduction. As shown in the opening sequence, it concerns one million dollars in cash that ended up underwater when the robbers capsized in a river. Trudy knows about this via her second ex-husband, a save-the-world zealot named Howard (Bill Sage) who became an activist in the 1960s and hasn't stopped.
While serving time in prison, Howard befriended the ill-fated survivor of the robbery and learned approximately where the money is now submerged. Trudy offers Hap $200 grand to help them find it. After all, he knows the lay of the East Texas land and also is much more a man of action than the vegetarian, pot-smoking Howard, who wants to use his cut of the money to supposedly "even the playing field between the haves and have nots."
Hap insists that part of the deal is including Leonard, who very much doesn't like Trudy and vice-versa. Friction ensues among all concerned, including Howard's principal associates. The badly scarred Paco (Neil Sandilands) is a former violent 1960s activist who used to head The Mechanics. Chub (Jeff Pope) is pretty much just a clumsy fat guy and butt of jokes.
Throughout this yarn, Hap and Leonard trade barbs that bounce off them like water balloons. Trudy, stuck in a crappy waitressing job at Family Burger, yearns to both break free and turn Hap back into an idealist.
"Leonard's rubbin' off on you. He sees the world through dirty glasses," she tells him.
Maybe so. Not that Hap cares. "I'm just not interested in the downtrodden," he says. "I'm one of 'em."
Now that's some crispy writing -- and there's plenty of it throughout. There's also a very disquieting sub-plot involving two vicious, twisted killers who enjoy being splattered by their victims' blood. Through the first three episodes, their activities are akin to an out-of-body experience in terms of story structure. But "Soldier" (Jimmi Simpson) has let it be known he's looking for Paco while his leather encased lover, Angel (Pollyanna McIntosh), seems to be mainly addicted to wanton mayhem. Assuming a collision course is inevitable, these two convey enough menace to send Freddy Krueger yelping away in terror.
Purefoy and Williams are standouts throughout while Hendricks pretty much settles in. The bloody goings-on apart from their fractious triangle can be jolts from out of the blue. But there's always some cauterizing banter just around the corner. As when Leonard says that Ronald Reagan acting opposite a chimp was ahead of its time before later asking Hap what the title was.
Bedtime for Bonzo
, he's told. "Bonzo was good. Movie was terrible."
"Never saw it," Leonard retorts.
GRADE:
B+
Email comments or questions to:
unclebarky@verizon.net