New series review: Fast Cars & Superstars -- Gillette Young Guns Celebrity Race (ABC)
06/06/07 10:37 AM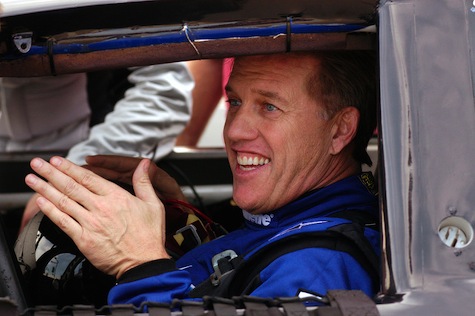 John Elway plays the race card in ABC's new high-speed competition.
Premiering:
Thursday, June 7th at 7 p.m. (central) on ABC, with a second episode on Sunday at 7 p.m.
Starring:
A dozen celebrity racers, including John Elway, Serena Williams, William Shatner, Tony Hawk, Jewel and Bill Cowher, plus six professional "Young Guns"
Hosted by:
Kenny Mayne, Brad Daugherty
By ED BARK
ESPN's Kenny Mayne is known for his low-key, sardonic approach to sports large and small. He shifts to the role of over-caffeinated lap dog on ABC's
Fast Cars & Superstars -- Gillette Young Guns Celebrity Race
.
The half-hour competition, premiering Thursday and continuing on Sunday, is surprisingly boring despite Mayne's out-of-character efforts to build it up.
"We're making history here!" he exclaims in the early going, assuming the position for a paycheck. Ya gotta eat, though, so Mayne swallows everything whole with help from an even more over-the-top Brad Daugherty.
A dozen celebrities are involved, including William Shatner of course. Three of them sort of race one another in each of the first four episodes. For openers, John Elway, Serena Williams and surfer Laird Hamilton individually take three laps around the track while pro racer Kurt Busch leads the way. The two celebs with the fastest time trials move on; the slowest goes home.
It's not exactly riveting, even with a terrified Williams screaming during early training sessions. Or with Mayne telling us, "The crowd is pumped up here at Lowe's Motor Speedway!"
You're going to hear the words "Lowe's" and "Gillette" a lot. NASCAR racing long has been product-placement personified, and ABC misses no chances to work in the names of this show's principal sponsors.
Boston Legal
's ubiquitous Shatner, who bombed earlier this season as host of ABC's
Show Me the Money
, is not involved in the first two time trials on
Fast Cars & Superstars
. He does, however, set the table for each episode. "Fear. There's always that element," Shatner proclaims as only he can proclaim.
Jewel ads, "This is really dangerous," even though it's really not.
Mayne occasionally throttles down to ESPN form, although remaining a little pitchy.
Elway's way with a wheel is "has set a new paradigm for celebrity racing greatness, whatever paradigm means," he says.
Sunday night's second episode will feature a celebrity threesome of skateboarder Tony Hawk, rodeo champ Ty Murray and actress Krista Allen, who got her start in the business as the disrobing star of the adult
Emmanuelle In Outer Space
series. Mayne neglects to mention this, instead focusing on Allen's roles in
Days of Our Lives
and ABC's recently canceled
What About Brian
.
"I almost puked," she says after making a very game effort to keep up with the boys.
Maybe the competition will get more interesting after the field is thinned. For now, though, the sights and sounds of celebrities following a "Young Gun's" lead are less compelling than a rush hour drive. Motorists scream in those cases, too.
Grade:
C-minus