HBO's Ja'mie: Private School Girl: gimme an F
11/21/13 02:57 PM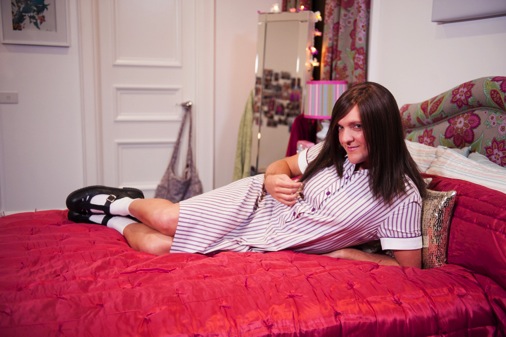 Chris Lilley stars in Ja'mie: Private School Girl. HBO photo
Premiering:
Sunday, Nov. 24th at 9:30 p.m. (central) on HBO
Starring:
Chris Lilley, Georgie Jennings, Georgia Treu, Laura Grady, Phoebe Roberts, D'Arci Buckerfield, Tayla Duyal
Produced by:
Chris Lilley, Laura Waters
By ED BARK
@unclebarkycom on Twitter
This won't take terribly long. HBO sent all six Season One episodes of
Ja'mie: Private School Girl
. Two were all I could take.
It's not that "Australian sensation" Chris Lilley (
Summer Heights High, Angry Boys
) doesn't know how to portray a thoroughly self-absorbed, lesbian-baiting, fat-loathing high school mean girl clique leader named Ja'mie King. It's just that he quickly becomes a big drag (in drag) in this one-note, off-putting comedy series being paired on Sunday nights with HBO's
immensely superior Getting On
.
Lilley's character, striving to become "Best Girl in Year 12" at privileged Hillford Girls Grammar, is less inviting than colon cancer. Perhaps Lilley is endeavoring to make a "statement" of some sort. But lines such as "Shut your fat face" (to a female classmate) and "Shutup, who asked you?" (to his mother) are piled high to the point of gratuitously piling on. What can we learn from this? Nothing at all -- charitably speaking.
Ja'mie's posse is a gaggle of six giggling sycophants whose collective IQ perhaps approaches room temperature in an igloo. Their all-that activities become redundant and tiresome at WARP speed, raising the overall question of whether watching
Ja'mie: Private School Girl
on a continuous loop would be worse than eternal burning in hell.
So no, I'm not a fan.
GRADE:
F
Email comments or questions to:
unclebarky@verizon.net