Syfy's Hollywood Treasure a nook for schnooks who collect (including Uncle B)
10/27/10 10:00 AM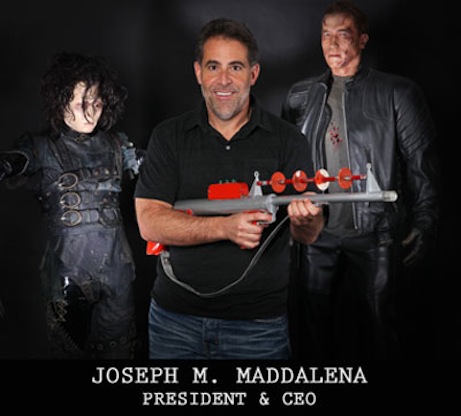 Premiering:
Wednesday, Oct. 27th at 9 p.m. (central) on Syfy with back-to-back half-hour episodes
Starring:
Joe Maddalena, Brian Chanes, Jon Mankuta, Tracey McCall
Produced by:
Jerry Shevick, Mark Zupon, Bruce Toms
By ED BARK
Everything -- and everyone -- has its price. But who would cough up $70 grand for a
Lost In Space
laser rifle?
That's the only final auction bid I'll reveal in the interest of encouraging viewers who might have a Pez dispenser once used as a kid by Jerry Van Dyke. There's always a buyer out there somewhere.
Syfy's passably informative and entertaining
Hollywood Treasure
launches Wednesday with two half-hour episodes opposite Game 1 of the World Series. It's worth recording if you're a fan of
Antiques Roadshow
or
The Price Is Right
-- or have a prop from
Nurse Betty
.
The show's leading man is Joe Maddalena, a rather excitable sort who owns a Hollywood auction house called
Profiles In History
. Joe's "never-ending quest" is to hunt down collectibles and sell them for big money. He's always thrilled to get good prices for the previous owners, but never says what his cut is. Side note: Joe's company conducted the recent auction of
Lost
memorabilia.
In Wednesday's second episode, Joe braves a flight to Toledo, Ohio, where a misty-eyed collector named Sue Palmer has owned the wicked witch's hat from
The Wizard of Oz
since paying $30 grand for it 21 years ago.
"Owning that piece has been like owning a piece of history," she deduces. Joe's all smiles but his heart is pounding like a construction site jackhammer. If he can persuade her to part with it, his upcoming auction will have its crown jewel.
Each half-hour begins with a "10 Days Until Auction" countdown and climaxes with a few minutes from the auction itself. It's Joe and his team's responsibility to gather enough enticing goodies to make bidders go nuts. They're initially on the trail of a possible shark from
Jaws
that now resides at the U-Pick Parts junkyard. But their biggest prey is a carpet handbag whose Chicago owners say was used by Julie Andrews in
Mary Poppins
.
Even at a half-hour, the episodes are padded. Commercial breaks apparently are deemed too long for viewers to remember what happened just a few minutes earlier. So
Hollywood Treasure
needlessly repeats some of the scenes and dialogue.
There are plusses, too. It's interesting to watch the authentication of a coat supposedly worn by Bela Lugosi in
White Zombie
. There's also a visit to the home of Joe's friend, Dawn Wells, who played Mary Ann on
Gilligan's Island
. She's saved a lot of stuff, including a pair of her short shorts, a checked dress, a coconut prop and some scripts signed by the whole cast. Joe salivates, but encourages Dawn to wait a bit to capitalize on the "sizzle" of a planned 2011
Gilligan's Island
feature film that supposedly will star the likes of Zach Braff, Jack Black and Emma Watson as Mary Ann.
Syfy publicity materials say that items up for bid in future episodes will include a miniature biplane from the original
King Kong
movie and the bottle from which Barbara Eden emerged on
I Dream of Jeannie
.
Eden, who owns this artifact, plays hard to get and is unseen in the first two episodes of
Hollywood Treasure
. But she apparently will be playing along at some point.
Meanwhile, check out your garage or attic to see if you might have a mint condition copy of William Shatner's
The Transformed Man
LP or some teeth kicked in by Chuck Norris on
Walker, Texas Ranger
. Whatever they're worth, someone will pay it.
GRADE:
C+
PROGRAMMING NOTE:
Viewers who subscribe to DirecTV can see the fifth and final season premiere of Austin-made
Friday Night Lights
before it eventually makes its way to NBC in late spring or early summer.
FNL
relaunches on Wednesday, Oct. 27th at 8 p.m. (central) with an episode titled "Expectations." Kyle Chandler and Connie Britton return as the series' bulwarks, Coach Eric Taylor and his wife, Tami Taylor. Both received overdue Emmy nominations for their work in Season 4.