O'Reilly on the ropes? Popularity doesn't matter if advertisers forsake you
04/10/17 09:11 AM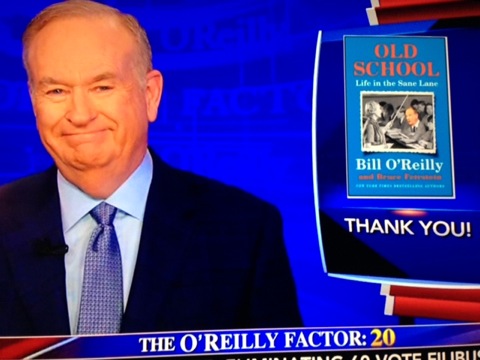 Absent any mainstream ads, but with a wealth of 800 number bottom-feeders, the host still found time to promote his latest book and upcoming personal appearances on Friday's The O'Reilly Factor.
Photo: Ed Bark
By ED BARK
@unclebarkycom on Twitter
When speculating on whether Bill O'Reilly might survive his latest round of sexual harassment allegations, don't forget to factor in the long-ago but still relevant experience of a current Fox News Channel colleague.
The shorthand equation: Big ratings -- and in O'Reilly's case, bestselling books as well -- are largely irrelevant if you can't attract revenue-producing advertisers.
Geraldo Rivera quickly learned this back in 1988 while being employed by NBC. In the afterglow of his live Al Capone's vaults outing, which remains the most-watched syndicated TV special ever despite its laughable outcome, Rivera signed a fat contract with the Peacock and soon presided over the two-hour
Devil Worship: Exposing Satan's Underground
. As NBC had hoped, it made a dominant showing in the Nielsen ratings. But a major bailout by advertisers, many of them at the last minute, forced NBC to plug in a festival of promotions for other programs in its lineup. End result: the devil worship special became a major money-loser despite its big ratings. Soon after, NBC dropped Rivera.
Let's fast-forward almost three decades to the Friday, April 7th edition of
The O'Reilly Factor
. It was not a good look for the embattled host, for whom FNC has paid out a reported $13 million to settle sexual harassment charges by five accusers.
The Factor
had six commercial breaks, if you want to call them that. Just 13 ads were shown, six of them of the bottom-feeding 1-800 number ilk and another one an 877 number derivative. Included were spots for an Elvis Presley gospel music collection, the Liberation Medical catheter and Australian Dream arthritis cream, touted by Chuck Woolery. Plug-in ads such as these are sold at "fire sale" rates, which is tantamount to giving the time away. At last count, a growing list of more than 60 advertisers are boycotting
The Factor
by refusing to promote their products on the show.
What do networks do in such cases? They try to lure defecting advertisers back while at least temporarily relocating their commercials to other shows. According to a statement from FNC executive vice president of sales Paul Rittenberg, "We value our partners and are working with them to address their concerns about
The O'Reilly Factor
. At this time, the ad buys of those clients have been re-purposed into other FNC programs."
On Friday, two other prime-time news commentary shows,
Tucker Carlson Tonight
and
Hannity
, found themselves short-sheeted with commercial overloads. My breakdowns show that each program was crammed with 41 ads compared to O'Reilly's 13. Carlson's show had an additional spot for Fox's
The Mick
, a first-year sitcom renewed for next season. Mainstream advertisers shunning O'Reilly but still on board with Carlson and/or Hannity Friday included Mitsubishi, Jenny Craig, Orkin, Allstate, Capital One, Phillips, T. Rowe Price, Stein Mart, Honda, Lumber Liquidators and the AMC television network.
Sean Hannity felt the O'Reilly burn near the end of his Friday night show after he promised "More
Hannity
right after this quick break." But the break wasn't so quick, with 10 commercials filling just over four minutes of air time. So "more
Hannity
" turned out to be the host saying, "That is unfortunately all the time we have for this evening."
Carlson signed off about five minutes before the hour to accommodate 11 commercials bridging his show and Hannity's. In the short term, perhaps both hosts are willing to give up a bit of their content while FNC and O'Reilly try to ride out the storm. But in the long term, ad overloads are a viewer turnoff that could hurt both Carlson's and Hannity's ratings. And if the O'Reilly ad boycott shows any signs of spreading to the FNC network at large . . . well, he'll be gone sooner rather than later.
O'Reilly so far has not addressed his predicament on
The O'Reilly Factor
, but issued a statement on April 1st in which he said that as a celebrity he's "vulnerable to lawsuits from individuals who want me to pay them to avoid negative publicity."
No FNC employee has "ever filed a complaint about me with the Human Resources Department, even on the anonymous hotline," he added. "But most importantly, I'm a father who cares deeply for my children and who would do anything to avoid hurting them in any way. And so I have put to rest any controversies to spare my children." (O'Reilly has been divorced since 2011, from Maureen McPhilmy, with whom he continues to war over money and custody of their two children, both of whom are teenagers.)
On Sunday, FNC announced an internal investigation of O'Reilly after a former regular guest on his show, Wendy Walsh, called the network's hotline to complaint about his conduct. In the company of her lawyer, Lisa Bloom, she earlier had publicly aired claims that O'Reilly reneged on a verbal commitment to make her a paid network contributor after she declined an invitation to join him in his hotel suite. The outside law firm looking into her allegations is the same one that investigated O'Reilly's former boss, FNC founder and chairman Roger Ailes, on charges of sexual harassment. He eventually was dismissed while FNC representatives promised to change the network's "culture."
NBC's most recent edition of
Saturday Night Live
happily lampooned the O'Reilly situation over the weekend, with Alec Baldwin playing both the embattled host and his highest-profile supporter, President Trump, who had told
The New York Times
that O'Reilly "shouldn't have settled . . . I don't think Bill did anything wrong."
The two allegedly objective Sunday morning media analysis shows (hah!), Brian Stelter's
Reliable Sources
on CNN and Howard Kurtz's
Media Buzz
on FNC, also weighed in on O'Reilly.
Stelter piled on by devoting three full segments and roughly two-thirds of his one-hour program to the O'Reilly imbroglio. Kurtz waited until the very end of his competing show to talk about the matter for less than two minutes. "It's been a rough week of media coverage for Fox News," he began before giving his network's denials as much play as the allegations.
So will O'Reilly survive? I'm not a prophet, but in this case it's all about profits. O'Reilly can continue to enrich himself with the money he takes in from book sales and public appearances with Dennis Miller and
Factor
contributor Jesse Watters. But this doesn't do his network any good, and in fact might accelerate any FNC decision to cut O'Reilly loose. No network, after all, wants to be a platform-providing patsy. And if the ad boycott persists, that's exactly what FNC will be.
As a footnote to all of this, just what is it about Bills and sex scandals? Bill Clinton, Bill Cosby, Billy Bush and now Bill O'Reilly. Just another talking point.
Email comments or questions to:
unclebarky@verizon.net