For starters, Stephen Colbert's Late Show has some strong finishing kicks
09/15/15 03:31 PM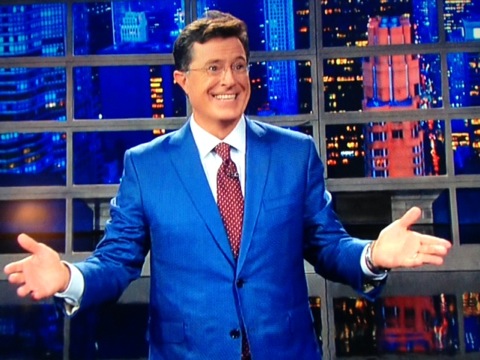 Stephen Colbert in opening minutes of opening night. Photo: Ed Bark
By ED BARK
@unclebarkycom on Twitter
Stephen Colbert now has five shows and counting as host of the CBS
Late Show
. So here's a little advice -- unsolicited, of course -- on how he could do better by both the audience and himself.
First off, dial yourself down a notch while also making more room for the guests you've been promoting. Because some of those guests, particularly the second-billed ones, have been unique to the latter day late night terrain. And they also bring out your formidable off-the-cuff interviewing skills because there are no pre-scripted comedy bits to service.
Instead, Colbert has opted to overly showcase himself in the early going. OK, it's fine if you want to dance a little with bandleader Jon Baptiste in the opening seconds. For an always impeccably tailored, 51-year-old white dude, you've still got some solid moves.
But after what so far have been relatively brief monologues, does Colbert really need to be his own "Joining me" announcer rather than leaving those duties to an off-camera pitchman or on-camera sidekick (neither of which he has so far)? That smacks a little too much of "I'm Stephen Colbert and you're not."
The host also spends a lot of time on his own prepared comedy pieces before getting to the two guests at hand plus a musical performance. All of the late night hosts do at least one set piece before welcoming anyone. But Colbert seems to over-do it at times with multiple Colbert-centric riffs. Some have been better than others. Still, while Colbert indulges himself, rival Jimmy Fallon has been getting to his top-billed guests in considerably quicker fashion. Even if, in Fallon's case, it's only to play a game with them.
Case in point: last Wednesday, the
Tonight Show
host knew he had a big winner in pal Justin Timberlake. So while Colbert tarried before bringing on Scarlett Johansson, Fallon rolled out Timberlake and roared to a resounding ratings victory while Colbert's second-night ratings fell off 35 percent nationally and
more than 50 percent in D-FW
. Maybe that was something of an aberration. But Fallon and his show's producers showed some show biz savvy on that night by going for the jugular while Colbert opted to wear a big furry hat with a pointed red top for an overlong and decidedly less than hilarious string of "The hat has spoken!" pronouncements.
Here's another dilemma, though. Big star guests are supposed to be ratings magnets while the closing portions are left to lesser names. But in the majority of cases, the second tier guests on
Late Show
have left viewers like me wanting more while the segments with Johansson, George Clooney and even Amy Schumer were at best so-so.
The notable exception came Thursday night, when
Late Show
's featured guest, Vice President Joe Biden, made news not with any presidential candidacy declarations but with a string of emotional memories of his late son, Beau. Staunch political partisans will contend that a deferential Colbert almost kneeled in Biden's presence. But if you step back, this was television at its most compelling, with the vice president speaking at length from his gut while his host had the good sense to stay out of the way and mostly listen.
On the other hand, I also wanted to hear more from Colbert's second guest that night, Uber CEO Travis Kalanick. The host challenged him while also getting in more than a few deft ad-libs. The same could be said of the opening night interview with Republican presidential candidate Jeb Bush and with Wednesday's No. 2 guest, Tesla Motors CEO Elon Musk.
On Monday night, featured guest Emily Blunt proved to be fun and engaging. Still, how often do you get a U.S. Supreme Court justice to do a late night talk show? Stephen Breyer was there on behalf of his new book. But Colbert intelligently and also humorously questioned him on other topics. Breyer's erudite but never stuffy responses made this another segment that could have used a few more minutes. But it's easy for me to say "Damn the audience demographics" and full speed ahead with more actual unrehearsed conversation.
Colbert and his guest bookers deserve major credit for lining up more of the same -- even if all of these upcoming guests are second-billed. The Tuesday, Sept. 15th show brings Apple CEO Tim Cook. On the following night, Colbert is scheduled to welcome United Nations Secretary-General Ban Ki-Moon. Tuesday of next week brings Secretary of Energy Dr. Ernest Moniz and on Thursday, Sept. 24th, Archbishop Thomas Wenski is booked.
It's safe to say that Fallon would rather wrestle a rattlesnake than invite any of the above. And that's not even including announced
Late Show
appearances this week and next by presidential candidates Bernie Sanders (Sept. 18th); Ted Cruz (Sept. 21st) and Donald Trump (Sept. 22nd), with whom Fallon mostly did shtick last week.
In a perfect world -- no chance of that -- the likes of Kalanick, Musk, Breyer and Cook would be moved to the front of the guest list. That's not going to happen. What can happen, though, is for Colbert to give each of them at least a couple more minutes, even at the expense of his own top-of-the-show solo acts.
Dick Cavett's old late night show comes to mind. No one expects any back to the future approaches of that sort. But if you're going to daringly book unusual guests, then follow through by stretching their segments out a bit. It's where Colbert shines, and he also clearly wants to make
Late Show
much more of a landing spot for people of genuine substance and achievement.
CBS This Morning
has stayed true to its serious news approach opposite the three-ring circuses on
Good Morning America
and Today. And while its ratings improvements are glacial, they've at least been steady.
One last thing. The closing musical performances on
Late Show
have been terrific. The Kendrick Lamar medley was blow-away great, as was the opening night sing-a-long to Sly and the Family Stone's "Everyday People." Paul Simon was the surprise front man for the "Troubled Waters" cover band on Friday night while The Dead Weather rocked it on Monday night's edition.
All of which goes to show -- from this perspective at least -- that Stephen Colbert's better half generally has been the second halves of his still formative show. Dare it be said that a little less of him would make everything even better?
Grade:
B (for the first five shows)
Email comments or questions to;
unclebarky@verizon.net