ABC's The Astronaut Wives Club blasts off with a surprisingly compelling true tale
06/16/15 01:18 PM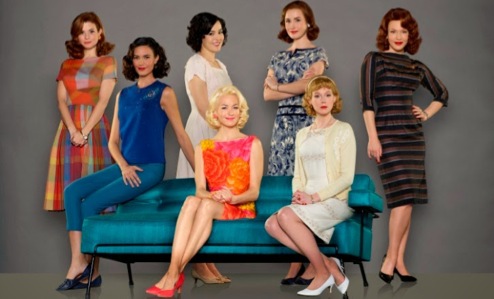 It's all about putting on brave fronts in The Astronaut Wives Club.
ABC photo
Premiering:
Thursday, June 18th at 7 p.m. (central) on ABC
Starring:
Yvonne Strahovski, Dominique McElligott, Odette Annable, JoAnna Garcia Swisher, Erin Cummings, Azure Parsons, Zoe Boyle, Desmond Harrington, Evan Handler, Sam Reid, Luke Kirby, Bret Harrison, Kenneth Mitchell, Wilson Bethel, Aaron McCusker, Joel Johnstone
Produced by:
Stephanie Savage, Josh Schwartz, Len Goldstein, Michael London
By ED BARK
@unclebarkycom on Twitter
ABC's blast from the past answer to
Mad Men
is likewise very much about salesmanship and subjugation.
It's also far more interesting and incisive than anticipated, even if you're fully familiar with the history of America's all systems go effort to put a man on the moon. Initially set in the early 1960s and based on the same-named 2013 book by Lily Koppel,
The Astronaut Wives Club
is a summer diversion with smashing period wardrobes and starry-eyed tunnel visions. NASA had a twofold mission: beat Russia to the punch while making the public fall in love with "America's Astro Family."
The seven original Mercury astronauts and their spouses were filtered through the glossy pages of
Life
magazine, which had exclusive rights to tell their tales and hide their skeletons. Through the first three episodes made available for review, viewers will be witness to four historic launches as well as the suppressed real stories of:
***
Louise and Alan Shepard (Dominique McElligott, Desmond Harrington)
***
Annie and John Glenn (Azure Parsons, Sam Reid)
***
Betty and Gus Grissom (JoAnna Garcia Swisher, Joel Johnstone)
***
Trudy and Gordon "Gordo" Cooper (Odette Annable, Bret Harrison)
***
Rene and Scott Carpenter (Yvonne Strahovski, Wilson Bethel)
***
Marge and Deke Slayton (Erin Cummings, Kenneth Mitchell)
***
Jo and Wally Schirra (Zoe Boyle, Aaron McClusker)
American didn't know, for instance, that Trudy had left the philandering Gordo and only resumed their sham marriage to help him out both career- and PR-wise.
Or that Marge had been -- gasp -- previously married and divorced. She runs afoul of a tabloid magazine that tries to blackmail her in return for dirt on other astronauts and their wives.
Furthermore, Alan was the biggest horn dog of them all, rendering his wife, Louise, icy, distrustful and often dismissive of the other wives. As in, "The last thing I need in my house is six giddy women and their deviled eggs."
The goodly Annie's bad stutter was also deemed unacceptable for public consumption. John remained devoted to her while she positioned herself as "a woman who knows when to shut up. America will love me." Her tongue was at least a bit in cheek.
Beyond the 14 principals are two important supporting characters. Evan Handler plays protective and oft-dictatorial NASA handler Duncan Pringle while Luke Kirby is see-no-evil
Life
correspondent Max Kaplan.
The drama deftly inserts actual news footage from those times. But it's less successful with a mockup of an older news anchor who apparently is supposed to represent Walter Cronkite. He instead comes off as pretty much a stiff over vintage black-and-white TV screens.
Astronaut Wives Club
revisits a period when Rene Carpenter became a national headline-maker by declining to say she'd be praying for her husband's safe return. "Why don't you smash some church windows while you're at it? Step on an American flag," Pringle rages in Episode 3.
The wives are more or less united at crunch times but also can be combative with one other in the interests of protecting their turfs. Their husbands get the double-standard option of carousing with cute groupies at pool parties while the wives are expected to hold chaste launch day get-togethers.
One and all were white. But ABC, far more than its broadcast network rivals, is stressing the importance of diverse casting. So Episode 2 has Gus Grissom graciously volunteering to sign an autograph for the young son of a black motel maid. And in the third hour, Rene Carpenter asks him to join the wives at her husband's launch. "Thank you, Mrs. Carpenter," he replies cheerfully. "But all the beaches in Cocoa are whites only." Both scenes come off as awkwardly patronizing.
Astronaut Wives Club
can be hard-pressed to generate any genuine week-to-week suspense for anyone with even a cursory knowledge of America's space program. Still, the producers try.
"I'm afraid we may have lost an astronaut," the generic news anchor intones before Mrs. Astronaut begins agonizing to the tune of somber music. Episode 2 even has a cliffhanger, with an astronaut telling his wife he's been grounded. "Why?" she implores. "Why would they do that to you?" Fade to black.
In the end, though,
Astronaut Wives Club
makes its presence felt without such dramatics. It's a character study first and foremost, with a sure-handed sense of time and place. This is the unvarnished version that NASA kept from the pages of a compliant
Life
magazine.
"Alan can never know I was scared. No one can," Louise Shepard tells the magazine's go-between after her two-timing husband makes history with the United States' first manned spaceflight.
Both Shepards are now deceased, as are most of the 14 principals. John and Annie Glenn endure as the only surviving couple. In
Astronaut Wives Club
, they're also the most happily married amid all the extracurricular activities. Every story can still use a hero -- and in this case certainly, some heroines as well.
GRADE:
B+
Email comments or questions to:
unclebarky@verizon.net