CBS stumbles out of the pearly gates with Angel From Hell
01/07/16 01:36 PM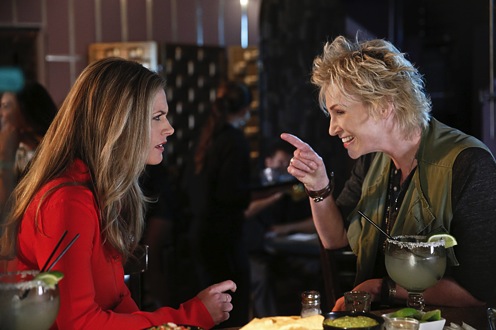 Maggie Lawson, Jane Lynch star in Angel From Hell. CBS photo
Premiering:
Thursday, Jan. 7th at 8:30 p.m. (central) on CBS
Starring:
Jane Lynch, Maggie Lawson, Kevin Pollak, Kyle Bornheimer
Produced by:
Tad Quill, Don Scardino
By ED BARK
@unclebarkycom on Twitter
The Jane Lynch persona is ingrained at this point. In short, she doesn't do sweet.
After a long run as acerbic Sue Sylvester on Fox's
Glee
, Lynch returns to scripted series TV as an acerbic guardian angel named Amy. Pushed back from an initially announced fall premiere, the CBS sitcom
Angel From Hell
will be following
Mom
on Thursday nights. The network once had a big hit with the life-affirming
Touched By An Angel
. This decidedly is not that.
The first words out of Amy arrive after a peddler asks, "Hey, magician lady, did you disappear my fruit again?"
"No, Steve," she retorts. "It's probably up your ass, next to that giant stick, huh?"
There seems to be little redeeming value in this rather slight little outing that also stars Maggie Lawson (quite good opposite James Caan in ABC's short-lived
Back in the Game
) as an uptight dermatologist named Allison. She quickly runs afoul of Amy and at first very much wishes she hadn't.
Amy, who's also a heavy drinker, just happens to know some very specific details about Allison, including the fact that her mother died a little over a year ago. But there's also this: "Got your first period at Red Lobster, which is super-ironic. Remember your first orgasm when you farted just a little bit?"
Gabriel, blow your horn, because there must be some kind of mistake here. Shouldn't Amy instead be serving piping hot drinks as a bartender at Club Lucifer? But no, she's been deployed to jack up Allison's social life after first jettisoning her duplicitous boyfriend.
Veteran actor/mimic Kevin Pollak is stuck on the periphery as Allison's doctor dad, Marv. In a second episode sent for review, he gets to do a brief Liam Neeson impression. The fourth wheel is Kyle Bornheimer (CBS' short-lived
Worst Week
) as Allison's basically hapless brother, Brad.
Angel From Hell
is without a laugh track or any real sense of purpose beyond letting Lynch fire away. Some of her darts can be amusing. And her delivery system remains intact. But even by Episode 2, the premise is wearing thin. So much so that guest star and former New Kids on the Block member Joey McIntyre basically is a throw-in who plays himself for no other reason than promotional purposes. Not that Joey alone can pack 'em in anymore.
Allison, bless her, is fated to see "the upside of having a weird friend" who champions getting plastered at all hours of the day. In
Angel From Hell
, this is God's work.
GRADE:
C-minus
Email comments or questions to:
unclebarky@verizon.net