Downton Abbey's Season 5 steps it up and regains its solid footing
01/03/15 10:40 AM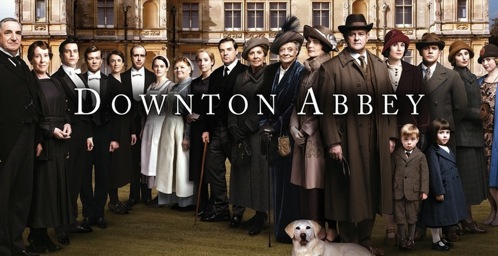 The gang's all there for Season 5 of Downton Abbey. PBS photo
By ED BARK
@unclebarkycom on Twitter
Perhaps
Downton Abbey
didn't need a swift kick in the pants after a somewhat snoozy Season 4.
It needed more than a little nudge, though. And so that's come to pass in Season 5, which launches on
Sunday, Jan. 4th at 8 p.m. (central)
with the first of nine episodes.
PBS provided all but one of them for review, and they were all in all a great pleasure to behold. Much happens, including a sudden emergency at the close of Episode 1. There also are closures, departures, longings, new unions, spilled secrets and two major blowups by
Downton's
oft-unyielding command presence, Robert Crawley, Earl of Grantham (Hugh Bonneville).
In Episode 4 he storms away from the dinner table. In Episode 5 he engages in fisticuffs in the bedroom he shares with wife Cora Crawley, Countess of Grantham (Elizabeth McGovern). All of this is in addition to the incursion of a "wireless," namely a radio, within the walls of their posh domain. "I find the whole idea a kind of thief of life," Robert grouses. "That people should waste hours huddled around a wooden box listening to someone talking at them."
The year is 1924 at this point, so Robert may or may not live long enough to experience the debilitating effects of television, which otherwise continues to be graced by the presence of
Downton Abbey
.
Episode 1 begins with the Crawleys' oft-vexed and unfulfilled daughter Edith (Laura Carmichael) longingly gazing upon her secret baby daughter, Marigold, who's been left in the care of a nearby farmer and his possessive wife. The child is the product of Edith and editor/publisher Michael Gregson (Charles Edwards), who went missing in Germany last season.
Meanwhile, the widowed Mary Crawley (Michelle Dockery) has agreed to a daring proposal (not of marriage yet) by one of her two principal suitors. Let's just say that it involves a preliminary trip to the pharmacy by her maid, Anna Smith (Joanne Froggatt).
There are other intrigues and urges in the briskly paced season opener. Underlying them all is the continued onset of "progress," of which Robert is not particularly fond. In this case, his principal antagonist is the highly opinionated Miss Sarah Bunting (Daisy Lewis), a schoolteacher to whom Tom Branson (Allen Leach) has taken a strong liking. Does commoner Tom really belong among the upper crust Crawleys after the death of his spirited wife, Sybil Crawley? Or should he go back where he "belongs?"
Knitting all of this -- and much more -- together is the barbed but wise Violet Crawley (Maggie Smith), mother of Robert and also the Dowager Countess of Grantham. Smith, who has won two Emmys in this role, dispenses pointed one-liners like candies from a Pez dispenser. They're usually tart but sometimes just a little sweet. And what's not to like? A small sampling:
Episode 1 -- "Principles are like prayers. Noble, of course. But awkward at a party."
Episode 4 -- "Hope is a tease designed to prevent us from accepting reality."
Episode 6 -- "All this endless thinking. It's very overrated."
Episode 7 -- "My dear, a lack of compassion can be as vulgar as an excess of tears."
Episode 8 -- "Love cannot conquer all. But it can conquer quite a lot."
In the far less rarefied downstairs quarters, spunky Daisy Mason (Sophie McShera) strives to better herself with some book learning while the hard and soft Mrs. Patmore (Lesley Nicol) encourages her with some misgivings. Mrs. Patmore also is heartbroken about plans for a new village war memorial that won't be including the name of a deceased soldier who was very close to her.
Season 5 of
Downton Abbey
also has much in store for haughty, scheming under-butler Thomas Barrow (Rob James-Collier) and Cora's new lady maid, Phyllis Baxter (Raquel Cassidy), who very much comes into her own this season. And be assured there's ample opportunity for the domineering Mr. Carson (Jim Carter) to speak in his trademark stentorian tones while second-in-command Mrs. Hughes (Phyllis Logan) keeps him in check.
A principal new character is art historian Simon Bricker (Richard E. Grant), who takes a strong liking to both classic paintings and his picturesque tour guide. Oh, but she wouldn't, would she? Also added with considerable import: Atticus Aldridge (Matt Barber) as a handsome new beau for frisky Lady Rose MacClare (Lily James).
This season will be without two of last year's marquee guest actors, Shirley MacLaine as Lady Cora's flinty America-born mother, Martha Levinson, and Paul Giamatti as Cora's playboy brother, Harold. But the door remains open for future seasons, according to the show's producers.
For now, Season 5 is proof that
Downton Abbey
remains in possession of a strong pulse and story lines. It minds its manners -- and its stately manors -- while keeping its characters vital and vulnerable. Season 4 could be a slog at times. Season 5 shows no such signs.
GRADE:
A-minus
Email comments or questions to:
unclebarky@verizon.net