The Larry Sanders Show rides again in complete series set that oozes TV greatness
11/03/10 11:59 AM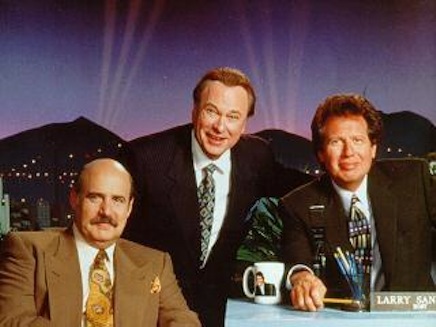 Unholy trinity: Hank, Artie and Larry of The Larry Sanders Show.
By ED BARK
Under-appreciated at Emmy time and under-seen on HBO,
The Larry Sanders Show
only grows in stature as time marches on through the late night talk TV minefield.
Its 89 episodes are newly packaged and now available via
Shout! Factory
, a video curator whose restoration projects and dedication to both the great and the bizarre merit yet another full-throated shout out.
Larry Sanders
(suggested $149.99 retail price but shop around) weighs in at roughly 40 hours on 17 discs with ample "Bonus Content" and a 60-page booklet documenting the show's 1992-'98 run. It's all as fresh today as it was back in the day, with Garry Shandling, Rip Torn and Jeffrey Tambor brilliantly funny and craven as Larry, producer Artie and sidekick Hank "Hey Now" Kingsley.
No series before or since has rolled the TV industry onto its back and exposed its underbelly with such mercilessly biting results. And on the big screen, only 1976's ahead-of-its time
Network
has played in the same league as
Larry Sanders
.
Much of this is due to Shandling's lifelong neurotic bent. He still seems terminably unable to come to grips with himself, making Larry David seem like Dr. Phil in comparison. But this also freed him to follow his own distinctive beat and instincts during the course of this landmark TV series. Shandling's manifest insecurities are resplendent on-screen and in character. And he found the perfect trimmings in Torn and Tambor. Few if any comedic trios have ever clicked like this one, although The Three Stooges certainly had their moments.
The DVD add-ons are another matter, however. Shandling's "Personal Visits" with prominent
Larry Sanders
guest stars (taped in 2007 as part of a previously released retrospective), can be almost painful to behold. He's thoroughly discombobulated in the presence of Carol Burnett, who as herself went against the grain of a self-described "White Bread Woman" image by saying "I saw your balls" during Season 1's third episode.
"I loved it. I slept very well that night when I got home," she tells Shandling during their ad hoc reunion. In turn, he yammers and stammers about.
Another such interview, this one with Jon Stewart, is done over the telephone with video cameras trained on both of them. Stewart, playing himself, was the guy who replaced Sanders in HBO's fictional but all too true talk show world. In their 2007 interview, Shandling can't remember anything regarding how he hired Stewart in the first place. Not even their New York dinner with Billy Joel also in attendance, as Stewart relates it.
Shandling ends their conversation by asking Stewart what he should do next. "Lighten up," Stewart says in all sincerity. This seems to further muddy Shandling's waters. He has no idea how to react to such advice.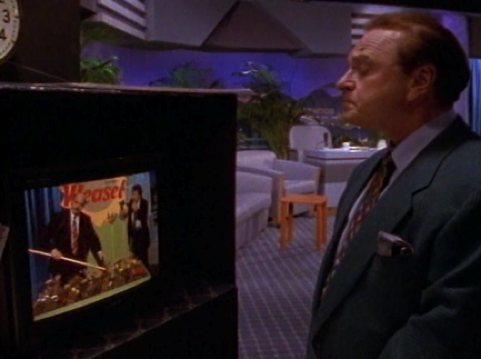 Artie watches Hank and Larry shill for The Garden Weasel.
The overall brilliance of
Larry Sanders
exempts Shandling from doing anything next. Its August 15, 1992 premiere episode, "What Have You Done For Me Lately?", got the show off to a roaring good start with a razor-sharp look at network interference.
The new and icy vice president of programming, Melanie Parrish (terrifically played throughout most of the series by Deborah May), insists that Larry do live commercials to please restive sponsors.
"In a fiscal sense, your show just isn't cutting it," she inform Larry and Artie, who later remarks, "I swear I killed her in the war."
Larry ends up messing around with spots for The Garden Weasel, wondering at one point why it's not called "The Amazing Ratstick." This doesn't set too well with corporate, but toadying Hank is more than willing to help out with a smoothly rendered shill in a voice that could sell Popsicles in Antarctica.
Larry's very first monologue turns out to be eerily timeless. Referring to then presidential candidate Bill Clinton playing the saxophone on
The Arsenio Hall Show
, he notes that Jerry Brown "didn't actually play a number with the band (on Larry's late nighter), but he did score them some great coke."
Eighteen years later, Brown is politically re-born as the newly elected governor of California, whose voters on the same day decided against legalizing marijuana via Proposition 19.
Another monologue joke, about Ted Kennedy, falls pretty flat after his recent death from cancer. Larry notes that Kennedy just remarried. "And boy, he's going to be surprised when he sobers up, huh?"
The show's first monologue ends with Larry's trademark "Don't flip around" advisory, which in slightly abbreviated form became "No flipping."
Larry of course loves watching tapes of himself on TV upon returning home to his wife, Jeannie (Megan Gallagher in early episodes). Artie also couldn't stop watching, even during a tryst in Venice with the real-life Angie Dickinson in Season 5's "Artie, Angie, Hank and Hercules" episode. In that same half-hour, the ever supplicant Hank solemnly tells guest Don Rickles, "I knew television was in deep trouble the day they took
CPO Sharkey
off the air." Riotous.
Larry Sanders
' cast of supporting players included several previously unknown performers who later scored in signature roles of their own. Among them are Jeremy Piven (Ari Gold on
Entourage
), Mary Lynn Rajskub (Chloe O'Brian on
24
) and Penny Johnson (President David Palmer's duplicitous wife, Sherry, on the early seasons of
24
).
Big name guest stars playing themselves abounded, of course, never more so than on a one-hour series finale that still ranks as one of the great TV closers of all time. Jim Carrey's cavorting, much of it ad libbed, again steals that show amid the likes of Warren Beatty, Sean Penn, Carol Burnett, Ellen DeGeneres, Jerry Seinfeld, Clint Black, Jon Stewart, David Duchovny, Tim Allen and Greg Kinnear.
The series finale, originally shown on May 31,1998, includes a commentary by Shandling and co-producer/writer Peter Tolan. As does the very first episode. But their byplay isn't as revealing or insightful as it could and should be. And that's kind of a shame.
Otherwise it's all on the screen. Eighty-nine splendid episodes of a series that richly deserves a spot among the 10 greatest comedies in TV history.
See David Spade, as an up-and-coming young comic, explain to Larry why he double-dipped and did
The Tonight Show
in the same week: "Night after night you want
The Tonight Show
. And I finally get it. Even though it's (bleeping) Leno now."
Watch David Letterman mess with Larry backstage at the American Television Awards in an episode that also includes Tom Snyder as a would-be late night follow up act for both of them.
Check out Hank receiving and reading a profane FAX intended as a missive from Larry to disparaging TV critic Tom Shales.
Witness Artie phonily beam and rave as aforementioned network executive Melanie Parrish disdainfully reacts to a guest list for Stewart's substitute shows. Namely, Sally Struthers, Zsa Zsa Gabor, Jamie Farr, Joan Embry and Charles Nelson Reilly.
Above all, re-appreciate the manifest show business insincerity and insecurity on the part of all involved. A dozen seasons after leaving HBO,
The Larry Sanders Show
still seems to have everything just right. And that's just beautiful.
GRADE:
A