Game of Thrones re-rules HBO, slowly at first
03/28/13 09:25 AM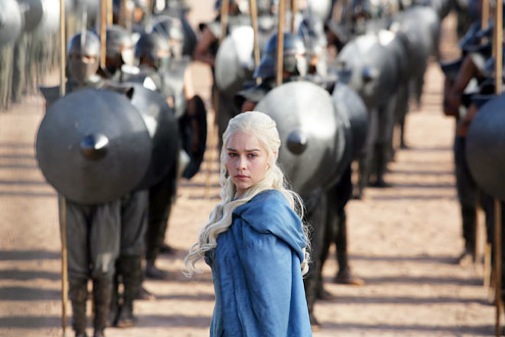 Daenerys Targaryen & her latest gains on Game of Thrones. HBO photo
By ED BARK
@unclebarkycom
Fanboy/fangirl circles are throbbing with both angst and excitement.
What to watch first on Easter Sunday night? AMC's Season 3 finale of
The Walking Dead
or HBO's competing Season 3 premiere of
Game of Thrones
? And must one really be expected to abstain from social media for a full two hours so as not to run into a "spoiler" for one or the other? Oh the pure, unmitigated horror of it all.
Also flexing its pulling power: History channel's two-hour finale of
The Bible
, featuring -- spoiler alert -- the crucifixion of Jesus Christ. Death and destruction beckon on all three fronts, although the opening hour of
GOT
turns out to be surprisingly tame unless the calculated severing of a male slave's nipple counts for something.
Our focus here is
GOT
(
8 p.m. central
), which seems to be getting better all the time judging from the four episodes sent for review. It's just that it also seems to be taking longer and longer to get there in the interests of servicing all the returning and new characters in play.
The concluding two episodes of Season 2 were rousing, vivid and violent. King's Landing was saved from the clutches of Stannis Baratheon (Stephen Dillane) and his troops by the gruff, uncompromising father of Cersei, Jaime and Tyrion Lannister. The old man grandly rode in on a white horse, later to be rewarded by evil boy king Joffrey Baratheon (Jack Gleeson).
Meanwhile, the dwarf Tyrion (Peter Dinklage) was facially disfigured in battle while Jaime (Nikolaj Coster-Waldau), twin brother of the nefarious Cersei (Lena Headley), continued to be held captive by the Amazonian warrior Brienne of Tarth (Gwendoline Christie). The surviving Starks remained scattered out and about, with widowed matron Catelyn (Michelle Fairley) ever-vexed over whether she'll ever see any of her four children again. She also pines for banished Jon Snow (Kit Harington), the out-of-wedlock bastard son she formerly rebuked.
And so on and so forth -- and all well and good. But
GOT
's star player has become the daringly resilient Daenerys Targaryen (Emilia Clarke), who along with many others wants the Iron Throne to be hers. She lights up the screen, both visually and with a galvanizing character also in possession of the nuclear weapons of those times -- three obedient, maturing dragons who now seem to be entering their teen years.
Daenerys, also equipped with a conscience and previous love story, is minimally seen in Season 3's first two episodes. Instead there's a lot of trudging and plotting -- much amid dimly lit surroundings -- but not much of real consequence happening as
GOT
re-sets its multiple stages.
The most notable new character, at least from a name recognition standpoint, is Diana Rigg as saucy Lady Olenna Tyrell, grandmother of willful Margaery Tyrell (Natalie Dormer). Rigg is first seen in Episode 2, and she appears to be having an effortless good time.
GOT
has always been about captures and re-captures, punishments and re-punishments, fathers and disowned or badly treated sons. It still very much is.
Grisly violence and graphic sex also are part and parcel, but not in as much abundance in these first two hours. A rather sluggish pace finally takes its leave in Episode 3, where some very bad things happen to a central character. And in Episode 4, some very good things happen to Daenerys. In fact the climactic scene in this hour sets the blood to rushing anew. A viewer's internal blood, that is. It's just that it took a little too long.
Worshippers of
GOT
already have sliced, diced and dissected it far more than any of the drama's swordsmen and women. And that will continue apace. Perhaps some will be a bit disappointed in the early going. Others will savor every speck of "nuance" and proclaim it as masterly storytelling.
GOT
certainly can take its time if it chooses. Ardent fan Jimmy Kimmel recently noted on his ABC late night show that the series literally could go on for thousands of seasons, given the voluminous goings-on in George R.R. Martin's fantasy book series. More likely it will all stop in 10 seasons or considerably less. Just as long as they don't kill off Daenerys, I'm still in.
GRADE:
B+
Email comments or questions to:
unclebarky@verizon.net