Lights, cameras, carnage, carnality: Starz's Spartacus prequel again bares all
01/20/11 04:36 PM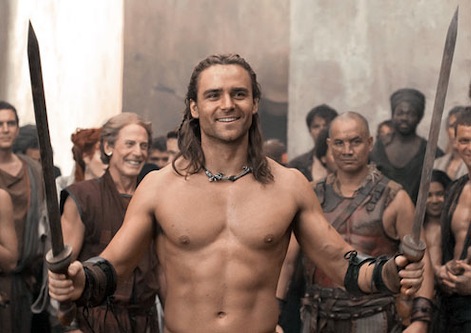 Cocky Gannicus is The Man in lurid Spartacus prequel. Starz photo
By ED BARK
Full frontal nudity: Check
Opium-induced lesbian scene featuring co-star Lucy Lawless: That, too.
Hard-core profanity: Check
Blood-spurting violence: Of course.
Urination onto a badly bloodied face: Afraid so.
Compelling storyline: Well, you can't have everything, although in truth there's just enough plot to go around in the Friday, Jan. 21st premiere of
Spartacus: Gods of the Arena
(
9 p.m. central
).
Necessitated by star Andy Whitfield's unfortunate bouts with cancer, this is the prequel -- and the franchise -- that Spike TV would love to have if it didn't have advertisers to offend. Visceral with a vengeance, it's Extreme Fighting with no holds barred and enough extracurricular activities to make even Caligula blanche. All of these myriad excesses are firmly in keeping with last year's
Spartacus: Blood and Sand
, which ended with a literal big slosh through ankle-deep blood after all of the enslaved gladiators' tormentors were left for dead.
Whitfield's continued health problems have led to the recasting of Spartacus, who will be played by Australian actor Liam McIntyre in the post-slaughter continuation of the series. Meanwhile,
Gods of the Arena
is intended to keep the blood flowing -- and the flesh heaving -- with a flashback to the story of how vainglorious Batiatus (John Hannah) and his wife, Lucretia (Lawless), propelled themselves into the big leagues of the gladiator game.
Hannah, whose character met a brutal death in the closing minutes of
Blood and Sand
, again grandly over-acts as the super-profane shyster with the movin' on up mania. Is he therefore laughable as well? Pretty much so, although verbal histrionics are hardly out of place amid all the abundant overkill in this six-episode ramp-up.
Batiatus' first big meal ticket is Gannicus (Dustin Clare), a taunting, cocksure piece of prime beef of whom his master says, "He can strip naked and fight with his cock as long as he wins."
Still, Gannicus isn't considered quite ready for prime-time by a sinister overlord named Tullius (Stephen Lovatt). So Batiatus must bow and scrape to a degree while his main man racks up bloody victories to the tune of the series' chainsaw rock sound track. Gannicus is then rewarded with pleasures of the flesh, which
Gods of the Arena
of course depicts. He's a heavy drinker as well.
Also very much in play is the lascivious Gaia (Jamie Murray), whose elderly husband is infirm, dried up and out of her picture. Gaia wonders why her friend, Lucretia, hasn't already treated herself to a gladiator or two. But she deems them "filthy" beasts for now, with her subsequent lover, Crixus (Manu Bennett), a coarse rookie in training at the moment.
Gods of the Arena
won't disappoint on the guilty pleasure front. If anything it's even more gratuitous than the original, which also managed to tell some pretty good tales while flaunting its goods. It's obviously not for the squeamish, nor perhaps for the refined. But it's al-i-i-i-i-i-ve in so many ways. So what the hell, let's rock.
GRADE:
B