Banshee increases Cinemax's original drama series output, but does little else
01/09/13 10:14 AM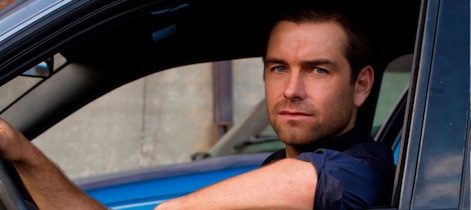 Anti-hero Lucas Hood (Anthony Starr) in Banshee. Cinemax photo
Premiering:
Friday, Jan. 11th at 9 p.m. (central) on Cinemax
Starring:
Anthony Starr, Ivana Milicevic, Ulrich Thomsen, Frankie Faison, Hoon Lee, Rus Blackwell, Matt Servitto, Ryann Shane, Ben Cross
Produced by:
Alan Ball, Jonathan Tropper, David Schickler, Peter Macdissi, Greg Yaitanes
By ED BARK
@unclebarkycom
Given the title and Alan Ball's involvement,
Banshee
on the face of it seems like another otherworldly knockoff of his ongoing
True Blood
.
It turns out to be a dark and sometimes dreary drama about a cocksure ex-con who takes on a new identity as sheriff of a fictional Pennsylvania town located in the heart of Amish country. Goes by the name of Banshee.
Premiering Friday, Jan. 11th as Cinemax's third original scripted drama series (following
Strike Back
and
Hunted
), this 10-episode offering has something for everyone whose tastes are in sync with Ball's description of its locale. In a cover letter to TV critics, he writes, "Mythic small-town America. Original tribal lands of the Kinaho Indians. New-world home to old-world ways of the Pennsylvania Dutch. Drug dealers. Neo-Nazi skinheads. Ukrainian gangsters. Dumb rednecks. Bad-ass Asian cross-dressers. Your typical pastoral American town with a dark, seedy underbelly of sex and violence and greed and impossible love."
In other words, a nice place to visit, but you wouldn't want to live there.
A lot happens to
Banshee
's initial man with no name before he becomes lawman Lucas Hood. Freed from prison after a 15-year hitch for jewel thievery, he strides down some nearby railroad tracks before finding a ramshackle bar and quickly bedding its cute drink-pourer. Then he jacks a car, drives to Manhattan, finds an impossibly convenient parking space and surprises a transvestite salon owner/computer hacker with whom he used to do business.
Getting the address he wants, the future Lucas Hood (Anthony Starr) is then chased at high speed through the broad daylight streets of Manhattan. He's eventually on foot, with bullets blazing. So let's steal a motorcycle and race out of harm's way while citizens panic. All of this happens before the opening credits. And it's an awful lot to swallow on the believability front.
Banshee also has a go-to watering hole whose wizened proprietor is former boxer/ex-con Sugar Bates (Frankie Faison). And before you know it, the would-be new town sheriff ends up with holes in his hand and other places after two unkempt thugs try to rob the place while he's having a steak dinner. His identity is then stolen by the new Lucas Hood, whose ex-lover and partner in crime is now married with two kids and living under the assumed name of Carrie Hopewell (Ivana Milicevic) with her district attorney husband Gordon (Rus Blackwell).
All right, let's towel off before continuing. The fake Hood and Carrie split up at his insistence after their ill-fated effort to double-cross a Ukrainian gangster known as Rabbit (a very little seen Ben Cross in the two episodes sent for review). Instead of running off with a big cache of diamonds (whose whereabouts remain unknown), he got a lengthy prison term and she invented a new life for herself. Now Hood wants satisfaction but can't seem to get none. And Cross wants both of them delivered to him.
One more thing. Banshee is now controlled by a big boo-hiss businessman named Kai Proctor (Ulrich Thomsen). "What the man doesn't own, he runs. What he doesn't run, he burns to the ground," Sugar informs Hood, who regularly strips down to his waist and runs through the woods to curb his panic attacks.
Banshee
has its moments, but the line between sinister and ridiculous is regularly breeched. Never more so than in Episode 2, when two knuckle-dragging brothers of a deceased knuckle-dragger hold Hood at gunpoint and plan to kill him before the wife of the deceased reasons, "They're drunk and they're morons. But they're grieving in their own way." So Sheriff Hood simply lets them go before a nubile townie gives him a flirtatious look that immediately pays dividends in the grimy bed he inhabits rent-free next to benefactor Sugar's bar.
The sex is explicit and the violence graphic throughout the early episodes sent for review. On the latter front, a henchman who screws things up for kingpin Kai has a finger cut off and fed to the dog. Turns out this is only an appetizer.
Its overall implausibility and everything-but-the-kitchen-sink plotting work against what little promise
Banshee
has. Ball, the head overseer, sees it differently, of course. His pitch to critics ends like this: "The performances, the directing, the design all flow together in a kind of storytelling that manages to combine pulp and romance, violence and lyricism, hilarity and heartbreak."
No they don't. Cinemax, HBO's longtime little brother corporate partner, is still very much playing catchup. And it remains miles behind with the unsavory, not-good-enough-for-HBO
Banshee
.
GRADE:
C-minus
unclebarky@verizon.net