NBC/CBS sign new 9-year NFL deals -- with sweeteners
12/14/11 03:05 PM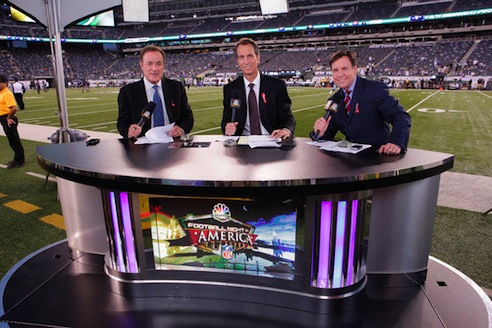 NBC's Sunday Night Football crew at Cowboys Stadium. NBC photo
By ED BARK
Both NBC and CBS are locked in long-term with the mighty NFL, courtesy of new 9-year deals announced within minutes of one another Wednesday afternoon.
The NBC pact retains
Sunday Night Football
and adds a yearly Thanksgiving night game, beginning next season. The Peacock also will boot one of its two Wild Card games in exchange for a more meaningful Divisional playoff game. It already has the rights to the 2012 Super Bowl and now will also telecast the 2015, 2018 and 2021 Supies.
CBS says that its new agreement will give the network rights to some NFC conference games while also continuing as the main home of the AFC conference. It has the 2013 Super Bowl as well as the 2016, 2019 and 2022 games. The landmark Super Bowl L will be in 2016.
Fox also reportedly signed a new 9-year pact Wednesday, but hasn't yet issued any publicity release with specifics. Fill in the blanks, though, and Fox will have the 2014, 2017, 2020 and 2023 Super Bowls.