By George, he did it
03/13/09 08:42 AM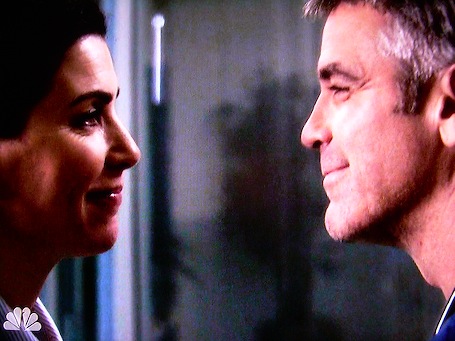 Clooney & Margulies, larger than life, on March 12th ER. Photo: Ed Bark
By ED BARK
Word leaked out via several online and on-air outlets, but NBC never officially confirmed or specifically promoted the appearance of George Clooney on Thursday's
ER
.
That's an odd approach to a hallmark series that will sign off on April 2nd after 15 seasons on the same night and at the same time.
ER
, a top 10 series for much of its run, has been struggling this season on a network whose overall ratings are on life support. So it would have helped to prime the pump with a big PR push, but maybe Clooney didn't want that. And he's big enough to make the rules.
Clooney's return to
ER
-- he left the show a decade ago -- was more than just a walk-through. His character, Dr. Doug Ross, is now operating out of the University of Washington Medical Center in Seattle, whose staff also includes Carol Hathway (Julianna Margulies), his
ER
wife.
"How are the girls this morning?" Clooney asked her at one point. So they're parents now.
Susan Sarandon also guest-starred as the grandmother of a young boy who had been run over while riding his bike. He was on life support, with Ross and Hathaway trying to compassionately coax her into letting the hospital use his organs to save other lives.
Unbeknownst to them, one of those hanging in the balance was Dr. John Carter (charter cast member Noah Wyle), who needed a kidney transplant. While hospitalized and waiting for word at Chicago's Northwestern Medical Center, Carter received a visit from an old County General colleague, Dr. Peter Benton (Eriq LaSalle).
ER
handled both storylines extremely well in an episode written and directed by series creator John Wells. Clooney as usual exuded screen presence, but never seemed as though he was big-footing anyone. This was a star turn that didn't play like one. And that's to Clooney's credit.
The episode closed with Hathaway getting a dead-of-night phone call while she and Ross were asleep in bed. She was told that the boy's heart went to a Chicago mother of a young girl while "some doctor" got one of his kidneys. They were both pleased to hear that. Then it was lights out and back to sleep. Well done.