TV Land's Impastor preaches "irreverend" comedy
07/14/15 08:48 AM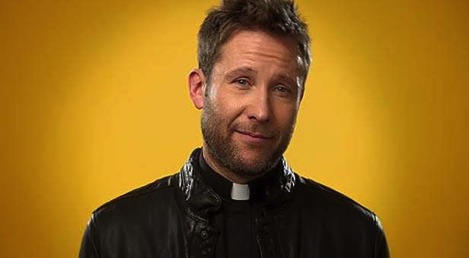 Faking it as a gay man of God: Michael Rosenbaum stars in Impastor.
TV Land photo
Premiering:
Wednesday, July 15th at 9:30 p.m. (central) on TV Land
Starring:
Michael Rosenbaum, Sara Rue, David Raschke, Mircea Monroe, Mike Kosinski, Aimee Garcia
Produced by:
Christopher Vane, Michael Rosenbaum, Eric Tannenbaum, Kim Tannenbaum
By ED BARK
@unclebarkycom on Twitter
Michael Rosenbaum's spiritual journey has taken him from Lex Luthor on
Smallville
to the pretend-to-be-gay pastor of a Lutheran Church in
Impastor
.
It's also a downward spiral in what TV Land calls an "irreverend new comedy." The network is trying to get "edgier" by canning those throwback laugh tracks, going "single-cam" and in this case using "shit" and "cock" for laughs. Begone
Hot In Cleveland
. Your day is done.
Rosenbaum is first seen as hapless Buddy Dobbs, whose heavy gambling debts have put him in close personal touch with two leg-breakers. Threatened with severe bodily harm if he doesn't pay up, Buddy plans to jump off a bridge after failing to persuade his bartender girlfriend LeeAnne (Aimee Garcia) to join him on the lam. A would-be Good Samaritan intercedes, but instead accidentally takes the fall after hearing Buddy proclaim, "I don't believe in God." He turns out to be a clergyman named Jonathan Barlow, who was en route to take a new position as pastor of a church in the smallish community of Ladner. Well, why not?
It turns out to be a pretty nice setup, with the pastor's assistant, Dora Winston (former
Less Than Perfect
star Sara Rue), warmly welcoming him to his free new residence. Imagine Buddy/Barlow's surprise, though, when he learns the next morning that the new pastor is an openly gay import from California. Were this the old TV Land, one could briefly insert "wah wah wah" in place of the laugh track. But never mind. Let's meet the rest of the church staff.
Alexa Cummings (Mircea Monroe) is a flirtatious blonde who quickly determines that she can "turn" the new pastor.
Russell Kerry (Mike Kosinski) is the ridiculously oh-so-gay guy with a big toothsome smile and designs on the new pastor.
But stern church president Alden Schmidt (David Raschke of onetime short-term
Sledge Hammer!
fame) warns one and all that a gay pastor is welcome only "as long as they remain sexually inactive."
During Wednesday's premiere episode,
Impastor
also works in a sub-plot involving a big bag of grass (which Buddy/Barlow is happy to confiscate) and a surly teen boy who's having sex with a cantaloupe and also severely disrespecting his mother. He gets his comeuppance in blunt instrument language, which ends up making Buddy/Barlow a savior to some parishioners.
Rosenbaum has an amusing moment or two, but nothing to make anyone grin with the stereotypical wideness of the church's gay staffer. The marginally funnier stuff occurs away from the parish, where a cop who's co-investigating Buddy's disappearance spares none of the gruesome details while also helping himself to LeeAnne's refrigerator. But with this show in particular, those aren't sufficient redeeming qualities.
Those who fondly (or not) remember
Three's Company
can see many obvious parallels here.
Impastor
uses language unfit for that era, though. TV Land is trying to chart a new course, you see. Which means that Buddy/Barlow also eventually gets caught in the act of preparing a cantaloupe for a little not so divine intervention.
GRADE:
C
Email comments or questions to:
unclebarky@verizon.net