New season: NBC's Community tries to sell a used Chevy
09/17/09 09:07 AM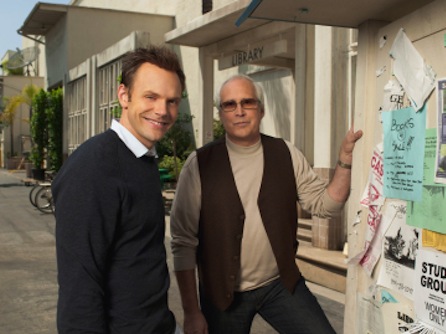 Joel McHale and Chevy Chase top Community's cast. NBC photo
Premiering:
Thursday, Sept. 17th at 8:30 p.m. (central) on NBC
Starring:
Joel McHale, Chevy Chase, Gillian Jacobs, Yvette Nicole Brown, Danny Pudi, Alison Brie, Donald Glover, Ken Jeong
Produced by:
Russ Krasnoff, Dan Harmon, Joe Russo, Anthony Russo, Garrett Donovan, Neil Goldman, Gary Foster
By ED BARK
Let's cut straight to the Chase -- namely Chevy.
The onetime
Saturday Night Live
star player -- ask him, he'll tell you -- returns to his old network as a member of Joel McHale's support group.
It's a pretty steep drop for Chase in a series that clicks in fits and spurts. NBC's
Community
premieres Thursday as part of a comedy bloc leading to the network's nightly comedy bulwark -- Jay Leno. Like its companion half-hours --
The Office, Parks and Recreation
and in mid-October,
30 Rock
-- it's without a laff track and with an ensemble of mostly infantile adults.
"I like you. You remind me of myself at your age," Chase's character, former moist towelette maker Pierce Hawthorne, tells McHale's smarmy Jeff Winger.
Yes, in a previous life, Chase indeed could have played McHale's part -- and probably better. He would have looked good on the receiving end of lines such as, "You are a shallow douche bag." Or in next week's Episode 2: "You're harmless enough to me because a life full of ups and downs has given me douche ray vision."
Those lines are from hard-bitten Britta (Gillian Jacobs), whom Winger yearns to bed. And in case you haven't deduced this yet, this is a series about higher education at a low-end community college. Most of its retread students are looking for B.A.s, but Winger is full of B.S. as a defrocked lawyer who feigns being a "board-certified tutor." His Greendale Community college study group in turn is pretty much certifiable.
It's a thin premise on which to build a foundation. But
Community
is mostly about comedic bits and pieces. It just as easily could be set in a shipyard, a Wal-Mart or Joe's Crab Shack.
Besides Britta and Pierce, the study group includes pop culture addict Abed (Danny Pudi), perfectionist Annie (Alison Brie), "sassy" divorcee Shirley (Yvette Nicole Brown) and fallen high school football star Troy (Donald Glover). Episode 2 introduces another series regular, an Asian Spanish teacher who calls himself Senor Chang (Ken Jeong).
Chase has little to do in Thursday's premiere, but has lots of activity next week. That's when he gets drunk, accidentally sets his arm on fire, joins McHale in a completely nonsensical Spanish class skit and is spoken ill of by his classmates. Says Troy: "That dude is crazy. He told me girls have two pee holes."
That's a line that wouldn't have made the cut on
Growing Pains
. But standards have relaxed -- or if you prefer, collapsed -- in the years since. So much so that Episode 2 can stage a wacky protest in support of slain Guatemalan journalists, complete with a pinata that's supposed to symbolize the beatings they've taken.
McHale, who previously earned an M.A. in snark as host of
The Soup
, swaggers through this enterprise as though he owns it. But his performance could use some finishing touches. He's no Steve Carell yet -- or Chevy in his prime. As for Chevy in his dotage, well, it's a fine line between inspired lunacy and full-blown embarrassment. At best he's still managing to straddle it.
Community
might mature, although that's probably not the right word. For now it's easily the weakest link in NBC's Thursday night comedy arsenal. And yes, that includes Amy Poehler's
Parks and Recreation
, which begins its first full season (at 7:30 p.m. central) in considerably improved form. Storyline: Poehler's Leslie Knope marries two penguins in a Pawnee Zoo promotional stunt, only to learn they're both male. Offshoots include a protest and a visit to The Bulge, where Poehler's performance of Lady Gaga's "Poker Face" is a comedic Royal Flush.
GRADES:
Community
-- C;
Parks and Recreation
-- B+