TNT's Men of a Certain Age gives older guys a welcome new guise
12/07/09 09:56 AM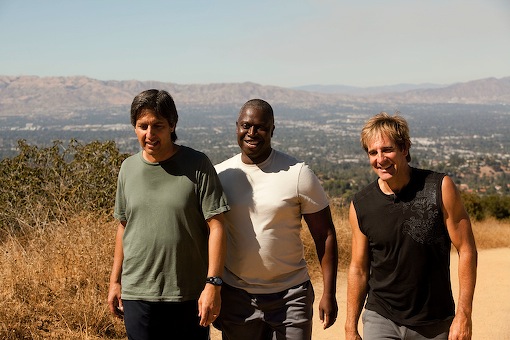 Take a hike: TV pals Ray Romano, Andre Braugher, Scott Bakula.
Premiering:
Monday, Dec. 7th at 9 p.m. (central) on TNT
Starring:
Ray Romano, Andre Braugher, Scott Bakula, Lisa Gay Hamilton, Richard Gant, Penelope Ann Miller, Brian J. White, Carla Gallo
Produced by:
Ray Romano, Mike Royce, Rory Rosegarten, Cary Hoffman
By ED BARK
TNT has a male-centric gem in
Men of a Certain Age
.
The "We Know Drama" network goes the serio-comic route this time with an affecting, amusing series fronted by three familiar actors whose characters skirt the far reaches of television's highly desired 18-to-49-year-old target audience.
Ray Romano, Andre Braugher and Scott Bakula play close pals in their late 40s whose varying degrees of angst are palpable without being laughable. In a very loose sense it's
The Golden Girls
for men. In a very real sense, the Big Four broadcast networks (and little CW) no longer have any use for a weekly hour without gruesome crime, fantasy mythology or a cast predominated by characters almost a decade older than Brett Favre.
Cable, with dual revenue streams from both advertisers and subscriber fees, can still afford to take a chance on
Men of a Certain Age
. But the show's built-in star power obviously helped close the deal.
Romano, known to viewers of virtually all ages for
Everybody Love Raymond
, co-created the series with one of that show's behind-the-camera alums, Mike Royce. He plays a party store owner named Joe, who's also the separated father of two kids. After failing as a golf pro, he's now a chronic sports better temporarily living in a cheap hotel.
Braugher, best known for his Emmy-winning work on
Homicide: Life on the Street
, is getting nowhere fast as Owen, a diabetic, overweight, married father of three who works for his stern father's car dealership.
Bakula (
Quantum Leap, Enterprise
) is still trying to breeze along as a fading actor named Terry. He remains a hit with younger women, but probably not for much longer. A dead-end job as a temp worker seems to be closing in on him while he very reluctantly auditions for the Lifetime movie
Cry Bobby
.
Men of a Certain Age
finds ways for them to regularly get together for the purposes of kidding and commiserating. Weekend hikes are one device. Lunches at Norm's diner are another. It may be a bit contrived, but no more so than the methods used on
Sex and the City
or
Entourage
.
These guys are just about old enough to father the entire
Entourage
cast, save for Jeremy Piven's Ari Gold. Still, the five featured kids in
Certain Age
number just one teen among them -- Joe's daughter. Owen's energetic two older sons are still into Incredible Hulk costumes and blow-up toys while the third is in a stroller. It all helps to cut down on the overall payroll, which also includes recurring roles for Lisa Gay Hamilton as Owen's wife, Melissa, and Penelope Ann Miller as Joe's estranged spouse, Sonia
Romano and Royce, who co-wrote Monday's premiere episode, thankfully stop short of making any of these guys utterly infantile. Romano's Joe borders on being neurotic, but not to the point of being a full-blown doofus. He does claim, however, to hold a personal record of dropping two-and-a-half pounds during a single pee. His most recent effort supposedly netted a two-pound loss. Owen and Terry remain skeptical.
The language is adult in spots, falling well short of HBO's largesse but easily exceeding anything Romano, Braugher and Bakula could have said on their long-running broadcast network shows. But the script never seems gratuitous or out of place.
Next week's Episode 2 improves on Monday's very solid opener. It includes a terrific closing scene in which Romano's Joe punches a Hulk inflatable into submission while grudgingly coming clean about both his renewed sports betting and intent to enter the dating pool.
All three principals deftly navigate what can be a great divide between guy talk and pathos. It's easy to relate to all of them, particularly Braugher's Owen. He weeps in embarrassment and humiliation after his dealership-owning father (fine work by Richard Gant as Owen Sr.) chews him out for being an "embarrassment" to the sales team. Later comes an even bigger fall.
Men of a Certain Age
shows terrific promise on a network whose two other male-dominated series --
Leverage
and
Dark Blue
-- are mostly about springing into action and random wisecracking.
Romano, Braughter and Bakula breathe much more than that into their character-driven hour. They're older pros in fine form on the best original TNT series since its very first --
The Closer
.
GRADE:
A-minus