Little in common except running out of gas: 24 and Law & Order go down for the count
05/24/10 01:27 PM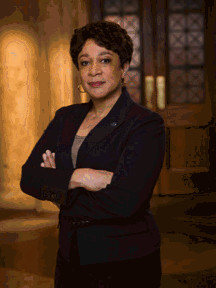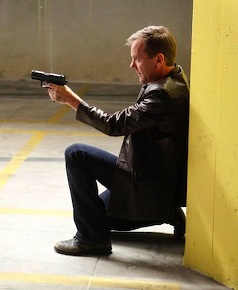 Law & Order's S. Epatha Merkerson; 24's Kiefer Sutherland.
By ED BARK
NBC's
Law & Order
got by for 20 seasons with minimal gunfire and maximum by-the-book crime-solving.
Fox's
24
blasted, tortured and killed its way through eight seasons of freewheeling counter-terrorism.
Both justice-seekers are being terminated after tonight.
24
's two-hour series finale (
7 to 9 p.m. central
) ends the small-screen career of Jack Bauer (Kiefer Sutherland), with plans to make a big-screen feature set in Europe.
Law & Order
's comparatively quiet exit follows at
9 p.m. central
. Producer/creator Dick still hopes to make a deal with a cable network. But whatever happens, S. Epatha Merkerson's Lt. Anita Van Buren is bowing out after 17 seasons.
The shows' respective networks made both finales available for review, although not all that much can be said about
24
without compromising its twists and turns.
It's not giving too much away, though, to note that Bauer survives because you could hardly transition to theaters without him. He also has a satisfying, climactic scene with true-blue Chloe O'Brian (Mary Lynn Rajskub),
24
's unquestionable MVP among all the supporting characters it's added and subtracted over the years.
Overall, though, the resolution of Season 8's suitably dire predicament is both pretty predictable and surprisingly non-violent. Jack does, however, receive the quickest and most unbelievable suture job in even this show's far-fetched history.
Sutherland has played Jack as a super-vengeful killing machine throughout the latter quarter of this season. Saving the earth is secondary to annihilating anyone who had a hand in the murder of ex-FBI agent Renee Walker (Annie Wersching), whom Jack loved so much that he even found time to bed and board her.
President Allison Taylor (Cherry Jones), whose moral center has seen its bottom drop out, can still do the right thing, of course. But can she bear to come clean and save Jack after super-weasely former president Charles Logan (more tasty work from Gregory Itzin) warns her of his proven ability to "rise up from the deepest hole in the ground?"
For the record,
24
's last words on Fox are "shut it down." Enough said, and frankly it's past time.
The
Law & Order
finale, subtitled "Rubber Room," includes a cameo by U.S. Olympic skiing gold medalist Lindsey Vonn. She plays a bespectacled unnamed union secretary whose speaking lines come and go in a flash.
Mainstay Sam Waterston, who joined the series in 1994 as prosecutor Jack McCoy, likewise has little to do in what wasn't planned as the series finale until NBC decided to rather abruptly pull the plug earlier this month. Waterston does get to blow up a last time, though, telling a teachers' union attorney, "So my advice to you is get out of my way!!!"
Meanwhile, Merkerson's character is quietly battling cervical cancer -- and the high costs of medical procedures -- while her two main detectives are constantly thwarted in their efforts to track down a potential terrorist bomber going by the blog name of "Moot."
Law & Order
has had more cast changes over the years than the road company of
Grease
. So in case you haven't watched for a while, Jeremy Sisto and Anthony Anderson do most of the legwork these days as detectives Cyrus Lupo and Kevin Bernard.
Along the way we get the usual side orders of social commentary. This time it's on the plight of New York's hard-pressed public school teachers, who strive to survive indignities and licentious, unruly students.
Law & Order
doesn't throb with the pulse it once did. In later seasons it became a workmanlike, cost-efficient, crime-solver that retained its signature theme music but not its overall high caliber.
Its passing will still leave two offshoots on NBC --
Law & Order: SVU
and next fall's
Law & Order: Los Angeles
-- in addition to
Law & Order: Criminal Intent
on the NBC Universal-owned USA cable network.
The mothership had quite a run, though. And its uniformly better reruns from earlier seasons can still be seen here, there and everywhere.