Price cut: Bob Barker's end game
06/14/07 12:46 PM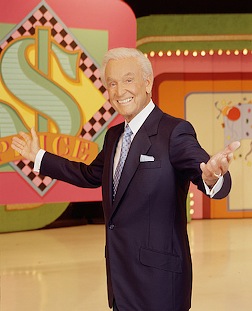 Priceless: Bob Barker bids adieu after hosting his final Price Is Right.
By ED BARK
Bob Barker officially cashes out Friday with his last edition of
The Price Is Right
.
A CBS preview DVD shows that it's a show pretty much like any other show -- except it's his last. The network has asked reporters to "not give away the ending -- we want it to remain a surprise to the fans."
Presumably they're talking about who wins the last "Showcase Showdown" on Barker's watch. No problem with keeping that a secret. He/she sure is happy.
Otherwise there's really nothing to give away. A more boisterous crowd than usual keeps cheering after the game show legend says succinctly, "Now folks, I want to thank you very, very much for inviting me into your homes for the last 50 years. I am deeply grateful. And please remember, help control the pet population. Have your pets spayed and neutered."
That said, he waves goodbye while the closing credits roll. Taped earlier this month, Barker's 6,586th and final show will air at its regular morning hour (10 a.m. central on June 15th) and then be repeated at 7 that night as an appetizer for
The 34th Annual Daytime Entertainment Emmy Awards
. Barker, who's won 17 Emmys, will be feted during the ceremony by Dr. Phil. Meanwhile, speculation continues on who could possibly replace him.
Barker says he hasn't been asked for any input, but did volunteer to fill in for a brief time if CBS and FreeMantle Media can't decide on a new host by the time
Price
's summer reruns are through.
"There is undoubtedly someone who can do this show. But will they find him?" Barker told a small group of TV critics after a mid-summer farewell press conference in Pasadena, CA. "It's going to be history for me, and I'm sure they'll choose wisely."
Candidates supposedly include Mario Lopez, John O'Hurley,
Entertainment Tonight
co-host Mark Steines and even George Hamilton. Rosie O'Donnell also has expressed an interest, but CBS likely won't take a chance on possibly mixing Iraq war commentary with Plinko.
Barker, who broke into television as the host of
Truth or Consequences
in 1956, has presided over
Price
since its 1972 premiere on CBS. An earlier NBC version was hosted by the late Bill Cullen.
Price
's retro gaudy surroundings also are emblematic of the show during Barker's reign. And he doesn't want to see any earth tones.
"I think it would be a big mistake to change the set," he says. "When you turn our show on, it looks like the 1970s. And that's what people want. They keep saying they don't want us to change a thing."
The only bump in Barker's road, a settled-out-of-court sexual harrassment suit by some of the show's "Beauties," was a false and "disgusting" charge, he says. Some saw a silver lining, though.
Barker recalls a publicist telling him, "Bob, this is going to help you. This is going to make you more interesting." He laughs boisterously at the thought that someone could think that way.
A vegetarian for 30 years and a longtime animal activist as well, Barker plans to continue hosting charity events on behalf of his DJ&T Foundation, named after his late wife, Dorothy Jo, and mother, Tilly.
"I'd like to be remembered as a guy who loved all living things and did as much as he could to make it a better world for animals," Barker says. "And that he also had time to do a lot of television shows."
His own TV watching is minimal, but he does plan to take a look at the new
Price Is Right
.
"Sure!" he says. "I'm going to put a scarf across my shoulders to keep the draft away, get in my rocking chair, scratch my dog with my right hand, watch
Price Is Right
and sip from my tequila in my left hand."
At the actual retail age of 83, it's his prerogative.