What, him worry? Jay Leno prepares to shoulder the biggest burden in prime-time history
09/11/09 10:36 AM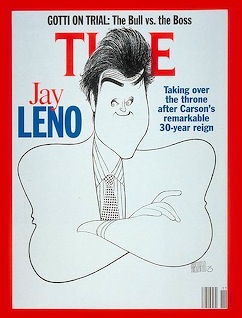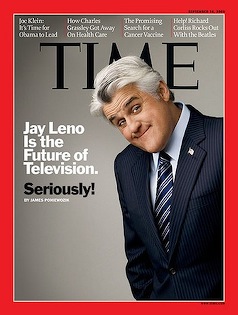 Time marches on: covers from 1992 and the current issue.
By ED BARK
Sea changes don't compute with Jay Leno.
He's just not a deep sea thinker, preferring to do his job, tinker with his cars, work weekends wherever a plane will take him and let others tell him that what he'll be doing in prime-time could change network television forevermore.
"All you can do is what you do," says Leno, a self-described "big tent" guy whose success or failure at 9 p.m. (central) on NBC's
The Jay Leno Show
could make or break his struggling network. It all starts on Monday, Sept. 14th, with Leno commandeering the last hours of NBC's weekday prime-time schedule after being evicted from his No. 1-rated
Tonight Show
.
NBC stations and their late night local newscasts are bathed in flop sweat, even if Leno isn't. Their ratings fates still depend in no small part on audience lead-ins. Ergo, the overall cost-efficiency of
The Jay Leno Show
is no comfort to them. The lantern-jawed everyman -- "I'm old school and I'm old!" -- won't be worth anything to stations like Fort Worth-based NBC5 unless he can deliver decent-sized audiences night after night after night.
"It's more of an economic turning point," Leno, 59, tells TV critics during a teleconference. "We can do three shows for what it costs to blow up a helicopter in the promo" for NBC's new
Trauma
series.
His new show "will ramp it up a little bit" by deploying a troop of comedy correspondents and coaxing various celebrity guests to get behind the wheels of electric Ford Focus cars on the show's brand new oval race track.
"We will have in-car cameras as well," he says. "So you can hear the celebrities swearing if they hit the wall."
Leno doesn't expect first-night guest Jerry Seinfeld to participate, but says that Drew Barrymore likely will be the first guest to take a spin. He hopes to have races at least a couple of times a week.
The Jay Leno Show
also will be programmed in inverse order on several fronts. Musical guests, who typically closed
The Tonight Show
, will be "somewhere in the middle," Leno says. For openers he has Jay Z, Kanye West and Rihanna performing together, but it'll be one song and out.
"Music gives you a great studio audience, but it doesn't necessarily give you a great TV audience," Leno reasons.
On the other hand,
Tonight Show
features such as "Headlines" and "Jay Walking" will be saved until last rather than immediately following the nightly monologue.
"We'll do them as a lead-in to the late night news," he says.
Another late night staple, the host's desk, has been sent packing. He never liked it much because it was "too limiting," Leno says. Instead, "we've got two chairs. It'll just be a conversation area."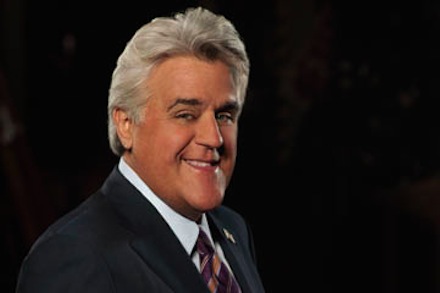 CBS in particular is loading up, and salivating, at the prospect of torpedoing Leno with the likes of
CSI: Miami, The Mentalist
and a new Julianna Margulies series,
The Good Wife
, that many TV critics, including this one, see as a can't-miss commercial hit. All three will be in the 9 p.m. hour when CBS begins going after Leno in earnest on Monday, Sept. 21st.
Leslie Moonves, the longtime CBS head man and former actor, predicts that his network will beat Leno by "a lot" with most of its competing crime series. Leno retorts, "Les Moonves was the bartender at The Improv when I worked there."
Leno also brings up his favorite Moonves quote, which he says dates to 1993. Moonves didn't join CBS until 1995, but Leno otherwise is accurate in quoting him as saying that Leno beating rival David Letterman in the late night ratings was an "aberration" that wouldn't happen again. In fact it kept happening, all the way until the end of Leno's reign.
That's not the case now, though. Letterman has outdrawn Conan O'Brien's
Tonight Show
in total viewers for nine consecutive weeks, most recently 3.42 million to 2.89 million. O'Brien is still winning among advertiser-coveted 18-to-49-year-olds, but the gap has narrowed.
"It's not my problem," Leno says, the same line he used on critics earlier this summer during NBC's portion of the annual network summer "press tour."
"I think Conan has handled it great," he adds. "He doesn't complain, he does what he has to do, and now it's up to people to either pick up on it, or they don't."
Leno, who hosted
Tonight
from May 25, 1992 until May 29th of this year, says that doing an unprecedented five-nights-a-week prime-time show "isn't as nerve-wracking as taking over from Johnny." In the interim he's lost 12 pounds running four miles a day on a treadmill while also upgrading his diet.
"I haven't become bulimic, but you just try to cut out the french fries and the sodas," he says.
Being billed as "the Future of Television" in a current
Time
cover story is "hilarious," Leno says. "It shows you the trouble we're in."
NBC will be in far bigger trouble if its stated two-year commitment to
The Jay Leno Show
ends up being a disaster in league with the Peacock's infamous
Supertrain
series, which remains the gold standard.
But Leno professes no outward worries and insists he doesn't feel the pressure.
"If it doesn't work out, I could be 'grisily' murdered by some NBC executives," he says, referring to CBS' wealth of crime dramas.
If that happens, it would be in character for NBC Universal head Jeff Zucker to then say, "The butler did it."