AMC's Mad Men gambit: a further shift into desperation mode?
09/19/13 10:02 AM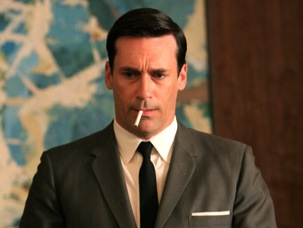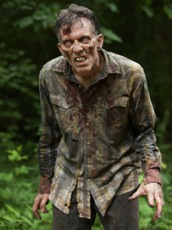 Mad Men's Don Draper and unidentified zombie. AMC photos
By ED BARK
@unclebarkycom on Twitter
Recent programming setbacks have prompted a new AMC strategy: string-alongs and spinoffs.
This week's surprise announcement that
Mad Men
's seventh and final season will be "equally portioned" -- or needlessly dragged out if you prefer -- comes shortly after AMC green-lighted a
Breaking Bad
prequel series (tentatively titled
Better Call Saul
) and a like-minded "companion" for its most popular drama series,
The Walking Dead
.
AMC has a face-saving explanation for the
Mad Men
gambit. And in some ways it makes sense. Specifically, the wind-down will begin in spring 2014 with seven episodes ("The Beginning") before the final seven ("The End of an Era") begin unfolding in spring 2015. The original order was 13 episodes.
"This approach has worked well for many programs across multiple networks," AMC president Charlie Collier says in a publicity release. He notes that the two-pronged approach to
Breaking Bad
, which will have its series finale on Sunday, Sept. 29th, "attracted nearly double the number of viewers to its second half premiere than had watched any previous episode. We are determined to bring
Mad Men
a similar showcase. In an era where high-end content is savored and analyzed, and catch-up time is used well to drive back to live events, we believe this is the best way to release the now 14 episodes that remain of this iconic series."
Mad Men
's secretive, persnickety creator, Matthew Weiner, says he's also on board. "We plan to take advantage of this chance to have a more elaborate story told in two parts, which can resonate a little bit longer in the minds of our audience," he says.
AMC's announcement did not mention some of the cold hard realities the network is facing. Or to put it more bluntly, the cupboard is otherwise almost bare. The first-year series
Low Winter Sun
has been a ratings disaster following
Breaking Bad
, and almost certainly won't be invited back. AMC recently canceled
The Killing
(for a second time) and has yet to find an avid following for
Hell On Wheels
(shunted off to Saturday nights for its ongoing third season). The network's latter day unscripted series likewise have failed to take off. How many can you name? None? Join the crowd.
It's true, however, that some rival networks tend to milk their success stories. CBS got two sequels out of the original
CSI: Crime Scene Investigation
and is still rolling along with a pair of
NCIS
hits. Fox is bringing back a shorter version of
24
this summer after originally canceling it. NBC scored big with its
Cheers
spinoff,
Frasier
, but struck out when it tried to extend the
Friends
franchise with
Joey
.
Still, AMC is acting out of character compared to cable's other purveyors of acclaimed drama series. FX so far has been spin-off free, as have HBO and Showtime. And the swan songs of their biggest hits for the most part have been self-contained, although HBO's
The Sopranos
divided its sixth and last season into two parts.
AMC's string-along/spinoff strategy for now has the strong whiff of creative bankruptcy. The network appears to be running in place instead of charting new courses. Before
Mad Men
, it was a network best known for adding commercials to its feature films while also chopping them up. It's come a long way since then, but lately seems short-sighted rather than visionary.
Email comments or questions to:
unclebarky@verizon.net