Whodunit to Debra Messing in NBC's The Mysteries of Laura?
09/15/14 02:46 PM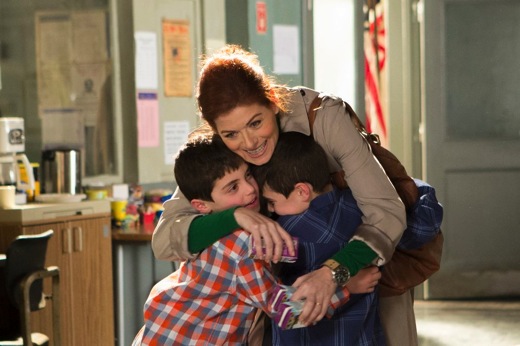 Debra Messing tries to get a grip on her twin terrors. NBC photo
Premiering:
Wednesday, Sept. 17th at 9 p.m. (central) before moving to regular 7 p.m. Wednesday slot on Sept. 24th
Starring:
Debra Messing, Josh Lucas, Laz Alonso, Janina Gavankar, Charles Reina, Vincent Reina
Produced by:
Greg Berlanti, Jeff Rake, McG, Aaron Kaplan, Todd Lituchy, Sarah Schechter
By ED BARK
@unclebakycom on Twitter
NBC has a new crime-time Wednesday in mind, with
The Mysteries of Laura
walking the beat in the leadoff spot before
Law & Order: SVU
and
Chicago P.D.
go after more bad guys.
But first comes a "sneak preview" of
Laura
, an oft-loud and mostly messy hour of Debra Messing hoping to register as a New York homicide detective after all those years on
Will & Grace
and a tour of duty on
Smash
. The pilot episode follows Wednesday's two-hour Season 9 finale of
America's Got Talent
.
Straight-ahead, close-ended crimesolving is the overall intent, with Messing's Laura Diamond deducing the weekly murderer in a manner that suggests both the board game
Clue
and the old
Columbo
whodunits. But a fairly inventive plot twist at the end can't save the opening hour from otherwise being all over the place.
It all begins with a slam-bang car chase and a Dirty Harry-ish Diamond in pistol-brandishing action before viewers are introduced to her pre-K twin boys from hell, Nicholas and Harrison (Charles and Vincent Reina). Separated from her husband, Jake (Josh Lucas), who's also a detective, Laura has the impossible task of parenting two kids who can't be deterred from destroying property, peeing on one another, etc. Dad doesn't help by bringing the boys toy guns during one of his quick visits.
"You need to beat 'em!" a black woman bystander exclaims when Nicholas and Harrison go ape in a public park. In light of recent events involving Minnesota Vikings running back Adrian Peterson, that line may well have to go before
Laura
makes its way to home screens.
The central murder case, which couldn't be much more uninteresting, involves an effete rich guy who's planning to launch a new cell phone. He lives like a king with his snooty wife before being found dead. Laura, assisted by her partner Billy (Laz Alonso), manages to wind up undercover in a fairly daring swimsuit at the impossibly pricey Ancient Baths spa.
Meanwhile, a new private school must be found for her sons after they're kicked out of their current one. This allows Dad to call a school interviewer a "snobbish, pre-K Nazi Queen" after she's understandably aghast at the boys' latest bad behavior.
Messing seems to be trying hard, but in a role and a show that just don't suit her talents.
The Mysteries of Laura
may well get a nice-sized sampling in Wednesday's advantageous post-
AGT
slot. But the appetite for more will be sorely tested next week when
Laura
goes to battle opposite new episodes of CBS'
Survivor
, Fox's
Hell's Kitchen
and ABC's family comedy combo of
The Middle
and
The Goldbergs
.
Elementary deduction: that's a fourth-place finish in the making.
GRADE:
C-minus
Email comments or questions to:
unclebarky@verizon.net