Syfy's Alice "re-imagines" her as Wonderland-trapped action-hero
12/04/09 02:39 PM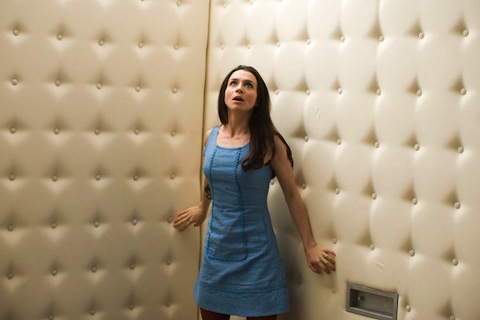 Our heroine is a little boxed in during the early stages of Alice.
By ED BARK
Alice has a black belt in the martial arts, making her a formidable fighter for "The Resistance" in oppressed Wonderland.
Tweedledum and Tweedledee are reprised as torturers Dr. Dum and Dr. Dee.
There's a love triangle, too, with Alice, Jack and Hatter making like Sawyer, Jack and Kate from
Lost
.
This is more than enough "re-imagining" to send Lewis Carroll spinning in his grave like a helicopter blade. Although it's arguably a lesser transgression than having a band of pirates attack Noah's Ark in the same-named 1999 NBC miniseries starring Jon Voight as the Old Testament's most famous seafarer.
Syfy's four-hour
Alice
, premiering
Sunday at 8 p.m. (central) and continuing Monday at the same hour
, bears the stamp of venerable Robert Halmi Sr. as co-executive producer. So did
Noah's Ark
and an earlier TV version of
Alice In Wonderland
also made in 1999 for NBC.
Halmi and his son, Robert Jr., have never been sticklers for faithful adaptations. Which you'll quickly see in
Alice
, whose heroine is now a twentysomething Manhattanite played by Caterina Scorsone.
"What the hell is this place?" she demands after an elderly, double-ponytailed human form of White Rabbit leads her through the Looking Glass and into a Wonderland that at first seems like something out of the Great Depression.
Alice, quick of tongue and fists, is searching for Jack Chase (Philip Winchester), who's been beaten up and kidnapped after giving her a mysterious ring. Once in Wonderland, she quickly meets Hatter (Andrew Lee Potts), who speak with a British accent and at times has a forked tongue. Still, they kind of fancy one another, even after Resistance fighter Dodo (a briefly seen Tim Curry) brands Hatter a "blood-sucking carpetbagger."
The Queen of Hearts remains in residence. As played by Kathy Bates, she's a despot who controls the minds of Wonderland's zombie-like populace via various potions cooked up by her resident Dr. Feel Good. Also in play are Harry Dean Stanton as a rather ludicrous Caterpillar and Matt Frewer as the chicken-hearted White Knight.
Frewer as usual shovels in scenery by the mouthful, but also enlivens these proceedings. He's even a bit poignant at times, although not to the point where you'll resort to a hanky or anything.
Syfy sent a rough-cut of
Alice
, which is missing many of the special effects and has a temporary sound track. In this case, some of the accompanying music is very, very
Lost
-like. Critics with review copies also are treated to looks at how sausage is made during a pair of flying flamingo machine sequences shot at ground level against green screens. One gets a renewed appreciation of how actors have to fake it in times of such "peril."
Alice
is watchable in spots, goofy in others and replete with action sequences in which the plucky heroine kicks and punches her way out of various scrapes. Alas, in the end comes nuclear annihilation.
OK, just kidding on that last one. But with this "modern-day spin," no one, especially the Queen of Hearts, is playing with an entirely full deck.
GRADE:
C