Peacock plucked? NBC will start writing off scripted shows
10/19/06 06:31 PM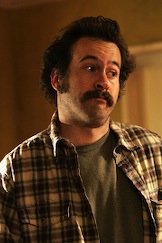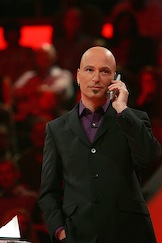 'Earl' and Howie: Open and shut cases?
By ED BARK
NBC Universal says the Eleventh Hour is nigh for scripted shows occupying prime-time's first hour. The company's sweeping NBCU 2.0 initiative, announced Thursday, is aimed at cutting costs and restoring double-digit growth via the elimination of 700 jobs and the escalation of cheaper-to-produce reality fare.
NBC Universal chief executive Jeff Zucker told
The Wall Street Journal
that the Peacock's history-rich broadcast network intends to begin at the beginning. The 7 to 8 p.m. (central time) hour gradually will be stripped of expensive comedies and dramas, he said. Advertiser interest in them is waning, Zucker contended, citing the $2.6 million cost for one episode of
Friday Night Lights
versus the $1.1 million NBC spends on
Deal or No Deal
.
He said this on the same day NBC ordered an additional 10 episodes of
1 vs 100
, a less than cerebral, big-money game show that opened big last Friday. Sample question: "The 2003 movie
Seabiscuit
featured what kind of animal?" The three choices were "one with fins, one with paws or one with hooves."
It's been a tough fall for NBC in the 7 to 8 p.m. leadoff slot.
Friday Night Lights
, which opens Tuesday nights and will get a test run at 9 p.m. Monday on Oct. 30, has been held to little ratings gain despite a wealth of critical praise. The network's new comedy combo of
30 Rock
and
20 Good Years
is faring even worse on Wednesday nights at 7. And Thursday night's Emmy-worthy opening duo,
My Name is Earl
and
The Office
, is lagging behind both CBS'
Survivor: Cook Islands
and ABC's new
Ugly Betty
.
NBC's only new hit among its six new scripted shows is
Heroes
, which follows
Deal or No Deal
at 8 p.m. Mondays. It costs $2.7 million per episode, and that's without any big name stars.
Studio 60 on the Sunset Strip
, another acclaimed NBC series that hasn't caught fire, reportedly carries a tab of $3.5 million a show. Much of it goes to pay the salaries of TV thoroughbreds such as star Matt Perry and creator Aaron Sorkin (
The West Wing
).
NBC isn't the only network looking at the hard realities of higher costs and generally lower payoffs for scripted programming. But it's the first network to specify a time period as a test lab for the phasing out of same. NBC has a long list of written word successes in prime-time's opening hour, particularly in the sitcom genre. The roll call from the last 30 years includes
The Cosby Show, Friends, The Golden Girls, Family Ties, The A-Team, The Fresh Prince of Bel-Air, A Different World, Mad About You, Wings
and
Little House on the Prairie
.
But a little show called
Fear Factor
also crept into the 7 p.m. slot in recent seasons. That highly cost-efficient hour bore Zucker's enthusiastic stamp of approval in the face of near-universal critical disdain. It was no
Friday Night Lights
, but it did help to keep the lights on. NBC is, after all, owned by General Electric. So brace yourselves for a possible onslaught of dim bulbs.