Idol thoughts tied to Fox's new season announcement
05/15/17 08:08 AM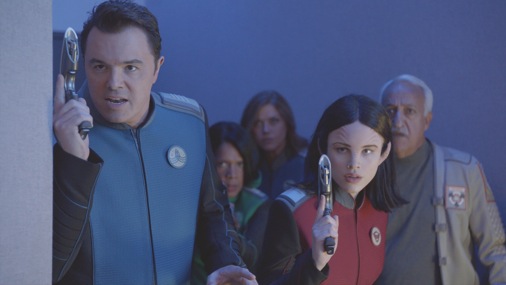 Family Guy creator Seth MacFarlane produces & stars in The Orville.
Fox photo
By ED BARK
@unclebarkycom on Twitter
Fox replicated NBC's minimalist approach Monday by announcing just three new series this fall. They'll be dealt with later. But first some revelatory words from Fox Television Group co-chairman/CEO Dana Walden on why Fox is losing its all-time signature show,
American Idol
, to a poacher next season.
ABC has announced a pickup of
Idol
for a planned 2018 launch, with the host and judges yet to be determined. But Ryan Seacrest, the show's charter host, is now part of the ABC family as co-host of the newly titled
Live with Kelly and Ryan
. So a deal for him to return is now appreciably more probable, even if he'd have to split some weekly time between New York and Los Angeles.
"Yes, it feels bad (that
Idol
is) coming back on another network," Walden told TV critics during an early morning teleconference. But as she elaborated, it seemed clear that Fox's insistence on creative changes and truth-telling to
Idol
's audience clashed with FreMantleMedia's cold, hard business decision to bring the show back as quickly as possible. Fox heavily promoted 2016 as
Idol
's farewell season after a 15-year run. But Seacrest's sign-off -- "Goodnight America -- for now" -- hinted at future possibilities.
"We thought it would be extremely fraudulent to bring the show back quickly . . . We and FreMantle just had very different points of view," Walden said.
"There was clearly a ratings trend," she added. "It was not going in the right direction."
But after learning of other suitors, Fox resumed talks with FreMantle on the possibility of bringing
Idol
back later rather than sooner. NBC initially seemed to have the inside track, which "kind of made sense to us," Walden said, because the Peacock has both Simon Cowell and Jennifer Lopez under contract, respectively for
America's Got Talent
and
Shades of Blue
.
Although "we did not see the excitement and enthusiasm for the show to come back," Fox made an offer to reboot
Idol
in 2020, Walden said. "Ultimately that fell apart."
FreMantle also became concerned about declining audiences and revenues for other international editions of
Idol
after the U.S. version shut down, Walden said. "We saw 2020 as being a respectful amount of time," she said. FreMantle strongly disagreed and also rebuffed Fox's push for a significant makeover, Walden said. "Obviously, FreMantle does not want to change that show, and perhaps they shouldn't."
Fox otherwise is not shy about reboots. A new 10-episode arc of
The X-Files
is set for midseason and Walden said the network also is open to more episodes down the road for
Prison Break
and
24: Legacy
. Their reincarnations performed decently this season, but not to the point where there's any rush.
Fox's three new series for the fall include
The Gifted
, its first series from the Marvel assembly line of movies and TV/streaming productions. The pilot was filmed in North Texas this spring, but Fox so far has not answered a question on whether the show's future base of operations will be elsewhere. Fall's other newcomers are
The Orville
, an outer space comedy/drama created by and starring Seth MacFarlane, and
Ghosted
, which outwardly looks like a comedic version of
The X-Files
. A surprise renewal is
The Exorcist
, which will remain on Friday nights in tandem with
Hell's Kitchen
. Fox also announced that
New Girl
will return for its last season, although not this fall.
Now penned in the cancellation corral are
Pitch, Bones, Sleepy Hollow, Scream Queens, Making History, APB, Son of Zorn, Rosewood, Shots Fired, Kicking & Screaming
, and
My Kitchen Rules
.
It was not the best of seasons for Fox. Despite having Super Bowl LI and a scintillating seven-game World Series between the Chicago Cubs and Cleveland Indians, the network ran fourth in total viewers and second among advertiser-prized 18-to-49-year-olds.
Here are Fox's three new fall series:
The Gifted
(drama) -- A suburban couple discovers that their two teenage kids have mutant powers. A "relentless government agency" known as Sentinel Services of course wants to track them down. So it's time to go on the run. Stephen Moyer (
True Blood
) and Amy Acker (
Person of Interest
) star as the parents, Reed and Caitlin Strucker. As noted previously, this is Fox's first throw-in with Marvel, which often has its name in the title, but this time doesn't.
The Orville
(comedy/drama) --
Family Guy
maestro Seth MacFarlane stars as Planetary Union officer Ed Mercer, who helms the U.S.S. Orville in a 25th century galaxy. Adrianne Palicki (
Friday Night Lights
) is his ex-wife and First Officer Kelly Grayson. There's also a "gelatinous creature" named Yaphit, who's voiced by Norm Macdonald.
Ghosted
(comedy) -- Leroy Wright (Craig Robinson/
The Office
) and Max Jennifer (Adam Scott/
Parks and Recreation
) reluctantly team up to save the human race from aliens. Leroy's the cynical skeptic and Max, the true believer. And if you haven't heard this before, well, c'mon now.
Here is Fox's night-by-night new fall lineup:
Monday
Lucifer
The Gifted
Tuesday
Lethal Weapon
The Mick
Brooklyn Nine-Nine
Wednesday
Empire
Star
Thursday
Gotham
The Orville
Friday
Hell's Kitchen
The Exorcist
Saturday
Fox College Football
Sunday
NFL on Fox
The OT/Bob's Burgers
The Simpsons
Ghosted
Family Guy
The Last Man On Earth
Fox also has announced these midseason series:
9-1-1
(drama) -- FX auteur Ryan Murphy (the
American Horror Story, American Crime Story
and
Feud
anthology series) rebounds from the cancellation of his
Scream Queens
with this "fast-paced exploration into the lives and careers of first responders." Only Angela Bassett has been signed to star so far.
The Resident
(drama) -- Another series that purports to reveal what really happens behind the scenes of high-powered hospitals. Veteran Bruce Greenwood and Matt Czuchry from
The Good Wife
are among the ensemble cast.
LA to Vegas
(comedy) -- An airline crew and a batch of eccentric passengers take off from Los Angeles to Vegas every weekend in hopes of coming back a big winner. Behind the camera are Will Ferrell and Steve Levitan (
Modern Family
), so this could be more than meets the eye. Dylan McDermott as Captain Dave contributes "a performance that will be the surprise of the season," vows Fox Television Group co-chairman/CEO Gary Newman. And TV executives never lie or exaggerate.
Email comments or questions to:
unclebarky@verizon.net