NBC's American Odyssey twists and turns while putting its heroine through a living hell
03/27/15 10:25 AM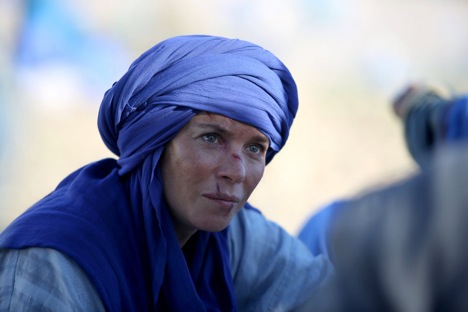 Special ops soldier Odelle Ballard (Anna Friel) of American Odyssey.
NBC photo
Premiering:
Sunday, April 5th at 9 p.m. (central) on NBC
Starring:
Anna Friel, Peter Facinelli, Jake Robinson, Treat Williams, Jim True-Frost, Sadie Sink, Adewale Akinnuoye-Agbaje, Omar Ghazaoui, Nate Mooney, Elena Kampouris, Daniella Pineda
Produced by:
Adam Armus, Kay Foster, Peter Horton, Mikkel Bondesen, Henrik Bastin, Kristen Campo, Simon Maxwell
By ED BARK
@unclebarkycom on Twitter
It's been a dismal season for new NBC drama series, with
Constantine, The Mysteries of Laura, State of Affairs, Allegiance
and
The Slap
all coming up ratings clunkers.
American Odyssey
, premiering on Easter Sunday, is a longshot to reverse those misfortunes. It's an ambitious, sprawling undertaking, though, with its central character -- Special Forces soldier Odelle Ballard (Anna Friel) -- enduring more hardship than possibly any leading woman in network TV history.
NBC's promotional pitch goes like this: "Wife. Mother. Hero. Getting home will be the fight of her life."
They're not exaggerating. Save for the first 10 minutes or so, Ballard's face is cut and bloodied throughout the five episodes sent for review. She's rocked by a drone strike, thrown into a below-ground cage, beaten by refugees, threatened with beheading, impaled by a spike, etc. The U.S. military colonel she has trusted implicitly plots her demise after first declaring her dead. Even Jack Bauer would bow to her. Odelle is more resilient than a Bounty paper towel.
There is, of course, a grand and complex conspiracy, with the sinister Societal Mining Corporation (SOC) its driving force. Odelle, captured and re-captured abroad by various terrorist groups, has the only evidence that might bring SOC down. It all begins when her Special Forces team kills Al Qaeda leader Abdul Abbas. A computer in his lair contains encrypted evidence with major implications for high-level traitors. And Odelle soon becomes their public enemy No. 1.
Meanwhile, back in the States, former U.S. attorney's office crusader Peter Decker (Peter Facinelli) begins smelling new rats while working for SOC. For the sake of their two children, his wife very much wants him to go along, get along and get out of the whistle-blowing business.
Out on the streets, political activist Harrison Walters (Jake Robinson) finds himself in the thick of things after crazed hacker Bob Offer (Nate Mooney) uncovers some very damaging information.
Harrison also is the son of a wealthy, best-selling, mistress-keeping non-fiction author from whom he's been estranged. This leads to a scene in Episode 4 that Bill Clinton won't find to his liking. It occurs after a fellow activist sees a framed picture of the senior Walters and the former president.
"Your dad knew Bill Clinton?" she asks in amazement.
"Yeah," says Harrison. "Guess they had more in common than I thought."
American Odyssey
has pulling power, if you'll give it a fair shot. Fair warning, through: it also has some telegraphed developments and a few rather preposterous ones. You'll likely know them when you see them.
Friel, as Odelle Ballard, certainly can't be accused of not giving it her all. This is a de-glamorized, draining, physically demanding role that also requires some heart and soul. On the emotional front, Odelle's budding alliance with the teenage Aslam (Omar Ghazaoui), one of those assigned to guard her, is resonant and well-played throughout the first five hours.
The heroine's plucky daughter back home -- Sadie Sink as Suzanne Ballard -- adds additional heart as a kid who firmly believes her mother is still alive. Husband/father Ron Ballard (Jim True-Frost) isn't nearly so sure and is ripe for manipulation by the sinister Colonel Stephen Glen (Treat Williams).
As with any serpentine serial drama, levels of trust are constantly compromised from within while viewers are encouraged to keep the faith from without. After seeing the first five episodes, I'm willing to buy in beyond that without making a ringing endorsement. There's just so much to watch these days. And one can only watch so much.
GRADE:
B-minus
Email comments or questions to:
unclebarky@verizon.net