Hardly Revolutionary: AMC's Turn tepidly goes into battle
04/03/14 09:08 AM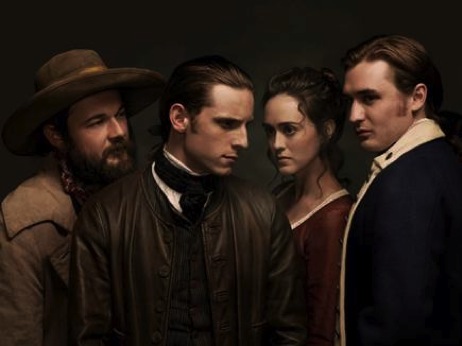 The furtive members of The Culper Ring in Turn. AMC photo
Premiering:
Sunday, April 6th at 8 p.m. (central) on AMC
Starring:
Jamie Bell, Seth Numrich, Heather Lind, Daniel Henshall, Kevin McNally, Meegan Warner, Burn Gorman, Angus MacFadyen, Samuel Roukin
Produced by:
Craig Silverstein, Barry Josephson
By ED BARK
@unclebarkycom on Twitter
Spies among us have made for a number of eye-catching TV series over the years, including
I Spy, Get Smart, The Avengers, The Man From U.N.C.L.E., The Wild Wild West, Alias
and FX's ongoing
The Americans
.
AMC's disappointingly tepid
Turn
, which has a listless title as well, does not seem destined to enthrall many if any fans of this twisty-turny genre. And as a replacement for
The Walking Dead
, which just ended Season 4, it's very likely to be one big turnoff.
Set during the early stirrings of The Revolutionary War, its most colorful elements are the red and blue uniforms worn by the British and the Colonials. AMC made Sunday's 90-minute premiere and two subsequent one-hour episodes available for review. They mostly plod along, catching fire in fits and spurts. Episode 3 does include, however, a beautifully expansive first look at New York Island.
Turn
might want to turn that one into a screen-saver.
AMC has gone the spy route before, with 2010's considerably more compelling
Rubicon
. But it ended up being one of the network's few one-and-done failures after ratings slippage set in and wouldn't let go.
Turn
's central character is Abraham Woodhull (Jamie Bell), a rather milquetoast-ish Setauket, NY farmer whose stern, belittling father, Richard (Kevin McNally), is a judge and British sympathizer.
Abraham is married with a young child after abruptly breaking off an earlier engagement to Anna Strong (Heather Lind). She's a strong-willed, comely bar maiden who joins the reluctant Abraham as a spy in what becomes known as The Culper Ring. Two of their childhood friends, Ben Tallmadge (Seth Numrich) and Caleb Brewster (Daniel Henshall), form the rest of the Culper quartet in what AMC calls "a layered spy thriller."
Ben is also an officer in the Colonial army while Caleb floats around as a "Patriot courier." All of this is based on the book
Washington's Spies
by Alexander Rose. But none of it is terribly compelling or energetic.
The principal British bad guy is John Graves Simcoe (Samuel Roukin), a sneering, conscience-less captain whose overall boss at the British garrison in Setauket is the slightly more benevolent Major Hewlett (Burn Gorman). Simcoe has his moments, even if some of them are too cartoonish. He's at least a vivid character in a drama that too often pokes along and fails to make its mark.
It all begins with a bloody battlefield scene that might well pull viewers in. But
Turn
soon begins bogging down, even in the midst of its ongoing unsolved murder mystery and the subsequent capturing of Simcoe after the Colonials get their first big tip from the budding spy ring.
Meanwhile, Abraham's father continues to browbeat him while a rapscallion named Robert Rogers (Angus MacFadyen) drops in and out to muddy things up.
Turn
never quite turns the corner in its first three episodes, but perhaps will perk up a bit if the recurring George Washington (Ian Kahn) finally makes his presence felt.
By that time, though, it may well be too late. And the battle might be lost on opening night anyway. Most of the young fan base for
The Walking Dead
will not be deterred from HBO's
Game of Thrones
, which begins Season 4 directly opposite
Turn
. AMC and its latest new drama will need much more than muskets, powdered wigs, murky chicanery and the Father of Our Country to stop all that audience churn.
GRADE:
C
Email comments or questions to:
unclebarky@verizon.net