FALL TV PREVIEW: New series -- Pushing Daisies (ABC)
10/03/07 11:36 AM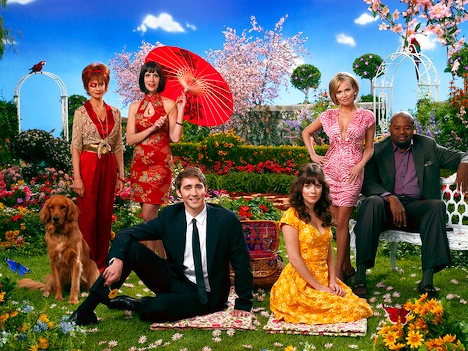 Premiering:
Wednesday, Oct. 3 at 7 p.m. (central) on ABC
Starring:
Lee Pace, Anna Friel, Chi McBride, Kristin Chenoweth, Swoosie Kurtz, Ellen Greene
Produced by:
Barry Sonnenfeld, Bryan Fuller
By ED BARK
Fall's brightest new series is just that -- very bright.
The bold primary colors of
Pushing Daisies
jump off the screen and into viewers' laps. But can ABC's "forensic fairytale" otherwise be a masterstroke? Or is it too cutesy poo, narration-heavy and pretentious at times? Lots of fellow critics have been going goo-gah with the ooh-ah. Dunno, though. Will
Pushing Daisies
have long-term pulling power?
On Wednesday's premiere, narrator Jim Dale (voice of the
Harry Potter
audio books) spends nearly six and a half minutes setting up the story, which originates in the peaceable earthly kingdom of Couer d' Couers. It's all glorious to behold, but it does get rather tiresome listening to Dale. Especially when the show's writers seem to think it adds to the story by giving the main characters' ages not only in years, but in weeks, hours and minutes.
The series' central figure, Ned with no last name, is first seen as a young boy (Field Cate). He's happily with his dog, which gets run over by a semi-truck. But a touch from Ned brings the dog back to life while a nearby squirrel soon drops dead from a tree. Hmm.
The kid quickly learns this: He can bring anything back to life. But if that second life lasts a minute, something or someone else dies. And if Ned touches one of the resurrected, he, she or it will be dead again -- forever. Got all that?
The narration keeps coming as Ned brings his mother back to life only to see the father of his next door little girlfriend drop dead. Then when mom kisses him goodnight, she's a goner, too.
No wonder adult Ned (Lee Pace) ends up being an ace piemaker and proprietor of The Pie Hole. His saucy waitress, Olive Snook (Kristin Chenoweth), would like to do a little
a la mode
with him. But Ned has intimacy issues and Olive is a bit short on brain power. "I used to think masturbation meant chewing your food," she says.
By this time Ned's also solving crimes on the side with grumpy copper Emerson Cod (Chi McBride). Ya see, Ned can revive a victim for at least a full minute, ask some pertinent questions and then end that same life a second time.
This basic code of conduct is sorely tested when Charlotte "Chuck" Charles (Anna Friel) is murdered on a cruise ship. It's the same Chuck that Ned had a crush on as a kid. Bringing her back to life proves irresistible, even if he can never touch her again. But who killed her? And what about those wacky aunts who raised her -- former synchronized swimming champs Lily and Vivian (Swoosie Kurtz, Ellen Greene)?
There's lots to digest here, not including Ned's pies.
Pushing Daisies
has more crust than any series since ABC's
Twin Peaks
, which gorged on Agent Cooper's cherry pie addiction.
Peaks
badly crumbled in its crazed second season, and you wonder if
Pushing Daisies
might be tempting a similar fate.
Is it too inherently silly to make viewers buy into the procedural crime of the week? Will the "You can't touch this" motif grow wearisome when constantly applied to Ned and Chuck? Is it too labored in its quirkiness? Might Dale's narration get really grating?
We'll have to see.
Pushing Daisies
definitely is worth a tune-in. It's fall's most imaginative newcomer in a new season already filled with fantasy/sci-fi. Raising the dead has never looked prettier.
Grade:
B+