Syfy's Collection Intervention may well be another addictive series about addicts
08/13/12 03:10 PM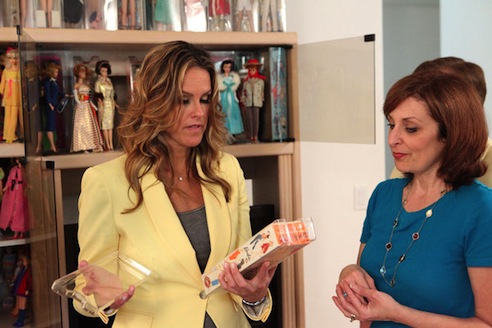 Host Elyse Luray talks down a Barbie collector. Syfy photo
Premiering:
Tuesday, Aug. 14th at 9 p.m. (central) on Syfy
Hosted by:
Elyse Luray
Produced by:
Pam Hesley, Jim Berger, Elizabeth Grizzle Voorhees
By ED BARK
@unclebarkycom
A
Star Wars
addict named Consetta frequently weeps at the thought of giving up even one of her "friends."
Mark, a dedicated Catwoman collector, is similarly traumatized by the idea of parting with any of the treasures he's amassed. Even though they've long been out of sight in stacked cardboard boxes filling nearly every inch of a decaying garage.
These people aren't jokes. Nor are their situations. As an off-and-on collector of sports cards, myriad TV stuff, old LPs and Chip Hilton sports books devoured in grade school years, I'm not about to make fun of Syfy's
Collection Intervention
. It hits a little too close to home, although of course I could part with all of these possessions with nary a second thought. Just don't ask me to do it today. Or tomorrow. Or next week. Or next month.
Hosted by Elyse Luray, formerly an executive with the famed Christie's auction houses,
Collection Intervention
is getting an initial run of six one-hour episodes. Both of the collectors featured in Tuesday's premiere have spouses with varying levels of tolerance.
Mark's wife, Lolly, wants him to junk his entire cache in hopes they can climb out of debt with the proceeds.
Consetta's husband, Garet, is much more of a kindred spirit. The couple were married in
Star Wars
costumes and have a preserved wedding cake in the form of a
Star Wars
ship.
"And it won best
Star Wars
wedding cake from the
Stars Wars Insider
, 2008. Yay!" Consetta tells Elyse. OK, that's sick.
Still, hubby's ready to part with the thousands of
Star Wars
purchases jamming virtually every available space of their modest-sized home. At least they're all neatly displayed while Mark's collection is out of sight but never really out of mind.
It's Elyse's job to guide them with a firm hand toward the cash money that will result from downsizing. Consetta is made to realize that other
Star Wars
fans likewise would love to have some of what she's got.
"Why not let somebody else feel that joy?" she asks.
But for the very reluctant Consetta, saying goodbye to even her miniature Wicket the Ewok is almost akin to losing a first-born child. Mark is shaky, too, despite not really knowing what he has.
"If you don't remember buying them, then we should really be selling them. Right?" Elyse asks him. Well, um, maybe, but er . . .
These kinds of shows hardly ever end miserably. So let's just say that both Consetta and Mark eventually come to grips with their demons. Meanwhile, viewers get to see what they've all got and what some of it is worth. Which continues to be addictive viewing in itself as the hoarder, pawn shop and abandoned storage unit shows just keep piling up.
GRADE:
C+