New season: Fox's Brothers is mama's family
09/25/09 01:54 PM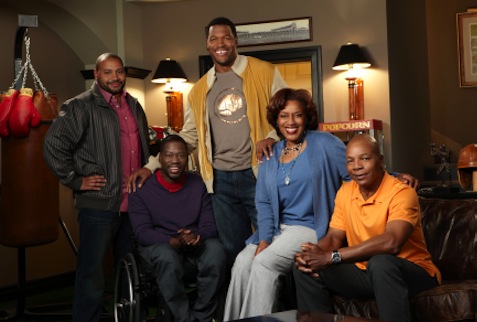 Brothers is buoyed by CCH Pounder as Mama Adele. Fox photo
Premiering:
Friday, Sept. 25th at 7 p.m. (central) on Fox
Starring:
Michael Strahan, CCH Pounder, Daryl Chill Mitchell and Carl Weathers
Produced by:
Don Reo, Eric Tannenbaum, Kim Tannenbaum, Mitch Hurwitz
By ED BARK
Fox's lone new comedy series of the fall season stars an ex-pro and an old-pro.
Former New York Giants mainstay Michael Strahan gets top billing in his first full-time acting job. And surprisingly, he's not too bad.
But CCH Pounder is the playmaker in this loud, earthy and some might say all-too-prototypical "urban" sitcom.
Brothers
manages to be fairly amusing, too, with Pounder showing off her range by shifting from the very serious business of
The Shield
to playing a sharp-tongued but nurturing matriarch in a house full of childish squabblers.
"He's an ass, but he's my son, and I love him," she tells both of her sons separately. The same goes for her husband, whose high school football players now are all "shavin' their wiggly-dos," he declares. So he later decides to shave his, too. Oh mercy, give me CPR, which in
Brothers
is CCH.
Pounder plays Adele Trainor. She lures her son, Mike (Strahan), back home to Houston under the pretense that his father, "Coach" Trainor (Carl Weathers), is newly impaired by a stroke.
The other member of the brood, resentful Chill (Daryl Chill Mitchell), has been in a wheelchair ever since a car accident. He's running a sports-themed restaurant, but business isn't so good. Mama knows this. She also knows that Mike, a recently retired football star, is living under false pretenses after his manager ran off with his money. So let's all get back together and pull on the same oar.
The brothers, of course, don't get along.
"Hey, don't roll up on me like that," Mike carps. "Put some baseball cards in those spokes so I can hear you comin', man!"
Chill later drives a punchline through the gap between Mike's choppers: "You know what you should do with your two front teeth? Introduce 'em!"
Adele remains in denial about Chill, occasionally jabbing at his numb legs with a fork because "I dream one day he's gonna say, 'Ouch.' " Coming from her, just about every line works, even the transparently telegraphed ones.
In next Friday's Episode 2, Pounder weighs in after a family bowling night at The Gutter, from where Mike brings a young woman home. Spotting her in the kitchen the next morning, she barks, "Who are you?"
"Oh, I'm Monica from The Gutter."
"That's what I woulda guessed."
That's a groaner, but Pounder still somehow sells it.
You might buy Strahan, too. In the annals of pro athletes turned actors, he's already 20 yards ahead of Dick Butkus.
Weathers, the old
Rocky
movie puncher, is adequate and very animated as the increasingly forgetful but ever-boastful Coach. And Mitchell brings fire to Chill, who spars with Strahan as though he's Flozell Adams in the trenches. But with fewer false starts.
Brothers
, being paired with the return of
'Til Death
, isn't likely to rack up any big ratings scores on a night that's long been ice cold for Fox. But it's not nearly as bad as anticipated, and close to being a full-blown pleasant surprise.
That's what can happen when you've got someone blocking, tackling and carrying the ball. We're not talking about Strahan, of course. All he has to do is be coachable again while Pounder takes this one to the house.
GRADE:
B-minus