R.I.P. Sherman Hemsley: Feb. 1, 1938 to July 24, 2012
07/24/12 03:39 PM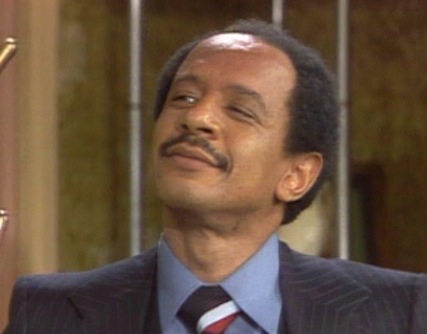 By ED BARK
@unclebarkycom
Sherman Hemsley, the broadly comic actor whose inimitable rants made
The Jeffersons
one of the most popular sitcoms of the mid '70s to mid '80s, died Tuesday at age 74.
His diminutive George Jefferson was a volatile bag of bones opposite wife Louise "Weezy" Jefferson (the late Isabel Sanford) and their take-no-guff maid Florence Johnston (Marla Gibbs) in one of several successful CBS spinoffs of Norman Lear's masterstroke,
All In The Family
.
The Jeffersons
ran from 1975 to 1985, finishing among prime-time's 10 most-watched weekly programs in three of those seasons.
Hemsley also played cantankerous deacon Ernest Frye in NBC's
Amen
, which aired from 1986 to 1991 while ascending as high as No. 13 in its first season.
Both shows aired in times when comedies with predominantly black casts flourished as mainstream prime-time hits.
The Jeffersons
came to prominence during the days of
Sanford and Son, Good Times
and
What's Happening!
. In the 1981-'82 season,
The Jeffersons
ranked No. 3 in the ratings, making it television's most popular comedy behind the serial soap
Dallas
and the news magazine
60 Minutes
.
Amen
didn't achieve those heights. But it likewise prospered amid so-called "urban" comedy success stories. NBC's
The Cosby Show
led the parade with five consecutive seasons in prime-time's No. 1 spot. Its spinoff,
A Different World
, and another NBC sitcom with a mostly black cast,
227
, also cracked Nielsen's top 15 most popular shows during that period.
Hemsley's George Jefferson was a super high-strung businessman who built his first dry cleaning establishment into a small chain. The good life ensued in a luxury high-rise Manhattan apartment. But George was seldom satisfied, registering as a combination Archie Bunker and Ralph Kramden with his temper tantrums and meltdowns.
In an Archives of American Television interview, Hemsley said, "The first five years I would hardly ever smile . . . I had to be true to the character."
In 1984, Hemsley received his lone Emmy nomination for what became his signature role. But he didn't win. The series' "Movin' On Up" theme song remains indelible, although it never hit the pop charts.
Hemsley's last screen role was as George Jefferson in a 2011 episode of TBS'
House of Payne
. That network, with a small assist from TV Land, now houses the majority of TV's contemporary black sitcoms. But none of them has even a small fraction of the audiences that
The Jeffersons
amassed in largely pre-cable times.