Seduced and Abandoned gives HBO a very embraceable doc
10/25/13 11:26 AM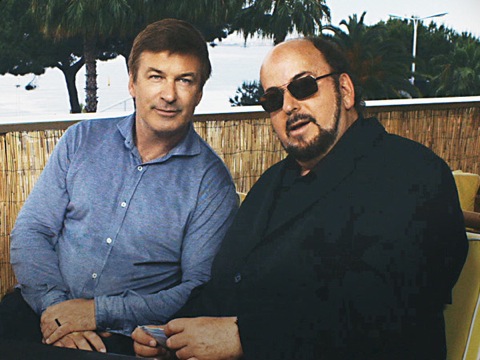 Film mates: Alex Baldwin and director/writer James Toback. HBO photo
By ED BARK
@unclebarkycom on Twitter
The late Orson Welles provides a perfect springboard for
Seduced and Abandoned
, a documentary about the "art" of chasing the dollar.
"I look back on my life and it's 95% running around trying to raise money to make movies and 5% actually making them," Welles lamented. "It's no way to live."
It's not known how much Alec Baldwin and writer/director James Toback (
Tyson, The Pick-up Artist
) had to haggle with HBO to make
Seduced and Abandoned
(premiering
Monday, Oct. 28th at 8 p.m. central
). The end result may not quite be priceless. But this is a very entertaining and informative one hour, 40 minute look at how today's movie industry functions and whether it's really all that different from how things used to be done.
Baldwin and Toback in a way have fool-proofed their movie within a movie gambit by journeying to the Cannes Film Festival with a pitch for a film that seems more than a little touched in the head. They're proposing a "political romantic adventure" modeled after
Last Tango In Paris
, the controversial, sexually graphic 1972 film directed by Bernardo Bertolucci and starring Marlon Brando and Maria Schneider.
Baldwin would take on the Brando role in
Last Tango in Takrit
, with Neve Campbell as his younger lover. He'd be a hawkish government operative and she'd be a "lefty" journalist who meet and mate in Iraq. Would anyone be interested in investing $25 million in it?
Campbell, seen briefly in the HBO documentary's early minutes, hasn't exactly been on fire of late. In fact it's fair to ask whether
Seduced and Abandoned
in part is a running joke at her expense, even if it she might willingly be in on it. Because as expected, prospective financiers balk when her name is mentioned.
"Neve Campbell is wonderful, but doesn't have marquee value," says moneyman Mark Damon. "You cannot sell it," says another. But if Jessica Chastain signed on and Campbell were reduced to a minimal role, well, now we might be talking.
Not that viewers or reviewers should think too deeply about this.
Seduced and Abandoned
is also about how renowned filmmakers view their craft. And during the course of trying to shake the money tree, Baldwin and Toback also sit down with the likes of Martin Scorsese, Francis Ford Coppola, Roman Polanski and Bertolucci himself. Actors James Caan and Ryan Gosling also illuminate their craft while
Juno
writer Diablo Cody memorably says she's ready to die at this point because "I know I can make into that death montage (at the annual Oscars ceremony) and that's all I care about."
Toback, who directs
Seduced and Abandoned
, does a fine job of melding film clips with his subjects' words. Much of the documentary is presented in split-screen, putting scenes from the likes of
The Godfather, Mean Streets, Goodfellas, Apocalypse Now
and
Rosemary's Baby
into sharper, contextual focus.
Coppola recalls throwing several of his
Godfather
Oscars out of a window after struggling to secure financing for
Apocalypse Now
. His mother then picked up the pieces and tried to get him new ones.
Seduced and Abandoned
doesn't always stay on track, but nonetheless never derails. It's both a romp and a stomp, with Cannes the go-between.
"Making movies is the oxygen of my being," Toback says in the early going. This one seems to effortlessly breathe on its own as a buddy/buddy "road picture" with scenic pathways, a few dead ends and refreshing breezes throughout.
GRADE:
A-minus
Email comments or questions to:
unclebarky@verizon.net