Starz's Magic City rewinds 53 years to a glowingly corrupt Miami Beach
04/05/12 03:24 PM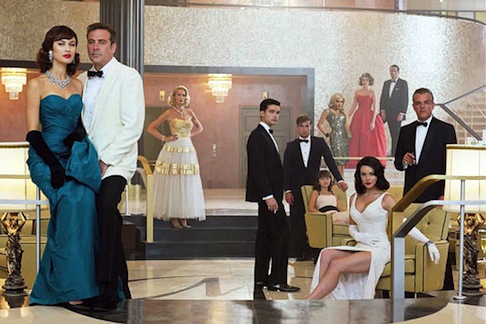 The main Magic City players at Miami Beach's Mirimar Playa hotel.
Starz photo
Premiering:
Friday, April 6th at 9 p.m. (central) on Starz
Starring:
Jeffrey Dean Morgan, Olga Kurylenko, Steven Strait, Jessica Marais, Christian Cooke, Elena Satine, Dominik Garcia-Lorido, Taylor Blackwell, Danny Huston, Alex Rocco, Kelly Lynch
Produced by:
Mitch Glazer, Geyer Kosinski
By ED BARK
Wikipedia could get a bit of a workout during and after
Magic City
by any viewers too young to remember the likes of Cyd Charisse, The McGuire Sisters, Jack Carter, Danny Kaye, Georgie Jessel, Shecky Greene, Sal Mineo and Kim Novak. Or you could bone up right now.
All of those names and more are dropped in Friday's opening episode of Starz's
Magic City
, a decidedly old-school morality play set in the Miami Beach of the late 1950s. Frank Sinatra and Jack Kennedy should ring-a-ding-ding a bell, though. They're referenced, too, but none of the above are actually seen and only Sinatra is heard.
Crisply and vividly shot,
Magic City
is
Mad Men
era entertainment in swimsuit attire -- or often no attire at all. Dinner jackets also are plentiful amid the smoking, drinking and occasional bloodletting. This is Miami before the Dolphins, but sharks (human and otherwise) are always in the swim of things.
At center stage is Isaac "Ike" Evans (Jeffrey Dean Morgan), a halfway principled man who built the palatial Miramar Playa hotel from scratch and is very proud of it. Unfortunately he's also in hock to the very nasty and controlling Ben Diamond (Danny Huston), an underworld S.O.B. also known as "The Butcher."
Ask Ben for a favor and he'll grant it -- but always at a price. And Ike badly needs some muscle when a picket line sanctioned by his childhood friend, union leader Mike Strauss (Leland Orser), threatens to really screw up the Miramar's big New Year's Eve gala, with Sinatra as its centerpiece. But Frankie will walk if the place ain't filled, says his right-hand man, Jilly. (Hey, kids, that would be none other than Jilly Rizzo, whose surname is left out of Friday's proceedings.)
Ike also is a widower with a knockout new and younger wife named Vera (Olga Kurylenko). He has two grown sons, Cain-ish Stevie (Steven Strait) and Abel-ish Danny (Christian Cooke), plus an increasingly lippy little daughter named Lauren (Taylor Blackwell).
Danny is enamored of a hotel maid named Mercedes Lazaro (Dominik Garcia-Lorido) while Stevie has the very dangerous hots for Lily Diamond (Jessica Marais), who just happens to be brutal Ben's moll.
Friday's first episode moves along at a sometimes languorous pace, but not to the point of being a turn-off. TV addicts might notice that an early scene is eerily similar to one of the ABC series
GCB
's table-setters. Namely, a stud being orally gratified from below while driving his car is fated to lose control and crash it. But Stevie and his pleasurer have the good fortune to land in a shallow body of water, emerging unhurt. In
GCB
, both parties ended up dead.
Morgan and Huston play their pivotal roles well, but
Magic City
's scene-stealer is Alex Rocco in the recurring role of Ike's semi-infirm father, Arthur Evans. He's alternately cantankerous and tender, a pop with a little weasel in him. And Rocco plays him to the hilt.
Vera Evans is willful but not evil, a wife who sees only the best sides of her husband while he somewhat reluctantly does what has to be done to keep the Miramar out of financial harm's way.
In Episode 2, one of three sent for review, Ike gets a to-the-point treatise from Ben on what they could and should mean to one another. "You built a palace," Ben rasps. "Now it's time to be king. And you and I can wear this town like a diamond necklace."
Episodes 2 and 3 otherwise are partly built around what Ike considers a coup -- the luring of the CBS-televised "Miss 1959" pageant to the Miramar. Beauties from around the world eventually hit Miami Beach in very playful moods. So much so that they seem to be rent-a-whores, particularly when it comes to pleasing a corrupt old state senator whose committee is soon scheduled to hold hearings on the lucrative legalization of casino gambling.
"You know, son, I cannot be bought," he informs Ike. But I can be rented." Haw-haw.
Magic City
will have a 10-epsode Season One. And Starz already likes what it sees, ordering a second season before the first premieres.
So far this is solid and very picturesque entertainment, with a strong sense of foreboding built in. There's a lot to look at and enough to like about this "flashy and tumultuous time in Miami." It remains to be seen whether future back-in-the-day name drops might include Danny Thomas, Mitzi Gaynor, Xavier Cugat and maybe even Steve Lawrence & Eydie Gorme.
GRADE:
B+