New fall season: Fox'sTerra Nova goes picturesquely prehistoric but with a prototypical script
09/26/11 08:44 AM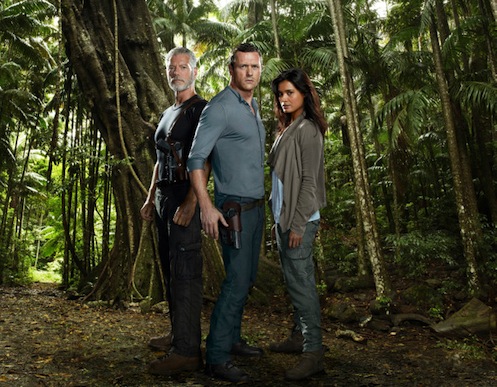 Standing tall in prehistoric Terra Nova. Fox photo
Premiering:
Monday, Sept. 26th at 7 p.m. (central) on Fox
Starring:
Jason O'Mara, Shelley Conn, Stephen Lang, Landon Liboiron, Naomi Scott, Slana Mansour, Christine Adams, Allison Miller
Produced by:
Steven Spielberg, Peter Chernin, Rene Echevarria, Brannon Braga
By ED BARK
Even with the cast's inflated salaries, at least 10
Jersey Shores
could be made for the price of one
Terra Nova
. And that also includes the liquor bill.
So Fox should be credited for putting some real money on the screen and striving to add an "event" to the broadcast TV landscape. Absent miniseries and all but shorn of made-for-TV movies, ABC, CBS, NBC and Fox have long been nickel-and-diming it on the luster front.
Terra Nova
is a profligate spender, with its futuristic and prehistoric worlds of desolation and dinosaurs.
Not that Monday's delayed two-hour premiere isn't also laden with predictability, pat situations and a script that too often thuds instead of clicks. Originally scheduled to air after May's final performance edition of
American Idol
, its production problems apparently had everything to do with the special effects and little to do with punching up the storyline.
Head producer Steven Spielberg supposedly is very "hands-on" with this project, which unfortunately doesn't result in much overall originality.
There of course must be a slightly fractured family with a resentful teen and a wide-eyed little kid in the mix. His name is Josh. Her name is Zoe.
Later on, a pack of willful coming-of-agers, including Josh, is packed into an armored vehicle which is then assaulted by a "slasher" monster with a lethal tail while adults ride to the rescue. It's an an overlong sequence without any real bite or jeopardy.
Heavy-handed pronouncements also are front and center, with tough but compassionate Col. Nathaniel Taylor (Stephen Lang of
Avatar
in full verbal battle dress. Referring to the renegade "Sixers" striving to topple him, Taylor sets his jaw and says, "I'll tell you this. I'm not gonna let them. I'm not gonna let anybody stand in the way of what we are building here. Terra Nova
will
succeed." Gotcha. Now have a milk shake.
This grand stage is first set with a big-print preamble: "At the dawn of the 22nd century, the world is on the verge of environmental collapse. Mankind's only hope for survival lies 85 million years in the past."
In other words, ignorance of climate change rather than a complete economic meltdown proved to be the ultimate lethal weapon in what publicity materials for
Terra Nova
say is the year 2149. (That's not quite the "dawn" of the 22nd century, but let's move on.)
The central family is the Shannons, who have secretly defied a law against having more than two children. But authorities move in and arrest former Chicago cop Jim Shannon (Jason O'Mara) after he punches an onerous "Population Control" officer. His doctor wife, Elisabeth (Shelley Conn), looks on in horror, as do kids Josh (Landon Liboiron), Maddy (Naomi Scott) and illegal Zoe (Alana Mansour).
Jim gets a stiff sentence in unforgiving Golad Prison. And two years later, his wife and the two oldest kids are selected to travel through a portal to prehistoric Terra Nova. Through unconvincing means, Elisabeth slips Jim a key to his freedom while Zoe is smuggled in a backpack. They all make it in rather preposterous fashion to Terra Nova, where Josh suddenly cops a 'tude and says it's dad's "own damn fault" for being locked up and "you can't just come back after all this time and start telling me what to do."
Funny, but up until that time Josh didn't want to go to Terra Nova
without
his pop alongside them. During the series' various re-boots, did they simply veer implausibly into a new direction in order to input more conflict?
Dad decrees that "we're starting over -- as a family," before being assigned to pick giant weeds. But he quickly alters that career course by making a heroic effort that causes Col. Taylor to re-evaluate him. Taylor shows some signs of being enigmatic and driven by a secret agenda. But he mostly makes pronouncements for now.
There's a cute scene involving little Zoe feeding a long-necked gentle giant of a dinosaur. And the first major action sequence is pretty pulsating, with a Carnotaurus chasing a team of Sixers and the two leading men while they all race back to the protected settlement in low-riding armored vehicles. The climactic scene is poorly edited, though. Watch for it when Taylor lures a Carno with his gun blazing before Jim rides rather miraculously to his rescue.
Terra Nova
also strongly hints at deeper secrets and entanglements, with a cryptic reference by Sixer leader Mira (Christine Adams) to the "real reason for Terra Nova's existence." Namely, "Control the past, control the future."
It's then time for the reunited Shannon family to gather in unison for a closing shot framed by a very full moon.
Under present plans, Fox says it can only air 13 episodes of
Terra Nova
per season. And that would include a Season 2 if it happens. For one, the series is expensive. It also takes longer for each episode to emerge with its special effects fully intact.
Will the network get enough bang for its bucks? Or will its biggest hit of the new season so far -- the comedy series
New Girl
-- end up being 10 or 20 times more cost-effective?
Terra Nova
certainly doesn't lack ambition and scope, which is a plus. But its first two hours fall short in the storytelling department. There's still time to make this a series about more than dino-mite. At present, its creatures only have to roar in prototypically primal fashion. The humans get stuck with the scripts, which so far puts them in double jeopardy.
Going directly against a Dallas Cowboys game in Week 1 won't help matters either. Endangered quarterbacks provide a lot more real-life suspense than anything
Terra Nova
can dream up.
GRADE:
C+