CBS' Partners a showcase for co-star (and Plano Senior High grad) Michael Urie
09/19/12 10:42 AM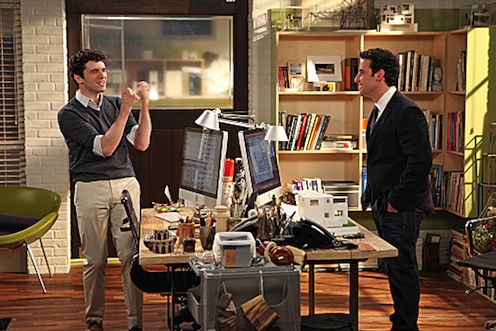 Michael Urie and David Krumholtz of Partners. CBS photo
Premiering:
Monday, Sept. 24th at 7:30 p.m. (central) on CBS
Starring:
Michael Urie, David Krumholtz, Sophia Bush, Brandon Routh
Produced by:
David Kohan, Max Mutchnick, James Burrows
By ED BARK
@unclebarkycom
Stealing a sitcom has long been an honorable pursuit, as long as you're not clearly trying to show up your co-workers.
The latest thief is Dallas native and Plano Senior High grad Michael Urie, who made something of a name for himself on ABC's
Ugly Betty
and now is front and center as the co-star of CBS' new
Partners
.
A then largely unknown Sean Hayes ran off with NBC's
Will & Grace
during its early years as a fairly daring NBC comedy. His portrayal of the flamboyantly gay Jack McFarland easily upstaged the two title characters, with Megan Mullally's Karen Walker assisting him in the heist.
Urie's character in
Partners
likewise is openly gay and none too subtle about it. But his Louis can be loads of fun, particularly in a second episode made available for review. Co-star David Krumholtz (
Numb3rs
), who just finished playing a psychiatrist in Season 1 of HBO's
The Newsroom
, is both straight and straight man in this fairly promising laugher based on the real lives of co-creators David Kohan and Max Mutchnick. They also collaborated on
Will & Grace
, so behold the symmetry.
Snuggled between
How I Met Your Mother
and
2 Broke Girls
on Monday nights,
Partners
is nominally set at an architectural firm. It's where Krumholtz's Joe tries to be all-business while Louis keeps screwing things up. But the real work at hand is Joe's relationship with longtime girlfriend Ali (Sophia Bush), a jewelry designer to whom he's engaged after all the dust settles in the premiere episode.
The series' fourth wheel is a well-chiseled gay vegan nurse named (Brandon Routh), who's the solid subdued tree trunk in Louis's ever-wacky personal life.
Episode 1 is built around a Louis
faux pas
tied to Joe's marriage proposal to Ali. Episode 2 centers on their suddenly stagnant sex life, with Louis again only trying to help but of course complicating matters. It's a considerable improvement on the opener, which is always a better sign than the other way around.
Partners
can be labored as well. A spitfire Latina receptionist named Ro-Ro (the recurring Tracy Vilar) drops in and out for no particularly good reasons. In Episode 1, after Louis cracks wise and keeps on doing so, Ro-Ro goes, "Joke, joke, joke, gay, gay, gay. I will cut you."
He later has need of her "girls" (ample breasts) after another mess-up. A gay man can always nuzzle.
A collection of
double entendre
jokes is also included. Some land with a thud, others sort of pay off. As when Louis notes, "Gays can't drive stick. Ironic, right?" This is after a fed-up Joe notes that Louis once totaled his dad's car by crashing into it with his mother's car.
Both episodes begin with flashbacks of Louis and Joe as kids. There's a lot of this going around this season, with Fox's new Tuesday night comedy combo of
Ben and Kate
and
The Mindy Project
likewise rewinding to the title characters' formative years.
Through it all, Urie's mostly a hoot, with his inflections infectious and his comedy timing a thing of beauty. Krumholtz offers sturdy enough support, but his co-star does most of the heavy lifting. It makes
Partners
a sitcom worth a watch on a night when there's heavy duty opposition from ABC's
Dancing with the Stars
, NBC's
The Voice
and Fox's
Bones
.
Partners
may not be able to survive long-term under such circumstances. But it won't be Michael Urie's fault.
GRADE:
B-minus