WGN America's Underground is an imperfect but worthy drama set in a very imperfect world
03/08/16 04:24 PM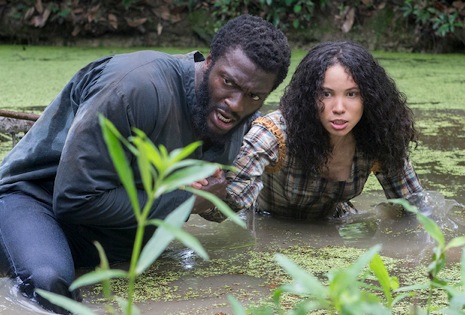 Aldis Hodge and Jurnee Smollett-Bell star as slaves making a run for "The Promised Land" in Georgia-set Underground. WGN America photo
Premiering:
Wednesday, March 9th at 9 p.m. (central) on WGN America
Starring:
Jurnee Smollett-Bell, Aldis Hodge, Alano Miller, Christopher Meloni, Reed Diamond, Marc Blucas, Amirah Vann, Mykelti Williamson, Chris Chalk, Jessica deGouw, Adina Porter, Theodus Crane, Johnny Ray Gill, Renwick Scott, Mary Katherine Duhon, Jussie Smollett
Produced by:
Misha Green, Joe Pokaski, Akiva Goldsman, Job Harold, John Legend, Tory Tunnell, Mike Jackson, Anthony Hemingway, Ty Stiklorius
By ED BARK
@unclebarkycom on Twitter
WGN America, official network of the one-word, scripted drama series, is following
Salem
, the since canceled
Manhattan
and
Outsiders
with the pre-Civil War
Underground
.
It continues the network's newfound path toward relevance and hoped-for Emmy acclaim after generations of idling in place with various syndicated reruns.
Underground
, billed in publicity materials as a "pulse-pounding journey with revolutionaries of the Underground Railroad," spikes its 1857 antebellum setting with a mix of contemporary and period music devised by co-executive producer John Legend.
This doesn't always work wonders, particularly in an opening sequence depicting the slave Noah (Aldis Hodge) on the lam and accompanied by pounding drums, rap and literally a heavy-breathing downbeat. Down the road, in the third of four episodes made available for review, a governor's ball is in part accompanied by a pop tune with the lyrics "We are, we are the wild ones." Well, I declare.
In the early hours of a 10-episode Season One, the characters mostly gather at a Georgia plantation owned by the semi-genteel but overall vicious Tom Macon (Reed Diamond). His haughty wife, Mary (Mary Katherine Duhon), is more outwardly condescending than her husband. Family dinners are formal, with a uniformed black staff headed by the stern Ernestine (Amirah Vann) expected to provide impeccable service. It's not
Downton Abbey
, mind you. But the class distinctions are almost eerily similar.
Jurnee Smollett-Bell, one of many young graduates from NBC's
Friday Night Lights
, plays Ernestine's daughter and fellow housekeeper Rosalee. Ernestine likewise has kept her two other children out of the fields in return for certain favors. But Rosalee has difficulty taking her eyes off plantation blacksmith Noah, whose back bears the deep scars of repeated lashings. Together they conspire, along with other freedom-seekers, to escape on a journey 600 miles North to the so-called "Promised Land."
Who can be trusted, though? Cato (Alano Miller), one of Tom Macon's black overseers, has a badly disfigured face and duplicitous nature. But he also claims to be intent on putting the plantation behind him. Clashing with Noah is part of the bargain.
Underground
also is populated by well-meaning abolitionist John Hawkes (Marc Blucas) and his wife, Elizabeth (Jessica De Gouw). Their motivations seem pure, although John has a checkered past. Then there's the morally ambiguous August Pullman (Christopher Meloni of
Law & Order: Special Victims Unit
fame), who sometimes brings in runaway slaves to make ends meet but whose best friend is a black man played by Clarke Peters from
The Wire
.
Underground
occasionally clunks through these proceedings but usually not for too long. Vivid, strong performances by Hodge and Meloni help to keep the story on its toes while the producers effectively recreate a pivotal period just four years shy of the four-year war pitting North against South. The attention to detail can be gruesome at times -- as it must be. Plantation-style "civilization," complete with whips and fine china, at last was nearing an end. But new viral strains of racism were yet to come during the never-ending quest to be free at last.
GRADE:
B
Email comments or questions to:
unclebarky@verizon.net