ABC's black-ish looks for laughs in 'burb-an vs "urban"
09/23/14 12:50 PM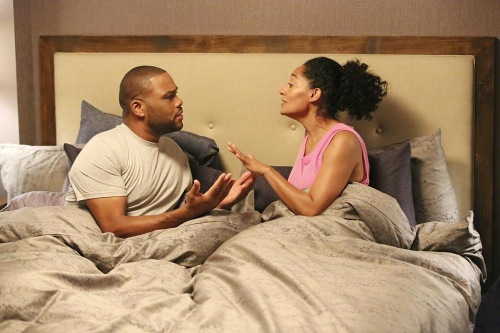 Not yet putting it to bed. Anthony Anderson and Tracee Ellis Ross debate the merits of "keeping it real" in black-ish. ABC photo
Premiering: Wednesday, Sept. 24th at 8:30 p.m. (central) on ABC
Starring:
Anthony Anderson, Tracee Ellis Ross, Laurence Fishburne, Marcus Scribner, Yara Shahidi, Miles Brown, Marsai Martin
Produced by:
Kenya Barris, Larry Wilmore, Anthony Anderson, Laurence Fishburne, Helen Sugland, E. Brian Dobbins
By ED BARK
@unclebarkycom on Twitter
Even at the height of its ratings powers,
The Cosby Show
stood accused in some quarters of not being black enough.
A generation later, the new ABC family comedy
black-ish
makes that same criticism from within the show itself. It's also worth noting that this time the wife is the doctor in the house. Furthermore, the creator/executive producer of the show, Kenya Barris, is black, as are three of the other principal producers. That wasn't the case with
The Cosby Show>
, which came from veteran sitcom hit makers Tom Werner and Marcy Carsey.
All of this is important in terms of what's permissible humor on
black-ish
, which seems novel but in fact has a premise very similar to ABC's 1998 fall sitcom
The Hughleys
. D.L. Hughley starred in that one as a prosperous "vending machine king" who moved his family to the Los Angeles 'burbs and then fretted about losing his "blackness." It lasted two seasons on ABC and another two on the now defunct UPN network.
black-ish
, a better show in a seemingly advantageous time slot (behind
Modern Family
), stars Anthony Anderson as ad agency executive Andre "Dre" Johnson, with Tracee Ellis Ross as his biracial wife, Rainbow. Or as Dre puts it in the opening narrative sequence, his "pigment-challenged, mixed race" wife.
Married with four kids, they've sought and found prosperity after moving out of the " 'hood." But in a presumably out-of-body scene that's both jarring and in keeping with
black-ish
's premise, the Johnsons happily wave in unison from the curb while an "Ultimate Hollywood Tours" bus rolls through their neighborhood. "The mythical and majestic black family out of their natural habitat and yet still thriving," the tour director enthuses. No, a white writer could not have gotten away with this. And I'm not sure a black writer should either. Then again, comedy isn't supposed to be pretty.
Dre is in line to be the first black senior vice president at his workplace. But although he wants his kids to re-embrace their "blackness," Dre is vexed to learn that he'll be heading the ad firm's "new urban division."
"Wait, did they just put me in charge of black stuff!?" he wonders aloud.
Meanwhile, Andre Jr. (a very appealing Marcus Scribner) has a Jewish friend and is quite comfortable with being called "Andy" at school. He also flabbergasts dad with his determination to try out for the field hockey instead of the basketball team. And on his 13th birthday, he wants a Bar Mitzvah.
This is the last straw, and it won't stir the drink. Andre Sr. insists on "throwing you an African rites of passage ceremony" while wife Rainbow carps, "Why don't we take a 'black' break and go get some white yogurt." The two younger kids like that idea.
Ellis Ross knows how to execute these lines. But
black-ish
has a trump card in Laurence Fishburne as Andre Sr.'s prototypically gruff "Pops." Fishburne is not at all known for comedy. He's already got this part nailed, though, whether grousing about baked instead of fried chicken at dinner or saying of Andre's promotion, "Finally made it, son. Finally made it! The head puppet of the white man."
Anderson, who had a rough go of it two seasons ago in NBC's dreadful
Guys with Kids
sitcom, is far better served here as an exasperated, well-meaning, would-be head of household. The series has steered clear of buffoonery in the premiere episode. But it will be further challenged when one of its key writer-producers, Larry Wilmore (
The Bernie Mac Show
), leaves to ramp up for hosting Comedy Central's new
The Minority Report
, set to premiere in January after Stephen Colbert leaves
The Colbert Report
.
black-ish
has a lot packed into its oft-amusing opening half-hour. It's both fairly daring and also endearing, sharply written but with an overdose of narrative exposition. The kids and adults are all well-cast and there's no laugh track to gum anything up.
But I'm still wondering about that tour bus scene in the show's opening minute. Depicting a black family essentially as a zoo exhibit does not seem like a very good idea. At best it makes an unnecessarily broad point. At worse -- well, let's not even count the ways.
GRADE:
B+
Email comments or questions to:
unclebarky@verizon.net