Fox's Scream Queens can leave a nasty taste
09/21/15 12:53 PM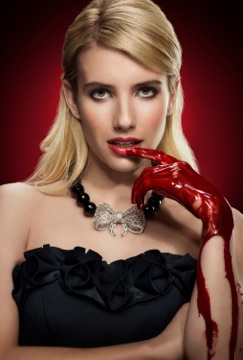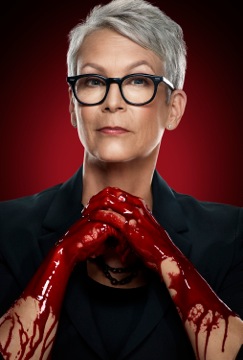 Emma Roberts, Jamie Lee Curtis and the less than subtle but attention-getting marketing campaign for Scream Queens. Fox photo
Premiering:
Tuesday, Sept. 22nd at 7 p.m. (central) on Fox with back-to-back episodes
Starring:
Emma Roberts, Jamie Lee Curtis, Lea Michele, Abigail Breslin, Nasim Pedrad, Keke Palmer, Billie Lourd, Glen Powell, Diego Boneta, Niecy Nash, Nick Jonas
Produced by:
Ryan Murphy, Brad Falchuk, Ian Brennan, Alexis Martin Woodall
By ED BARK
@unclebarkycom on Twitter
Chanel Oberlin has a mouth on her. And it spews hatred, racism, put-downs and self-entitlement that could do more harm to "impressionable" viewers than the recurring killings and other brutalities in
Scream Queens
.
Fox bills it as a "comedy-horror murder-mystery" that arrives on Tuesday, Sept. 22nd with a special two-hour premiere. The opening visual, in a 1995 flashback, is a closeup of a sorority sister's very bloody palms. "Did you just get your period all over yourself?" she's asked.
That's actually one of the tamer passages in this latest unbridled TV series from Ryan Murphy. His creations include
Nip/Tuck
, the
American Horror Story
franchise and
Glee
, an out-of-character sedative from a guy who seems to greatly prefer pushing kinky to the max under the auspices of "adult content."
Scream Queens
is not without grim, guilty pleasures or even a sense of fun. Still, its hate-language can be all too palpable, with Chanel (a very vivid performance by Emma Roberts) verbally chainsawing anyone who's deemed beneath her or in her way.
An obese maid is dubbed "White Mammy" and a "chubby old Nazi" before some heavy-duty physical harm kicks in.
Mexicans are several times slammed as basically sub-human and a hapless Kappa Kappa Tau pledge is nicknamed "Deaf Taylor Swift." Furthermore, "like all deaf people, she has horrible halitosis."
Chanel's world view boils down to this: "If Dean Munsch gets her way, Kappa is going to be filled with fatties and ethnics."
Dean Cathy Munsch (Jamie Lee Curtis) quickly emerges as Chanel's arch foe, promising to reform Wallace University's most popular sorority by freeing it from the tyrannical grip of a diva and her "minions," Chanels 2 through 5. "You represent everything that is wrong with young girls nowadays," Munsch says during their first big face-off.
But the dean is hardly Mother Theresa. On the contrary she can be demonic, duplicitous and super-caustic. "I'm gonna barf on your face unless you get out of here," she tells a self-anointed Big Man on Campus named Chad Radwell (Glen Powell) after judging him very lousy in the sack. But Chad's a complete jerk, so have at him,
Glee
alum Lea Michele is also around -- in a neck brace -- as a poor sap of a pledge named Hester. "She smells like hot dog water," says Chanel.
The fresh-faced new girl in town is Grace Gardener (Skyler Samuels). She wants to infiltrate Kappa Kappa Tau and expose its many misdeeds with help from coffee shop worker Pete Martinez (Diego Boneta), who otherwise sees himself as an investigative reporter. Nick Jonas drops in as Chad's younger brother, Boone, who's gay and on the receiving end of a jaw-dropping retort from Chanel in Tuesday night's second hour.
On the other hand, guest star Niecy Nash is loads of fun as a less than accomplished campus guard named Denise Hemphill. And another guest performer, Ariana Grande as Chanel #2, gets into a riotous text-messaging showdown with her would-be killer, a man or woman who prowls the campus in a devil's costume. It all ends with a nifty twist that few likely will see coming -- even if it makes no sense because how would this person ever be able to convince all these people that . . .
No one is quite what they seem in
Scream Queens
, where the identity of a mystery baby is also up in the air. It's a very energetic two-hour premiere replete with cartoonish screams and schemes. But a cesspool runs through it in the person of the noxious Chanel. It's understood she's a thoroughly mean girl. Unfortunately, we live in fractious times where some of the younger viewers being recruited for
Scream Queens
might instead see her as something of a heroic Donna Trump.
It all bears watching. One can roll with
Scream Queens
to a point. But is it all just harmless fun? Perhaps not during those times when Chanel is steeped in bigotry and stripped of any self-awareness.
"You're an awful person," she's told.
"Maybe," Chanel agrees. "But I'm rich and I'm pretty. So it doesn't really matter."
It's one thing to love to hate a villain. But
Scream Queens
really does seem to be more complicated and problematic than that.
GRADE:
C+
Email comments or questions to:
unclebarky@verizon.net