FX going to double X
03/28/13 02:21 PM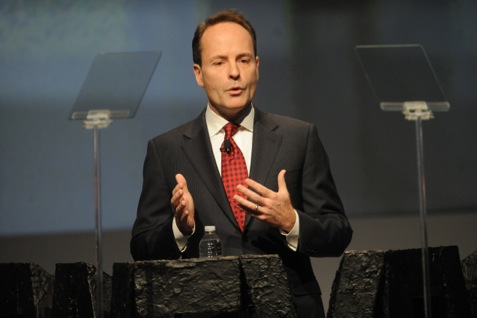 FX president John Landgraf at "upfront" presentation. FX photo
By ED BARK
@unclebarkycom
Terming it a move to a three-network "suite," FX Networks is adding FXX to make it a threesome with existing movie channel FXM.
Aimed at 18-to-34-year-old viewers and set to launch on Sept. 2nd in 74 million homes (likely supplanting the Fox Soccer Channel), FXX will inherit four transplants from the FX mothership. Its longest-running comedy series,
It's Always Sunny In Philadelphia
, will make the move along with
The League
and the first-year series
Legit
.
Additionally, the late night FX series
Totally Biased with W. Kamau Bell
will debut on FXX in an expanded five-nights-a-week regimen. FX's other late-nighter,
Brand X with Russell Brand
, is still iffy for a new season, FX president John Landgraf said in a teleconference after presiding over an earlier "upfront" presentation to advertisers. But if renewed, it also will air on FXX, he said.
FXX also will add a new comedy series to its planned initial mix of originals, movies and "acquired series."
Why not put all of these series on FX? "Well, then we would be trying to get younger and older at the same time," Landgraf said of the three networks' designated demographics. FX is targeting 18-to-49-year-olds while FXM is going for 25-to-54-year-olds.
Other than the aforementioned late night talk shows, FX and FXX are sticking with scripted dramas and comedies. Landgraf said that programmers "thought long and hard" about including unscripted "reality" series in the mix, but decided it would be wiser to "really stick to your knitting."
"Brands are really, really valuable, particularly in a more fragmented marketplace," he said.
There's also ample activity on the FX front, with the network announcing a renewal of
Justified
for a fifth season while also touting its first "limited series," a 10-episode "re-invisioning" of the hit movie
Fargo
. The original's maestros, Joel and Ethan Coen, are aboard as executive producers along with former NBC entertainment president Warren Littlefield.
The script is by Noah Hawley (
The Unusuals, My Generation
), who will create a new case and characters "entrenched in the trademark humor, murder and 'Minnesota nice' that has made the film an enduring classic," FX says in a publicity release. A cast hasn't been announced yet, with a spring 2014 premiere planned.
FX also will premiere
The Bridge
in July. It's about two detectives, one from the United States and the other from Mexico, who are assigned to hunt down a killer working both sides of the border. Demian Bichir and Diane Kruger star.
The network says it also "won bidding wars" with rival cable networks for two drama series that are still in the development stage.
The first episode of
Tyrant
, from
Homeland
producers Howard Gordon, Gideon Raff and Craig Wright, will be directed by Oscar-winner Ang Lee (
Life of Pi
). It's about an everyday American family drawn into Middle East intrigue.
The other newcomer,
The Strain
, supposedly "creates a world of vampires unlike any ever depicted in television or film. These bloodsuckers are not the romanticized version of vampires that have become such a cliche -- but a terrifying original new vision," says FX. In other words, the producers of HBO's
True Blood
and CW's
The Vampire Diaries
are entitled to feel a little smack-talked.
Two comedy pilots have also been ordered, with their destination network not determined yet.
How and Why
, from Charlie Kaufman (
Eternal Sunshine of the Spotless Mind
&
Being John Malkovich
), is billed as "the story of a man who can explain how and why a nuclear reactor works, but is clueless about life."
The animated series
Chozen
, from the producers of HBO's
Eastbound & Down
, is about a recently paroled white rapper who "uses his new survival skills in his quest for redemption."
Landgraf says FX networks plan to offer 25 original scripted series over the next three years, more than doubling the current FX roster.
Email comments or questions to:
unclebarky@verizon.net