Lifetime's Tall Hot Blonde is more about its man in the middle (and the performance by Garret Dillahunt)
06/22/12 09:11 AM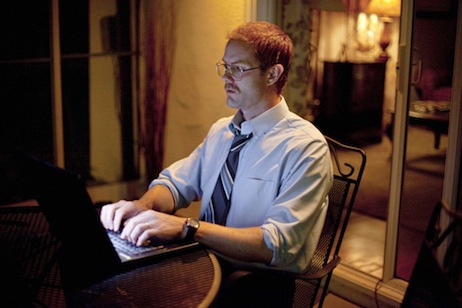 Garret Dillahunt finds his type in Tall Hot Blonde. Lifetime photo
By ED BARK
@unclebarkycom
The hey-look-me-over title --
Tall Hot Blonde
-- in fact prompted a closer look when a review DVD arrived in the mail earlier this month.
Clinching the deal was a starring role for
Garret Dillahunt
, currently the dense dad on Fox's
Raising Hope
and previously Wild Bill Hickok's killer on HBO's
Deadwood
before returning in a different role as a prostitute murderer.
It also helped that this Lifetime movie marks Courteney Cox's "longform directorial debut." She also has a small part in
Tall Hot Blonde
, which premieres on
Saturday, June 23rd at 7 p.m. (central).
It's not about a strip club frequenter. Nor does it document the events leading up to
Stacy Kiebler's
current romance with George Clooney after first gaining fame as a wrestling star and third-place
Dancing with the Stars
finisher.
Tall Hot Blonde
is much tamer than that. Based on a true crime and spinning off a
2009 documentary film
of the same name, this is the saga of a bored middle-aged small town Michigan factory worker who belatedly discovers the joys of Internet chatting with an 18-year-old looker.
Dillahunt plays Thomas Montgomery, the guy who takes it too far before his nurse wife, Carol (Laura San Giacomo), discovers what he's been up to during those long nights on his new laptop.
Like too many movies these days,
Tall Hot Blonde
begins with the crime at hand -- a murder -- before flashing back to previous events. So viewers will almost instantly know that Thomas' younger, handsomer co-worker pal, Brian Barrett (Brando Eaton), is fated to be on the receiving end of a lethal rifle shot.
That needlessly drains a good deal of any suspense from a film that proceeds at a glacial pace in the early going while setting up the hardscrabble family dynamics of Thomas, Carol and their two young daughters. Cox also seems intent on displaying some very awkward man over-laughs during a cartoonish monthly poker game among Thomas, Brian and two of their blue collar pals.
But Dillahunt eventually settles into a part that requires him to be a solitary man for a good part of the movie. It's not easy to emote opposite a computer. Dillahunt gives it his all, though, whether being turned on or ultimately enraged. During the course of this, he recreates himself as the studly Marine Corps sniper he used to be. "Katie," his new cyber girlfriend, is mightily impressed with "my brave soldier." Pictures and panties eventually arrive in the mail, with Thomas clandestinely savoring them while walking the family dog in the nearby woods.
Cox plays one of Carol's co-workers, an inquisitive nurse named Amanda. She encourages her to investigate why Thomas suddenly is exercising so much while growing more distant. San Giacomo, best known for her co-starring role in
Just Shoot Me
, is totally deglamorized for a role that calls on her to be a somewhat subservient wife with a bargain basement wardrobe. But she's made of sterner stuff after confronting her stammering husband and then evicting him from their bed to a garage couch.
The film convincingly depicts the Montgomerys' no-frills, sub-middle class life without making a tongue-in-cheek joke of it. And there's a deft, surprise twist at the end for those who aren't familiar with this story.
Tall Hot Blonde
is no towering cinematic achievement. But it's worth watching for the sturdy performances of Dillahunt and San Giacomo during a cautionary tale of sense-arousing cyber titillation amid otherwise drab surroundings.
GRADE:
C+