Super Bowl XLV sets new national ratings high
02/07/11 05:57 PM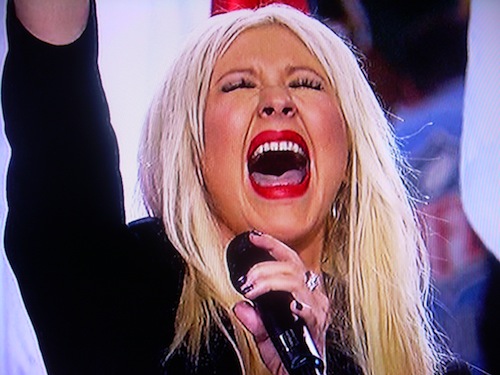 Christina Aguilera mis-sings National Anthem lyrics. Photo: Ed Bark
By ED BARK
Super Bowl XLV from Cowboys Stadium fell just short of surpassing a 31-year-old attendance record but easily broke a one-year-old national ratings mark.
Final Nielsen data says the Green Bay Packers and Pittsburgh Steelers averaged 111 million viewers in easily topping last year's record of 106, 476,000 viewers for the game between the New Orleans Saints and Indianapolis Colts.
Before last February, the final episode of CBS'
M*A*S*H
had reigned since Feb. 18, 1983 as TV's all-time champ, with 105,970,000 viewers.
National Anthem singer Christina Aguilera might have been just as happy had no one watched. Her bungling of the National Anthem lyrics has made her a post-Super Bowl punching bag. In a subsequent statement, Aguilera said she "got so caught up in the moment that I lost my place. I can only hope that everyone could feel my love for this country and that the true spirit of its anthem still came through."
The Super Bowl attendance record is still 103,985 for 1980's game in the Rose Bowl between the Steelers and the Los Angeles Rams. The crowd for Sunday's XLV was 103,219 despite Cowboys owner Jerry Jones' getting extra credit for the thousands of fans who paid $200 apiece to watch the game on a big screen in the Cowboys Stadium parking lot.