NEW SEASON: Law & Order: Los Angeles impressively wades into Hollywood cesspool
09/29/10 08:06 AM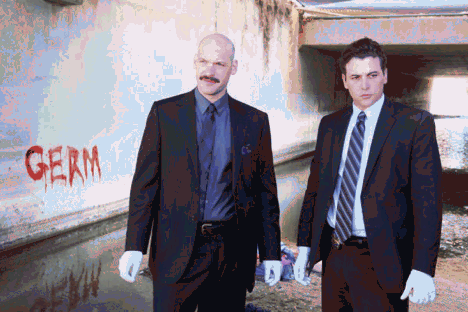 Corey Stoll and Skeet Ulrich are partners on LOLA. NBC photo
Premiering:
Wednesday, Sept. 29th at 9 p.m. (central) on NBC
Starring:
Skeet Ulrich, Corey Stoll, Terrence Howard, Alfred Molina, Rachel Ticotin, Regina Hall, Megan Boone
Produced by:
Dick Wolf
By ED BARK
Rejuvenating the
Law & Order
brand may have seemed like a mission: improbable at this stage.
Instead it's looking like mission: accomplished for NBC's new
Law & Order: Los Angeles
, otherwise dubbed
LOLA
by creator Dick Wolf.
Paired with the long-running
Law & Order: Special Victims Unit
in the closing two hours of prime-time,
LOLA
has a new and very nicely matched pair of crime-busters in detectives Rex Winters (Skeet Ulrich) and T.J. Jaruszalski (Corey Stoll). Prosecutions of their perps will be handled on an alternating episode basis by standout actors Alfred Molina and Terrence Howard as deputy district attorneys Ricardo Morales and Jonah "Joe" Dekker.
The Hollywood cesspool turns out to be a refreshing splash for a series that long has ripped its plots from the headlines. Wednesday's premiere spotlights a troubled young Lindsay Lohan-like actress named Chelsea Sennett (Danielle Panabaker) and her conniving stage mom, Trudy (Shawnee Smith). Episode 2 takes its cue from the Manson Family murders and a copycat group from the '70s calling itself the Echo Park Tribe.
Ulrich looks suitably older and wiser than he did in the CBS cult favorite
Jericho
. He's married to an ex-detective named Casey (recurring appearances by Teri Polo), who quit to be a stay-at-home mom.
"Ninety-nine percent of 12-year-olds girls would kill to be the illegal-drinking, (drug)-popping, club-crawling Chelsea Sennett," Winters tells his partner, who retorts, "Ain't America grand?"
"Not if you have a 12-year-old daughter," says Winters.
Stoll instantly registers as Jaruszalski, a bald, mustachioed gumshoe with a sardonic view of his surroundings.
"Mom shoots a burglar, daughter holds a press conference. I love L.A." he cracks.
The tattletale, tabloid website TMZ is more than happy to be a part of this, letting
LOLA
use its name as a key ingredient in the case.
Episode 1 is rife with sexually explicit language and stardom-chasing Hollywood riff-raff. Next Wednesday's hour is more cerebral, with right, wrong and office politics bumping hard against each another. Howard is especially good in this episode while Winters' personal life is glimpsed in a rare departure from Wolf's straight ahead arrest-and-trial schematic.
Having canceled the mothership
Law & Order
after 20 seasons, NBC is going all-out to promote
LOLA
. The push includes a four-page, newspaper-sized "Los Angeles Post" advertisement inserted into Wednesday editions of major newspapers.
Its front page headline, "Media Icon Hit By Crime Wave," has an accompanying picture of a battered NBC Burbank headquarters with its Peacock symbol defaced, the B missing from NBC and graffiti scrawled on the front walls.
Oddly enough, the vandals haven't written "Ratings loser" anywhere. But NBC might well have a pretty big winner in
LOLA
, which so far has taken the show West without making a mess of it.
GRADE:
A-minus