FALL TV PREVIEW: New series -- Aliens In America (The CW)
10/01/07 12:50 PM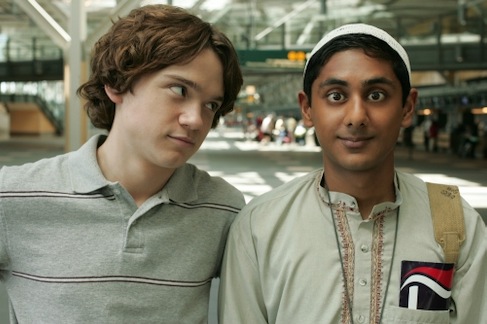 New pals Justin Tolchuck and Raja Musharaff give The CW a lift.
Premiering:
Monday, Oct 1 at 7:30 p.m. (central) on The CW
Starring:
Dan Byrd, Adhir Kalyan, Amy Pietz, Scott Patterson, Lindsey Shaw
Produced by:
Tim Doyle, Moses Port, David Guarascio
By ED BARK
Here's a sweet yet sharp comedy that should be welcomed with open arms to Monday night's burgeoning nerd gaggle.
The CW's
Aliens In America
goes younger and deeper than NBC's
Chuck
or CBS'
The Big Bang Theory
. Its principal geek in residence is still a 16-year-old high school boy who finds himself listed as No. 8 on a top 10 list of "Most Bangable Chicks." This sends fictional Medora, Wisconsin's Justin Tolchuck (Dan Byrd) running home in horror and humiliation while his protective mom Franny (Amy Pietz) schemes to somehow make him cool in the eyes of teen sadists like the Palladino twins.
Her solution is taking in a foreign exchange student whom she pictures as a blonde Nordic Adonis who will give her put-upon son some gilt by association. Instead here comes Pakistani teen Raja Musharaff (Adhir Kalyan), who dresses in robes and invites crude school corridor taunts such as, "Apu, where's my Slushee?"
Mom immediately re-schemes to send him back from whence he came. But hubby Gary (Scott Patterson) likes both the $500 monthly check sent for Raja's upkeep and his willingness to further earn his keep by cleaning up around the Tolchuck house. That's shocking behavior on the part of any teen.
The show has another dynamic in Justin's younger sister, Claire (Lindsey Shaw), whose breasts have grown to the size of cantaloupes during summer vacation. Her on- and off-boyfriend, in the first two episodes at least, is a well-spoken, non hip-hop black schoolmate named Jeffrey (guest star Haran Jackson). Any preconceived racial stereotypes are quickly dashed here. Raja decidedly is not an America-hating terrorist. Nor is Jeffrey a playa.
Monday night's opener finds mom Franny's heart melting too quickly and predictably. And the closing Norman Rockwell-ian scene of an idyllic family dinner seems cookie-cut from a
Leave It to Beaver
episode. Maybe that should be amended to read "lamentably cookie-cut." It's a shame that such sights now seem so patently unbelievable.
Episode 2 improves on the first. Raja's classroom declaration of friendship for Justin has fellow students spewing gay jokes. Meanwhile, Claire decides to abruptly break up with Jeffrey in light of her newfound popularity at school.
"I just want to make sure whoever I'm with
drives
that popularity," Claire tells her mom, who's sympathetic. Dad then spends the rest of the episode in inconsolable Jeffrey's corner while Justin learns that distancing himself from true-blue Raja is hurting him more than he'd thought.
Both Byrd and Kalyan are well-suited to their lead roles as shotgun pals. And the parents are suitably off-center without being too broadly wacky in the
Malcolm In the Middle
mode.
Aliens In America
makes them all balance out in a likable comedy with a core message of tolerance. It teaches without preachments, which is always a nice trick.
Grade:
B+